Concept art is often considered the bread and butter of filmmaking, and Ryan Church is the concept design supervisor that's behind the visuals of many of our favorite films.
Church has created concept art for blockbusters such as Avatar, Tomorrowland and Transformers. He's collaborated closely with George Lucas on the Star Wars prequels and sequels trilogies. Now, he's working on the popular series The Mandalorian.
When he's not creating unique vehicles and dazzling worlds for film and television, Church captures new visions and illustrates designs in his personal time. He's always had a close relationship with cutting-edge technology to produce the highest-quality visuals, even when he's working at home.
Recently, Church got his hands on an HP Z8 workstation powered by the NVIDIA Quadro RTX 6000. With the performance and speed of RTX behind his concept designs, he can render stunning images of architecture, vehicles and scenery faster than ever.
RTX Delivers More Time for Precision and Creativity
Filmmakers are always trying to figure out the quickest way to bring a concept or idea to life in a fast-paced environment.
Church says that directors nowadays don't just want to see a drawing of a place or item for the set, but to see the actual place or item in front of them.
To do so, Church creates his 3D models in Foundry's Modo and turns to OctaneRender, a GPU render engine that uses NVIDIA RTX to accelerate the rendering performance for his scenes. This allows him to achieve real-time rendering, and with the large memory capacity and performance gains of NVIDIA RTX, Church can create massive worlds freely without worrying about optimizing the geometry of his scenes.
"NVIDIA RTX has allowed me to work without babysitting the geometry all along the way," said Church. "The friction has been removed from the creation process, allowing me to stay focused on the art."
Like Church, many concept artists are using technology to create and design complex virtual sets and elaborate 3D mattes for virtual production in real time. The large GPU memory capacities of RTX allow for free flow of art creation while working with multiple creative applications.
And when trying to find the perfect lighting, or tweaking the depth of field or reflections of a scene, the NVIDIA RTX GPU speeds up the workflow to allow for better, quicker designs. Church can do up to 20-30 passes on a scene, enabling him to iterate on his designs more often so he can get the look and feel he's aiming for.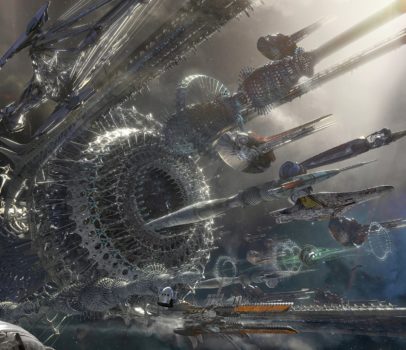 "The RTX card in the Z8 allows me to have that complex scene and really dial in much better and faster," said Church. "With design, lighting, texturing happening all in real time, I can model and move lights around, and see it all happening in the active, updating viewport."
When Church needs desktop-class performance on the go, he turns to his HP ZBook Studio mobile workstation. Featuring the NVIDIA Studio driver and NVIDIA Quadro RTX GPU, the ZBook Studio has been tested and certified to work with the top creative applications.
As a leading concept designer standing at the intersection between art and technology, Church has inspired countless artists, and his work will continue to inspire for generations to come.
Learn more about NVIDIA RTX.