Editor's note: This post is a part of our Meet the Omnivore series, which features individual creators and developers who use NVIDIA Omniverse to accelerate their 3D workflows and create virtual worlds.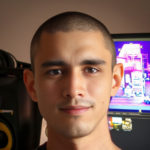 Stephen Tong, aka Funky Boy, has always loved music and photography. He's now transferring the skills developed over the years as a music producer — shooting time lapses, creating audio tracks and more — to a new passion of his: 3D content creation.
Tong began creating 3D renders and animations earlier this year, using the NVIDIA Omniverse platform for building and connecting custom 3D pipelines.
Within just a couple months of learning to use Omniverse, Tong created a music video with the platform. The video received honorable mention in the inaugural #MadeInMachinima contest last March, which invited participants to remix popular characters from games like Squad, Mount & Blade II: Bannerlord and MechWarrior Mercenaries 5 using the Omniverse Machinima app.
In September, Tong participated in the first-ever Omniverse developer contest, which he considered the perfect way to learn about extending the platform and coding with the popular Python programming language. He submitted three Omniverse extensions — core building blocks that let anyone create and extend functions of Omniverse apps — aimed at easing creative workflows like his own.
Ringing in the Season the Omniverse Way
The artist also took part in the #WinterArtChallenge this month from NVIDIA Studio, a creative community and platform of NVIDIA RTX and AI-accelerated creator apps. Creatives from around the world shared winter-themed art on social media using the hashtag.
Tong said his scene was inspired by cozy settings he often associates with the holidays.
First, the artist used AI to generate a mood board. Once satisfied with the warm, cozy mood, he modeled a winter chalet — complete with a snowman, wreaths and sleigh — using the Marbles RTX assets, free to use in the Omniverse Launcher, as well as some models from Sketchfab.
Tong collected the assets in Unreal Engine before rendering the 3D scene using the Omniverse Create and Blender apps. The Universal Scene Description (USD) framework allowed him to bring the work from these various applications together.
"USD enables large scenes to be loaded fast and with ease," he said. "The system of layers makes Omniverse a powerful tool for collaboration and iterations."
With his festive creativity on a roll, Tong also orchestrated an animated quartet lip-syncing to "Carol of the Bells" using Omniverse Audio2Face, an AI app that quickly and easily generates expressive facial animations from just an audio source, as well as the DaVinci Resolve application for video editing.
Watch to keep up the holiday spirit:
Join In on the Creation
Creators and developers across the world can download NVIDIA Omniverse for free, and enterprise teams can use the platform for their 3D projects.
To hear the latest made possible by accelerated computing, AI and Omniverse, watch NVIDIA's special address at CES on Tuesday, Jan. 3, at 8 a.m. PT.
Check out more artwork from Tong and other "Omnivores" in the gallery. Connect your workflows to Omniverse with software from Adobe, Autodesk, Epic Games, Maxon, Reallusion and more.
Follow NVIDIA Omniverse on Instagram, Medium, Twitter and YouTube for additional resources and inspiration. Check out the Omniverse forums, and join our Discord server and Twitch channel to chat with the community.