Editor's note: This post is part of our weekly In the NVIDIA Studio series, which celebrates featured artists, offers creative tips and tricks, and demonstrates how NVIDIA Studio technology improves creative workflows. We're also deep diving on new GeForce RTX 40 Series GPU features, technologies and resources, and how they dramatically accelerate content creation.
NVIDIA Omniverse, a pillar of the NVIDIA Studio suite of tools and apps built for creators, helps interconnect 3D artists' workflows by replacing linear pipelines with live-sync creation.
This week's In the NVIDIA Studio artists specializing in 3D, Gianluca Squillace and Pasquale Scionti, benefitted from just that — in their individual work and in collaborating to construct the final scene for their project, Cold Inside Diorama.
The artists set out to build a Viking scene that conveyed a cold, glacial mood — uniting Squillace's character with Scionti's environment while maintaining their individual styles. Such a workflow, which used to require endless exports and imports, was made simple with Omniverse and Universal Scene Description (USD), the open and extensible ecosystem for describing, composing, simulating and collaborating within 3D worlds.
It Takes Character
Powered by a GeForce RTX 4080 GPU, Squillace started with rich reference research to create the character. He took several realistic and stylized images, concepts and photos of characters and weapons to define all the details.
After defining the character, Squillace built a quick blockout in the ZBrush tool, before sculpting all the details to reach the definitive high-poly model. The character's hairstyle and other aspects underwent several tests in this step of the process before arriving at the final version.
Squillace then moved on to the retopology and UV phase in Autodesk Maya, optimizing models for movements and deformations, which he said allows excellent control of the polygons with quad draw and simple management of the UVs. It also enables mirroring different UV shells and saving space by improving the final quality.

The artists brought the completed high- and low-poly into Adobe Substance 3D Painter for the bake and texturing phase. Squillace had already defined the main colors with polypaint in ZBrush, so he used the materials present in Painter to stylize different metals, leathers and woods and achieve the final textures.
After completing a quick rig and an animation idle in Maya, the animation in video games when the main character remains still, the artist took advantage of the USD file format to instantly pull the animation into NVIDIA Omniverse USD Composer (formerly known as Create) to see the results in real time.
"With the connectors plug-in installed in Substance 3D Painter and Maya, I could edit textures and animation in real time and immediately see the results in Omniverse USD Composer, without exporting extra files or having to close and reopen the software," Squillace said. "It was really a great improvement in terms of workflow and speed."
He next felt the benefit of working with USD when seamlessly importing files into Marmoset Toolbag for character-only renders.
Squillace took full advantage of his RTX GPU in nearly every step of production. "I was really impressed by the fast calculation of ray-traced lighting in the Marmoset Toolbag scene, which lets me make a lot of real-time renders and videos with an outstanding final result," he said.
A Hostile Environment Built in a Friendly One
Another artist worked in parallel. Scionti built the cold, harsh environment using Omniverse's collaboration capabilities and USD files. This combination enabled him to integrate his files with Squillace's — and see edits in real time.
Scionti said he always starts his work by establishing its mood. With the cold, glacial tone set for this piece, he modeled some of the scene elements using Autodesk 3ds Max before importing them into Adobe Substance 3D Painter, where he created unique materials.
For some additional materials, he used Quixel software and completed the composition and design using Quixel Megascans. As with all his work, in this piece Scionti intentionally left room for interpretation, letting the audience imagine their own story.
The scene was then finalized with composition mood and lighting. Accelerated by his GeForce RTX 3090 GPU, Unreal Engine 5.1 and Lumen with hardware ray tracing helped Scionti achieve a higher level of realism with intricate details. Nanite meshes with improved virtualized geometry were useful to generate high-polygon models for close-up details. In the lighting phase, the artist used sun and sky with volumetric fog and high dynamic range.
"My GPU gives me so many realistic details in real time," Scionti said.
The duo then brought Squillace's work into Scionti's Unreal Engine scene to integrate the character into the snowy environment. With their scene complete, the artists enjoyed the final render and reflected on its creation.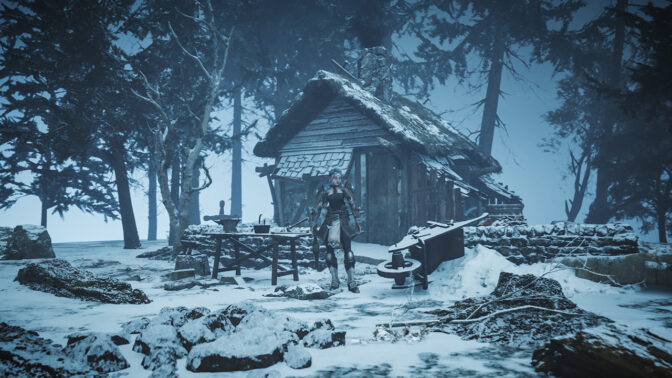 "NVIDIA Omniverse was the center of experimentation for this project — it allowed me to work with different software at the same time, increasing the production speed of the final character," Squillace said. "I think the system provides enormous potential, especially if combined with the standard production workflow of a 3D asset."
Scionti added that Omniverse is "a great software to collaborate with other people around the globe and interact in real time on the same project."
Follow NVIDIA Studio on Instagram, Twitter and Facebook. Access tutorials on the Studio YouTube channel and get updates directly in your inbox by subscribing to the Studio newsletter. Get started with Omniverse and learn more on Instagram, Medium, Twitter and YouTube for additional resources and inspiration. Check out the Omniverse forums, and join our Discord server and Twitch channel to chat with the community.