Virtual and augmented reality are among the most anticipated forms of content to arrive over 5G networks.
Boosted by a grant from the U.K. government, The Grid Factory, a member of the NVIDIA CloudXR early access program, is helping businesses create new opportunities to produce and deliver high-quality streaming graphics over 5G.
The Grid Factory, a London-based provider of GPU-accelerated products and services, is part of a collaboration between BT, formerly British Telecom, and several businesses pursuing opportunities in 5G. As part of a 2.56 million pound project, the BT-led consortium were recently awarded 1.49 million pounds ($1.8 million) from the U.K.'s Department of Culture Media and Sport to support research in how to view immersive sporting events from all angles on just about any device.
The Grid Factory is also a member of NVIDIA Inception, a program designed to nurture startups revolutionizing industries with advancements in AI and data science. With NVIDIA technology, including NVIDIA RTX GPUs, virtualization software and CloudXR, The Grid Factory is providing the expertise needed to bring XR — a collective term for VR, AR and mixed reality — to 5G.
5G networks open the doors for a multitude of benefits for XR users, and The Grid Factory is maximizing these with its recent adoption of NVIDIA CloudXR. The funded project, called 5G Edge-XR, aims to use 5G to stream coverage of sporting events in virtual and augmented reality.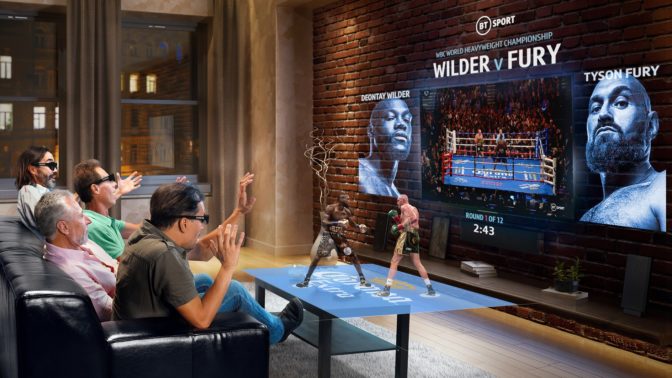 Until now, this type of streaming or broadcast had not been possible because 4G networks created delays and had limited bandwidth. With NVIDIA CloudXR, any head-mounted display and connected Windows or Android device can stream content over 5G.
CloudXR, which is built on NVIDIA RTX and the NVIDIA CloudXR SDK, connects these end devices over 5G to remote servers running RTX GPUs and GPU virtualization software. This allows customers to immerse themselves in live events with the highest quality graphics possible.
"We are excited to be transforming today's network standards to large scale 5G. We are already engaged with telecommunications, applications vendors and enterprise companies to deploy NVIDIA CloudXR at any scale," said Andy Bowker, co-founder and CEO at The Grid Factory.
Register now for GTC and hear from The Grid Factory how streaming XR over 5G has changed its workflows completely. Join the session to learn best practices on using NVIDIA CloudXR to stream the best immersive experiences on low-cost, wirelessly connected headsets.