Contact centers play a vital role in connecting businesses with their customers for service, sales and support — and to drive customer satisfaction.
However, long wait times on the phone, communication difficulties and a lack of helpful information can lead to a stressful and frustrating experience for both customers and agents.
Speech AI applications help reduce these issues. Speech AI includes automatic speech recognition (ASR), which is the conversion of human voice to text, and text-to-speech (TTS), which is the generation of human-like voice from text.
Speech AI technology can also comprehend and generate different accents, languages and dialects, making it a powerful tool for businesses that operate in a global context.
Top 4 Speech AI Applications for Contact Centers
Speech AI applications that advance automation are particularly well-suited for use in contact centers, as these can handle customers' transactional issues and simple requests, as well as predict and provide actionable insights tailored to individuals.
The top four applications of speech AI for contact centers are:
Challenges of Contact Centers and How Speech AI Helps
Contact centers face challenges in three main areas. Primary among them is customer satisfaction. Many customers expect 24/7 service, with short — if any — wait times, along with fast issue resolution. They want a personalized experience, preferably in their native language.
Agent productivity is a second challenge, where a breadth and depth of information is required to adequately train contact-center agents and keep them updated on new offerings.
The third area is operations. Companies can struggle to provide contact-center agents with quick, easy policy changes and operational updates, which leads to high agent churn and increased customer service costs.
Considering these issues, speech AI applications provide the following benefits to contact centers:
Reduced customer wait times by automating routine tasks and handling simple queries and requests.
24/7 convenience with availability to handle customer requests anytime, anywhere.
Multi-language support to serve customers around the globe in their preferred language.
Quick, efficient human agent support by providing the correct information to agents and customers at the appropriate time, as well as improved skills and knowledge for human agents using insights from call transcripts.
Unpredictable spike support because speech AI applications can easily scale to meet demand.
Better products and services based on crowdsourced learning and call transcription insights and analyses.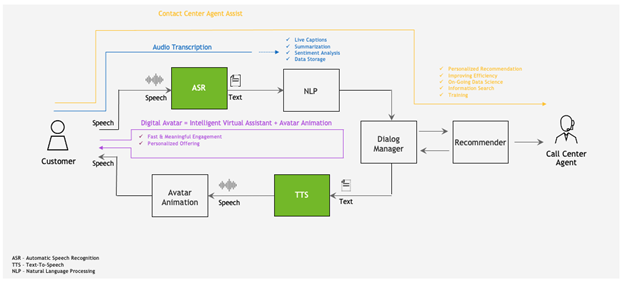 Speech AI Adoption
From financial services to telecom, speech AI applications are being used across many industries.
These applications integrate speech recognition, semantic comprehension and speech synthesis for realistic human-machine interaction when answering customer questions about insurance, banking, wireless calling plans and more.
Enterprises are using the NVIDIA Riva speech AI software development kit to build fully customizable, real-time conversational AI pipelines and deploy them in data centers, at the edge or in the cloud.
For example, T-Mobile — one of the world's largest telecom providers delivering advanced 4G LTE and transformative 5G networks to around 230 million subscribers — achieved unparalleled accuracy and performance for more than 10,000 concurrent real-time streams of speech AI applications, when using the NVIDIA Riva SDK.
To empower its frontline agents, T-Mobile developed Expert Assist. This AI-based agent assist transcribes live customer conversations and recommends solutions to human agents, leading to quicker query resolution and better customer experiences.
Expert Assist is highly accurate and works with various accents and dialects, along with a wide range of equipment qualities and background noises. Thanks to Expert Assist, T-Mobile has increased its net promoter score, reduced human agent turnover and increased sales.
Heather Nolis, principal machine learning engineer at T-Mobile, said the company plans to use AI in all of its contact centers by the end of 2023, an effort anticipated to be the most extensive speech AI implementation for contact centers worldwide. Watch her GTC session, "Speech-to-Text at Scale".
Check out NVIDIA Riva's audio-transcription and intelligent virtual assistant AI workflows and try them hands on through NVIDIA LaunchPad, which provides expert support as needed.