Gaming
The folks at Tripwire are using our technology to take the gore in their new horror survival game to a new level in Killing...
Read More
Gaming
It happened the first time I watched Monday Night Football on HDTV. A whole new world opened for me. After that, it was almost...
Read More
GameWorks
A day after NVIDIA helped stun the crowd at Microsoft's BUILD conference, we're behind a second jaw-dropping DirectX 12 demo that's grabbing headlines. King...
Read More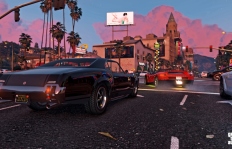 GameWorks
It's one of the most anticipated titles of the year. Maybe of all time. Early previews are great. And it's already topping Steam sales...
Read More
The release of Battlefield Hardline didn't sneak up on me. I've been looking forward to it for months. My anticipation started long before I...
Read More
Inner Geek
The tipping point for me came about four years ago. In a garage. I made $3,000 in a garage sale, selling off my 10-x-5...
Read More
GameWorks
As a member of NVIDIA's gaming team, I get to see lots of games early. Sometimes I see a game early and get super...
Read More
GameWorks
After my latest blog on GameWorks, readers posed an insightful question: Why has NVIDIA moved away from only giving sample code for game effects...
Read More
GameWorks
I was at a tradeshow last year watching a Hawken game play demo. One of our tech marketing guys shot the floor out from...
Read More
Gaming
Are you a gamer? Join us. Jason Mewes of Jay and Silent Bob fame will be there. So will cos-play queen Chloe Dykstra, MythBuster Grant...
Read More