Auto
A system of automated electric vehicles, known as WEpods, just made history by becoming the first self-driving shuttles to take to public roads. They're...
Read More
Auto
It may be 10 degrees outside of the Cobo Convention Center in downtown Detroit, but things are heating up inside as the 2016 North...
Read More
Auto
Self-driving cars were the hot topic at CES last week, and the talk of the Detroit Auto Show this...
Read More
Auto
Let's make a bold call about this year's CES right now. If you're looking for the sexiest product here, swing by the Daimler-Benz booth....
Read More
Auto
Four lidar detectors. Four fisheye cameras. Two narrow field-of-view cameras. GPS. We may be cruising down a sun-dappled Silicon Valley expressway within the posted...
Read More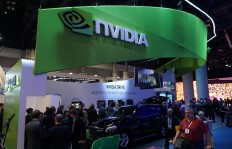 Auto
More than 10 million cars on the road today are powered by NVIDIA. Step into our booth in the North Hall of the Las...
Read More
Explainer
To an untutored eye, they're a multicolored collection of boxes,blocks and numbers. To a seasoned observer, they're data readings from fisheye cameras, lidar and...
Read More
Auto
NVIDIA today shifted its autonomous-driving leadership into high gear. At a press event kicking off CES 2016, we unveiled artificial intelligence technology that will...
Read More
Auto
Audi. BMW. Ford. Mercedes-Benz. Volvo. Some of the world's biggest automotive names are flocking to DRIVE, our powerful engine for in-vehicle artificial intelligence. So...
Read More
Auto
NVIDIA CEO Jen-Hsun Huang got things rolling at CES 2016, in Las Vegas Monday. Here's what we announced....
Read More