Enterprise
I want to take this opportunity to congratulate our partners at NVIDIA on a great GTC Conference last week in San Jose, California. A...
Read More
Enterprise
It's official. You can't get around on planet Earth without the help of GPUs. Not only are sleek sports cars, fast trains, and hypersonic...
Read More
Corporate
Nemo. Monsters Inc. The Incredibles. When we watch Pixar's entrancing movies, characters and plots seem to fly across the screen at the speed of a small...
Read More
Enterprise
Adobe, Baidu, Netflix, Yandex. Some of the biggest names in social media and cloud computing use NVIDIA CUDA-based GPU accelerators to provide seemingly magical...
Read More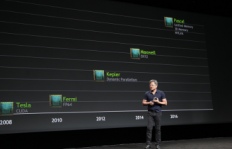 Corporate
During a keynote speech at our annual GPU Technology Conference in San Jose, Calif., NVIDIA CEO Jen-Hsun Huang updated our public GPU roadmap with...
Read More
Cloud Computing
Researchers have been able to advance computerized object recognition to once unfathomable levels, thanks to GPUs. Building on the work of neural network pioneers...
Read More
Workstation
As a creative video editing pro, you want to focus on creating content that amazes the audience, makes your clients come back for more,...
Read More
Corporate
Need a map? Don't bother asking for directions. Just send in the robots. Imagine sending a robot into a new environment – say, a...
Read More
Enterprise
We're always striving to make parallel programming better, faster and easier for developers creating next-gen scientific, engineering, enterprise and other applications. With the latest...
Read More
Corporate
Movie-makers have been driving a shift away from film for years. Despite the romance, film is messy stuff: hard to edit, difficult to store,...
Read More