Gaming
Take a bad man. Put him in a world where no sin is forgiven. Now, pit him against an army of evil led by...
Read More
GameWorks
Great gaming hardware needs great games. We're not afraid to say we build the world's most advanced GPUs. But breakthrough gaming experiences—like Borderlands: The...
Read More
Gaming
Activision Publishing introduced last week Skylanders Trap Team, featuring its Toys-to-Life interactive figures. It's available on many platforms, including our SHIELD tablet, making it...
Read More
Gaming
NVIDIA recently unleashed an onslaught on the gaming world, an onslaught named Maxwell. We launched the new graphics architecture during GAME24, an unprecedented 24-hour...
Read More
Gaming
It's time to ditch the cynicism and pick up a headset. Virtual reality is becoming real. And our new Maxwell GPU architecture is poised...
Read More
Auto
With the launch last week of Maxwell, our 10th generation GPU architecture, you may still think of NVIDIA as just a video game graphics...
Read More
Gaming
Are you a gamer? Join us. Jason Mewes of Jay and Silent Bob fame will be there. So will cos-play queen Chloe Dykstra, MythBuster Grant...
Read More
Gaming
Gaming is a real sport. Gamers are real athletes. It's time to build college programs for them. Here's how Robert Morris University got there...
Read More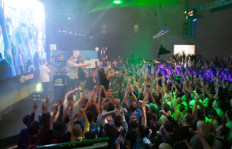 Gaming
Gamers: Get ready for something big. No, I'm not talking about Borderlands: The Pre-Sequel although I'm excited about that, too. No, we're organizing an...
Read More
Gaming
Valve and NVIDIA have just made game streaming better than ever. Last week, Valve officially released support for hardware encoding on NVIDIA GeForce GPUs...
Read More