As healthcare professionals strive to increase their efficiency to serve an ever-growing population, the industry is turning to AI and machine learning as essential tools to improve productivity and patient outcomes.
And NVIDIA is playing a leading role in that effort.
We're announcing today partnerships with two leading healthcare-solution providers — GE Healthcare and Nuance — that will use NVIDIA's deep learning platform to bring AI to medical imaging.
The announcements were made at the annual meeting of the Radiological Society of North America (RSNA), in Chicago, attended by more than 50,000 professionals.
NVIDIA AI Platform Coming to 500,000 GE Imaging Devices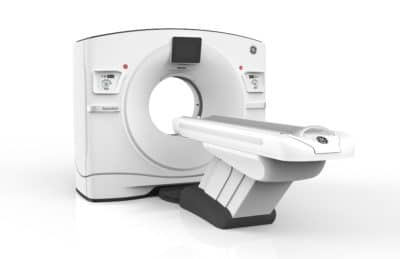 First is a partnership with GE Healthcare that will bring NVIDIA's AI computing platform to GE Healthcare's 500,000 imaging devices globally. The partnership will deliver the new NVIDIA-powered Revolution Frontier CT, which is two times faster in imaging processing than its predecessor. NVIDIA will also power GE Healthcare's Applied Intelligence analytics platform to accelerate the creation, deployment and consumption of deep learning algorithms for the instruments of the future.
Nuance's AI Marketplace for Diagnostic Imaging Built on NVIDIA Platform
Second is a partnership with Nuance that aims to bring machine learning to radiologists and data scientists across the entire healthcare system. Nuance is announcing its new AI Marketplace for Diagnostic Imaging, built on NVIDIA's deep learning platform.
Our partnership will allow radiologists to get involved in the creation of algorithms that can then be made readily available in the clinic. These algorithms have the potential to increase the workflow of the radiologists, helping them quickly detect and quantify key clinical findings and improve patient care. Nuance's image-sharing and reporting solutions are used by 70 percent of radiologists.
NVIDIA is democratizing deep learning through its end-to-end AI computing platform designed for the healthcare community. This promises to have a direct benefit to healthcare professionals, who will be able to improve the efficiency of disease detection, diagnosis and treatment.
Help for Reading 8,000 Medical Images a Day
Most medical data is generated through images, creating a massive task for radiologists. To meet workload demands, the average radiologist must interpret a CT or MRI examination every 3-4 seconds in an 8-hour workday, according to Academic Radiology. That's over 8,000 images a day. Deep learning solutions can help radiologists quickly analyze a large volume of images to identify disease faster, increase effectiveness and reduce error rates.
With our deep learning platform, which includes hardware and software to train and deploy neural networks from the cloud to the edge, NVIDIA is uniquely qualified to serve a booming market in machine learning-powered medical imaging solutions.
By partnering with leading healthcare institutions and organizations like the American College of Radiology, GE Healthcare and Nuance, NVIDIA will help bring to market new solutions that transform healthcare.
NVIDIA's platform is designed to be accessible for healthcare providers and researchers and as powerful as possible for the intelligent instruments of the future. Moving forward our big priorities will be focused on machine intelligence, making hospitals smarter and monitoring patient data to empower radiologists.
NVIDIA Activities at RSNA
In addition to our booth at RSNA, we've organized several special activities.
We'll provide the first hands-on training in deep learning at the show, using certified instructors from our Deep Learning Institute (DLI). The RSNA Deep Learning Classroom conducted by the DLI will present a range of hands-on courses for more than 1,000 attendees to help them understand deep learning tools, write algorithms and improve their understanding of AI technology. The DLI will include training targeted to physicians and advanced classes in genomics and radiology.
In the show's first ever Machine Learning Pavilion, NVIDIA will showcase AI demos. To see them, visit us in the North Hall 3, booth 8543.
To increase speed and access to better quality care through medical imaging, NVIDIA will host partners at the booth to collaborate on medical image challenges with AI. Partners include Massachusetts General Hospital and 16 bit.
Join my colleague Kimberly Powell, VP of Healthcare at NVIDIA, for a presentation on "Intelligent Machines, Empowered Radiologists, Efficient Hospitals" on Tuesday, Nov. 28, from 12:30-12:50 pm at the Machine Learning Theater (ML33 Machine Learning Showcase North Hall).