Calling all warriors. It's a glorious week full of new games.
This GFN Thursday comes with the exciting release of the new battle royale NARAKA: BLADEPOINT, as well as the Hello Neighbor franchise as part of the 11 great games joining the GeForce NOW library this week.
Plus, the newest Assassin's Creed Valhalla DLC has arrived on the cloud.
Real PC Games, Real PC Power
Gaming on GeForce NOW means having access to the real versions of PC games. And there are more than 1,000 PC titles streaming from the cloud, with more on the way every week. It also means being able to play these titles across devices like low-powered PCs, Macs, Chromebooks, SHIELD TVs or Android and iOS mobile devices with the power of the cloud.
Members can play new and exciting PC games like NARAKA:BLADEPOINT with the power of a gaming rig streaming to any GeForce NOW compatible device at GeForce-level performance.
Melee Meets Battle Royale
Only one can remain. The melee, combat battle royale NARAKA: BLADEPOINT is now available on Steam and can be streamed on GeForce NOW. It'll also be available to stream from the Epic Games Store upon its release in September.
Sixty players, heroes from around the world, will gather on Morus Island — and one will emerge victorious. Explore the vast, interactive world with a vertical design and experience unique gameplay powered by parkour and grappling hook movement. Learn to best use the brand-new resurrection system and unique character skills of a roster of characters with powerful abilities. And enjoy a vast arsenal of melee and ranged weapons along with the thrill of clashing blades and arrows flying in the battlefield.
Make your move. Press the assault on enemies with a grappling hook that can be aimed at anyone, anywhere and used to zip through obstacles to pounce on targets. Ambush opponents by hiding in the darkness and waiting for the right moment with deadly long-range takedowns or sneaky melee attacks. And avoid fights with a quick escape from less-favorable battles with a well-aimed grappling hook maneuver. Play your way to achieve victory.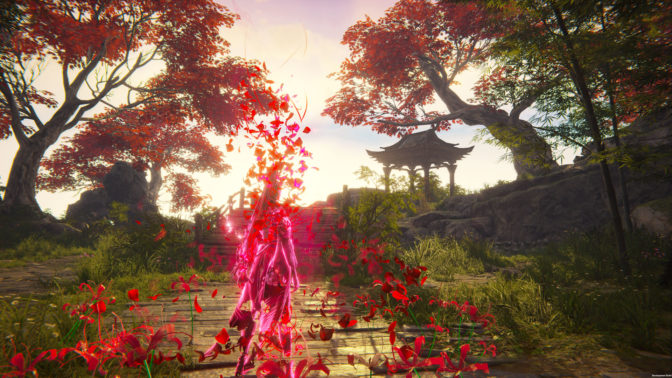 Thanks to the GeForce power of the cloud, gamers can battle with the best and all other online PC gamers playing awesome multiplayer games like NARAKA: BLADEPOINT.
"It's great that GeForce NOW can introduce gamers playing on low-powered hardware to the stunning world of NARAKA," said Ray Kuan, lead producer. "We love that more gamers will be able to enter the battlefield and enjoy the next generation of battle royale games in full PC glory across all of their devices."
Become the last warrior standing and learn the truth of NARAKA's world and its endless battles on GeForce NOW this week.
Hello, It's the Games of the Week
This GFN Thursday is packed with 11 new titles available to stream on GeForce NOW, including the stealth horror franchise, Hello Neighbor.
What's your neighbor hiding? Members can find out and play Hello Neighbor, a suspenseful story of sneaking into your neighbor's house to figure out what horrible secrets he's hiding in the basement. Don't get too comfortable — The Neighbor will learn from your every move and leave nasty surprises for you.
And stream the dramatic prequel, Hello Neighbor: Hide and Seek, to follow the tragic story of the loss of a family member while playing a game of hide-and-seek that leads to the game that started it all.
The full list of awesome games joining the service this week includes:
Finally, members will be able to sack a famous city and play the glorious new Assassin's Creed Valhalla: The Siege of Paris DLC upon release today on GeForce NOW.
While you plan your gaming escape this weekend, we've got an important question for you.
Some games are so gorgeous, they make us never want to leave.

If you had to spend your summer vacation in a game which one would it be? 🏖️

— 🌩️ NVIDIA GeForce NOW (@NVIDIAGFN) August 11, 2021
Tell us on Twitter or in the comments below, and we'll catch up next week!