Gear up for some festive fun this GFN Thursday with some of the GeForce NOW community's top picks of games to play during the holidays, as well as a new title joining the GeForce NOW library this week.
And, following the recent update that enabled Ubisoft Connect account syncing with GeForce NOW, select Ubisoft+ Multi-Access subscribers are receiving a one-month GeForce NOW Priority membership for free. Keep an eye out for an email from Ubisoft to subscribers eligible for the promotion and read more details.
Top Picks to Play During the Holidays
With over 1,400 titles streaming from the cloud and more coming every week, there's a game for everyone to enjoy this holiday. We asked which games members were most looking forward to playing, and the GeForce NOW community responded with their top picks.
Gamers are diving into all of the action with hit games like the next-gen update for The Witcher 3: Wild Hunt, Battlefield 2042 and Mass Effect.
"Battlefield 2042 highlights what the RTX 3080 tier is ALL about," said Project Storm. "High performance in the cloud with ultra-low latency."
"The Mass Effect saga is an epic journey," said Tartan Troot. "Certainly some of the best role-playing games you can play GeForce NOW."
The Witcher 3 Complete Edition on the 3080 tier

— ConfidesConch (@ConchConfides) December 14, 2022
Watch Dogs 2, Witcher 3, Cyberpunk. I'm an old gamer, but still enjoy a few hours a week video gaming.

— Lee Friend (@iamleefriend) December 14, 2022
For some, it's all about the immersion. Members are visiting darker and fantastic worlds in Marvel's Midnight Suns and Warhammer 40,000: Darktide. Many are fighting zombie hoards in Dying Light 2, while others are taking the path of revenge in SIFU.
"For me, it's the story that draws me into a game," said N7_Spectres. "So those games that I've been playing this year have been Marvel's Midnight Suns and Warhammer 40,000: Darktide."
"I've had so many good experiences in the cloud with GeForce NOW this year … games such as Dying Light 2 and SIFU have been in their element on the RTX 3080 membership," said ParamedicGames from Cloudy With Games.
Destiny 2, Fortnite and going to start Sniper 3. 🤟💚☁️🎮

— GhostStrats Cloud Gaming☁️🎮 (@GhostStrats) December 15, 2022
Gamers who crave competition called out favorites like Destiny 2 and Rocket League. Many mentioned their love for Fortnite, streaming with touch controls on mobile devices.
"The best game to stream on GFN this year has been Destiny 2," said Nads614. "Being able to set those settings to the maximum and see the quality and the performance is great — I love it."
"Rocket League still remains the best game I've ever played on GFN," said Aluneth. "Started playing on a bad laptop in 2017 and then moved on to GFN for a better experience."
"GeForce NOW RTX 3080 works so well to play Fortnite with support for 120 frames per second and ridiculously fast response time, making the cloud gaming platform an affordable, very competitive platform like no other," said DrSpaceman.
Other titles mentioned frequently include Genshin Impact, Apex Legends and Marvel's Midnight Suns for gamers wanting to play characters with fantastic abilities. Games like the Assassin's Creed series and Cyberpunk 2077 are popular options for immersive worlds. And members wanting to partner up and play with others should try It Takes Two for a fun-filled, collaborative experience.
Speaking of playing together, the perfect last-minute present for a gamer in your life is the gift of being able to play all of these titles on any device.
Grab a GeForce NOW RTX 3080 or Priority membership digital gift card to power up devices with the kick of a full gaming rig, priority access to gaming servers, extended session lengths and RTX ON to take supported games to the next level of rendering quality. Check out the GeForce NOW membership page for more information on benefits.
Here for the Holidays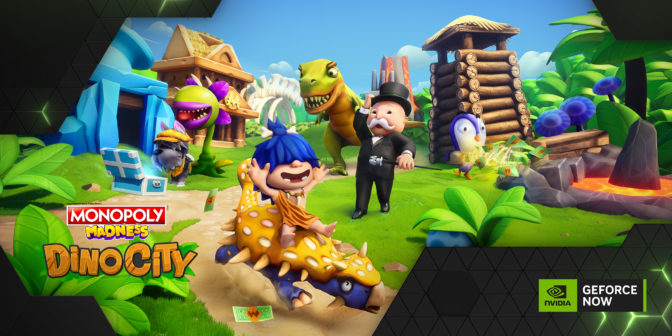 This GFN Thursday brings new in-game content. Roam around explosive Jurassic streets with dinosaurs and buy properties to become the most famous real-estate mogul of Dino City in the new MONOPOLY Madness downloadable content.
And, as the perfect tree topper, members can look for the following new title streaming this week:
Before celebrating the holidays with great gaming, share a little cheer by telling us who Santa should spoil this season. Let us know on Twitter.
Tag someone Santa should give this to… 🎅 pic.twitter.com/spSdeN8zoF

— 🌩️ NVIDIA GeForce NOW (@NVIDIAGFN) December 21, 2022