It's never been easier to be a PC gamer.
GeForce NOW is your gateway into PC gaming. With the power of NVIDIA GeForce GPUs in the cloud, any gamer can stream titles from the top digital games stores — even on low-powered hardware.
Evolve to the PC gaming ranks this GFN Thursday and get ready for seven more games streaming from the GeForce NOW library this week, including PC exclusives like Dread Hunger.
Set Yourself Free
Thanks to GeForce NOW, more gamers than ever can experience what it means to play PC games at unbelievable quality, across nearly all devices.
Members can stream over 1,000 PC titles that they own from digital game stores like Steam, Epic Games Store, Ubisoft Connect, Origin and GOG.com. And because they're streaming from the cloud, nearly any of their devices can become a GeForce gaming rig — even Macs or mobile devices.
Playing PC games means getting access to an entire universe of PC exclusives — titles unavailable on other platforms. Unite and survive in Valheim, or battle for supremacy in Dota 2. Conquer the universe in EVE Online, or be the last one standing in Ring of Elysium. Join hundreds of players to explore New World, or squad up with other ghost hunters in Phasmophobia. The options are nearly endless.
Members on the RTX 3080 membership — now available in a 1-month option — can experience the next generation of cloud gaming, streaming gameplay on PC and Mac at up to 1440 pixels and 120 frames per second. And with support for NVIDIA DLSS and RTX ON, titles like Cyberpunk 2077 and Dying Light 2 are rendered at gorgeous cinematic quality — the way they were meant to be played.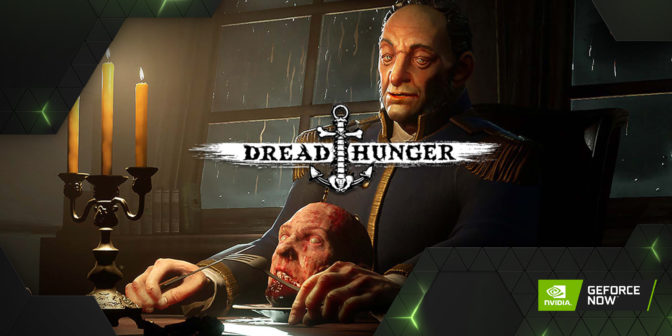 New games join the GeForce NOW library every GFN Thursday, including the hottest PC titles like Dread Hunger, which pits you and seven others in a deadly game of survival and betrayal. Even with a small personal collection to start, instantly jump into nearly 100 free-to-play games from Steam and the Epic Games Store. All progress syncs with the cloud, so you can keep playing across your devices, or even on your own GeForce gaming rig.
Ready to join the PC universe? Sign up for a GeForce NOW membership, download the app or access the service directly from a supported browser and link game stores to your GeForce NOW library to start playing PC games across devices today.
Jump On In
There's always something new to play on GeForce NOW. Here's the complete list of seven titles coming this week:
With the power of the cloud and all of these new games, we've got all that you need to be a PC gamer right here on Twitter:
it's never been easier to become a PC gamer…🌩️ pic.twitter.com/qzjNbyYLRD

— 🌩️ NVIDIA GeForce NOW (@NVIDIAGFN) March 16, 2022