Like strawberries? Changes in the labor market mean harvesting fresh strawberries by hand may soon be economically unsustainable.
The solution: a wild new breed of robots developed by Harvest CROO Robotics — a startup backed by strawberry growers — that can identify ripe fruit and gently snip it at the stem.
It's a sneak peek at the future of agriculture.
"Agriculture and natural resources are at a crossroads right now," said Dionne Toombs, director of the office of the chief scientist at the U.S. Department of Agriculture, kicking off a panel discussion Tuesday about AI and the future of agriculture at GTC DC. "We must use science and creativity to develop new technologies."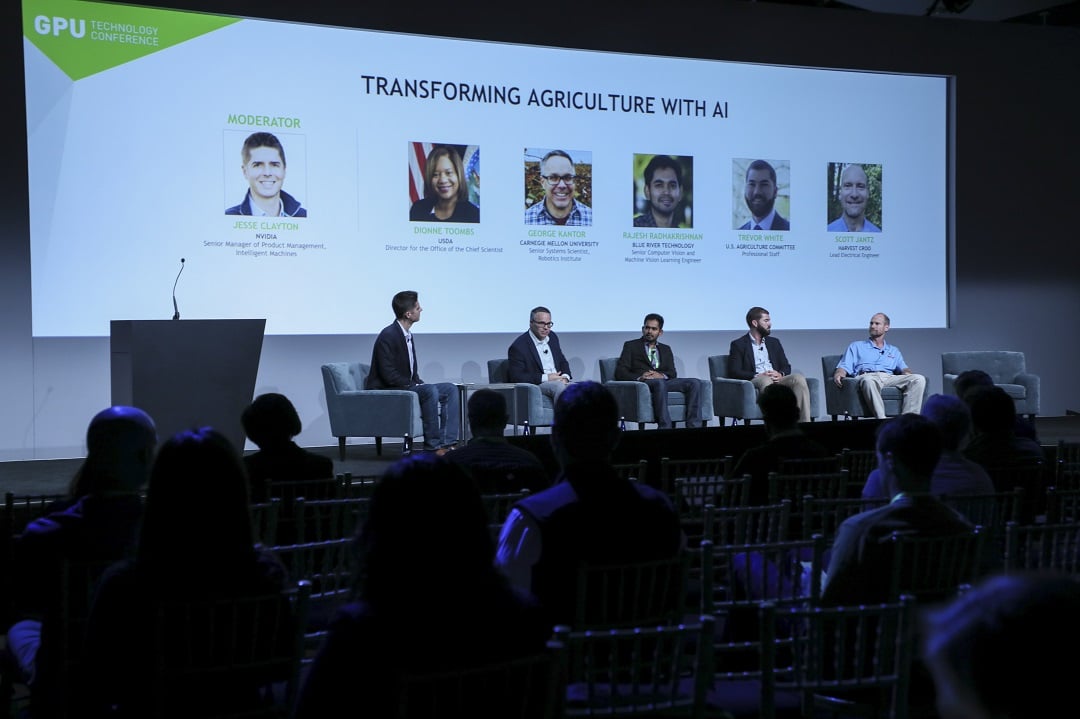 The strawberry industry is already moving to address these changes. 70 percent of the strawberry industry is invested in Harvest CROO's project because of concern about the future ramifications of the labor shortage to their market.
Strawberry fields, of course, are particularly labor intensive. Strawberries need to be picked three times a week so berries don't spoil on the vine. (one plant needs to be harvested 40 times in one season.
However, the ramifications of labor storage affect all crops that require hand picking, from tomatoes to blueberries and grapes.
AI and robotics could provide a solution, even as humanity needs to find ways to leave a smaller environmental footprint, panelists said.
"A lot of people don't realize that AI is being used today to solve problems that impact every American," said the panel's moderator, Jesse Clayton, senior manager of product management for intelligent machines at NVIDIA. "And what could be more important to the well-being of humans than food."
And contrary to the stereotype, farm labor is skilled labor, explained Trevor White, professional staff on the U.S. House of Representatives Agriculture Committee.
That makes creating robots that can perform this labor a challenge, explained George Kantor, senior systems scientist at Carnegie Mellon University's Robotics Institute.
"If you think about the way a human harvests a bunch of grapes off the vine, massages the bunch to find bad grapes, picks them out — right now we don't have anything with near that capability," Kantor said.
However, AI is quickly closing the gap. For example, robotics startup Blue River Technology, recently acquired by John Deere, now tends 10 percent of the lettuce grown in the U.S.
It does so with a technique it calls "precision agriculture," which uses sophisticated computer vision technology to identify weeds and precisely target them with herbicide.
It's the kind of painstaking task humans can't perform. It's simply too labor intensive in a market for agricultural labor that's only growing tighter — pitting farmers of different crops against one another during the often narrow period of time when they need to be able to get a lot of work done in a hurry.
"This is where intelligent machines can come in and help a farmer," said Rajesh Radhakrishnan, senior computer vision and machine learning engineer at Blue River.
Longer term, however, such approaches may do more than save strawberries.
They could help save the planet — shifting agriculture away from a world where skilled help is scarce to one where it's plentiful enough to carefully manage every crop.
These benefits and others will change the way we produce food.
"We have the opportunity to completely transform agriculture into something that won't look like normal agriculture," Scott Jantz, lead electrical engineer at Harvest CROO. "It will be more like prairies and forests."
Watch related work from Agrobot, featured in the GTC DC keynote, in this episode of the "I Am AI" docuseries: