Editor's note: This post is part of our weekly In the NVIDIA Studio series, which celebrates featured artists, offers creative tips and tricks, and demonstrates how NVIDIA Studio technology improves creative workflows. We're also deep diving on new GeForce RTX 40 Series GPU features, technologies and resources, and how they dramatically accelerate content creation.
To celebrate the upcoming Lunar New Year holiday, NVIDIA artist Zhelong Xu, aka Uncle Light, brought Chinese zodiac signs to life this week In the NVIDIA Studio — modernizing the ancient mythology in his signature style.
Chinese Tradition Brought to the 21st Century
NVIDIA principal artist Zhelong Xu is also co-founder of the Shanghai Magicstone Images studio and an art consultant for the Tencent TiMi Studio Group.
Xu is deeply passionate about modeling Chinese zodiac signs in 3D. His first serious attempt, Carefree Sheep, was chosen by Adobe Substance Painter, previously Allegorithmic, as the artwork on its first software launch screen.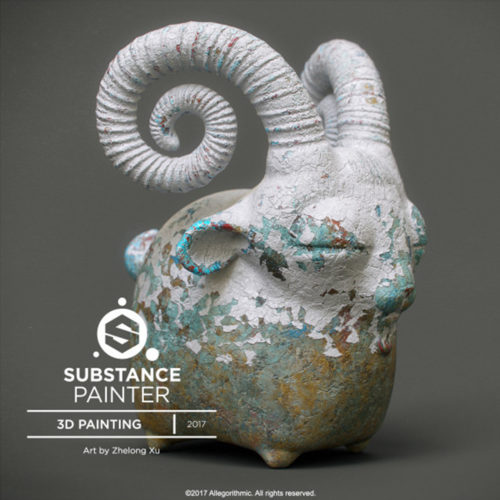 Xu creates at least one piece for his zodiac series each year. Harboring a Cute Tiger is his most popular work, which reached over 16 million people on the Chinese social media app Weibo.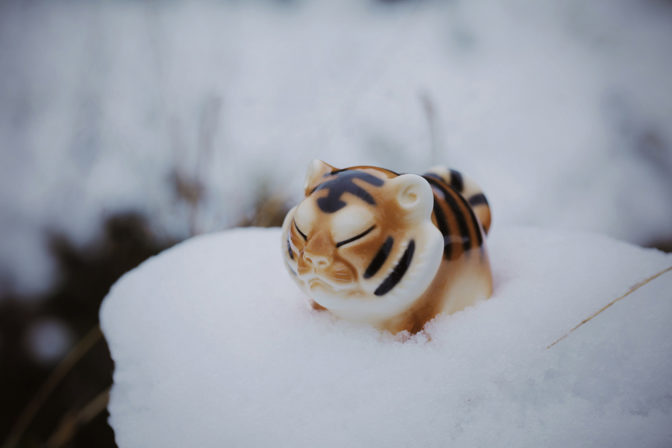 "I had the idea to turn this series into ceramic works, so I continued working with my friends in Jingdezhen to turn this series into physical objects," he said.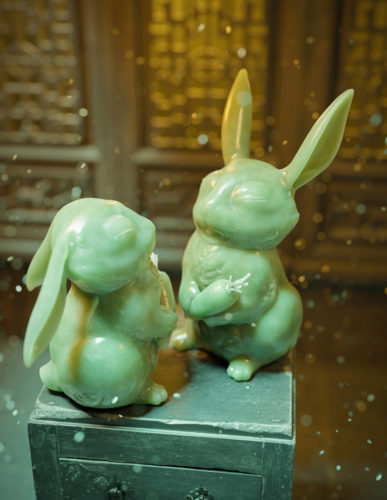 "I wanted to do something different in the Year of the Rabbit, so I chose to color the rabbit in NVIDIA green to match the classical Chinese atmosphere and to bring out the Chinese New Year energy," said Xu, who joined NVIDIA last year.
The two emerald rabbits, one with its ears up and the other with them down, are designed to look like they're teeming with anticipation for the arrival of Lunar New Year.
Xu deployed ZBrush for initial modeling with its custom sculpting tools. He then UV mapped the 3D model in preparation for applying a special emerald texture made in Adobe Substance 3D Painter. NVIDIA RTX-accelerated light- and ambient-occlusion features baked and optimized the scene assets in mere seconds, letting Xu experiment with textures quickly and easily with his GeForce RTX 4090 GPU.
The artist quickly exported files to Blender to set up the environment and tinker with lighting. He added many Eastern-style architectural and furniture options from the PBRMAX.com asset library.

Movement within the viewport was seamless with Blender Cycles RTX-accelerated OptiX ray tracing for interactive, photorealistic modeling.
Xu then deployed his secret weapon: NVIDIA Omniverse, a platform for creating and operating metaverse applications. He saved files in Universal Scene Description (USD) format using the Omniverse export plug-in to import them into the NVIDIA Omniverse Create app for final modeling. Here, Xu made adjustments to the translucent emerald material to make it as realistic as possible.
Omniverse Create was incredibly useful for scene modifications, Xu said, as it enabled him to test lighting with his scene rendering in real time. This provided him with the most accurate iteration of final renders, allowing for more meaningful real-time edits.
"Thanks to the power of the GeForce RTX 4090 GPU and RTX optimization in Omniverse, I got the desired effect very quickly and tested a variety of lighting effects," he said.
Omniverse gives 3D artists their choice of renderer within the viewport, with support for Pixar HD Storm, Chaos V-Ray, Maxon's Redshift, OTOY Octane, Blender Cycles and more. Xu deployed the unbiased NVIDIA Iray renderer to complete the project.
View more of Xu's work on ArtStation.
#NewYearNewArt Challenge 
With a new year will come new art, and we'd love to see yours! Use the hashtag #NewYearNewArt and tag @NVIDIAStudio to show off recent creations for a chance to be featured on our channels.
The challenge is off to a great start:
A new year means new art! 🎉🖼️

Join our Jan-Feb #NewYearNewArt challenge by sharing any new or relatively new art you've created for a chance to be featured on our channels!

Be sure to tag #NewYearNewArt and thanks to @AOi__Pan for sharing their new art. 🙌 pic.twitter.com/lXiFLROhQh

— NVIDIA Studio (@NVIDIAStudio) January 10, 2023
Excellent artists like @rabbit.hole_renders have helped kick off the challenge with creativity that's taking people to new worlds.  
Who's playing this game? 🕹️

Awesome submission to the #NewYearNewArt Challenge by rabbit.hole_renders (IG).

Share any new or relatively new art you've created with the tag #NewYearNewArt for a chance to be featured on our channels! 🎨 pic.twitter.com/GyrdJPbcM5

— NVIDIA Studio (@NVIDIAStudio) January 14, 2023
Plus, get a dose of potassium with @graffitpl's banana-based animation that comes with a side of mushrooms.
Were you looking for m̷o̷r̷e̷ spore banana animations? Look no further! 🍌🍄

This dose of potassium comes from the brililant @graffitpl (IG).

Tag #NewYearNewArt in your recently created art for a chance to be featured until the end of February! pic.twitter.com/78ETFDtVH4

— NVIDIA Studio (@NVIDIAStudio) January 16, 2023
Keep your eyes peeled for more amazing submissions on the NVIDIA Studio Instagram stories.
Access tutorials on the Studio YouTube channel and get updates directly in your inbox by subscribing to the Studio newsletter.