As home to some of the world's largest automakers, suppliers and automotive research institutions, Japan is a global authority when it comes to developing self-driving technology. At GTC Japan, NVIDIA showcased a range of partners developing on the NVIDIA DRIVE platform.
Toyota first announced its collaboration with NVIDIA at the 2017 GPU Technology Conference in Silicon Valley. Now the automaker is well underway in incorporating NVIDIA DRIVE AGX Xavier as the AI brain in its production cars beginning in 2020.
Autonomous trucks will also play a large role in making Japan's roadways safer and less congested. As one of Japan's leading truck makers, Isuzu Motors is developing autonomous vehicles with NVIDIA DRIVE AGX, starting with 360-degree surround perception, lane keeping and adaptive cruise control features, then moving to platooning and, ultimately, highly automated and fully autonomous vehicles.
Moving the World Forward, Together
Manufacturers are just one key piece in a massive ecosystem working toward this revolutionary technology. The NVIDIA DRIVE community includes industry-leading software startups, robotaxi companies mapmakers and veteran sensor suppliers hailing from Japan.
Autonomous driving will have a significant impact on delivery and mobility services, enabling cheaper and more efficient systems.
Startup Tier IV is using the DRIVE AGX compute platform to develop software systems for urban driverless vehicles, and has already logged more than 6,000 miles in autonomous driving pilots with various operators, including Japan Post. As it moves toward level 5 robotaxis and delivery vehicles, Tier IV is using NVIDIA DRIVE AGX Pegasus for its next-generation vehicles.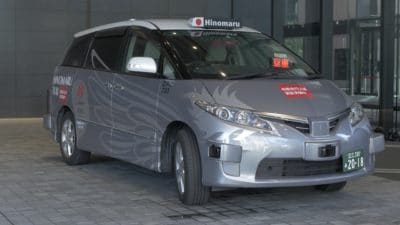 Self-driving company ZMP is also working toward robotaxis for urban mobility services, with the goal of deploying autonomous vehicles for the 2020 Olympics, to be held in Tokyo. The company completed the world's first paid robotaxi ride in the city this month, powered by NVIDIA AI technology.
To power these transformational mobility services, high-definition maps and powerful sensors will be crucial. Leading Japanese mapping company Zenrin is building HD maps of all highways in the country. With the NVIDIA DRIVE AV software stack, vehicles can localize themselves on the complex network of Japan's highways.
The high-performance, energy-efficient NVIDIA DRIVE AGX platform also integrates key sensor manufacturers. Sony's 8-megapixel automotive camera, Panasonic's depth-sensing camera, and automotive electronics supplier Omron's 3D lidar sensor can now all operate seamlessly with the NVIDIA DRIVE platform. The higher resolution and improved quality of these next-generation sensors enables self-driving cars to see farther and with better clarity, even in challenging lighting conditions.
From robotaxis to driverless trucks to personal cars with autonomous capabilities, these companies are drastically changing the way the world moves. With the help of NVIDIA DRIVE, our ecosystem partners are developing self-driving solutions for safer, more efficient roadways around the globe.