Editor's note: This post is a part of our Meet the Omnivore series, which features individual creators and developers who accelerate 3D workflows and create virtual worlds using NVIDIA Omniverse, a development platform built on Universal Scene Description, aka OpenUSD.
As augmented reality (AR) becomes more prominent and accessible across the globe, Kiryl Sidarchuk is helping to erase the border between the real and virtual worlds.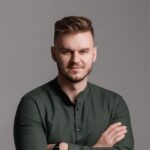 Co-founder and CEO of AR-Generation, which is a member of the NVIDIA Inception program for cutting-edge startups, Sidarchuk with his company developed MagiScan, an AI-based 3D scanner app.
It lets users capture any object with their smartphone camera and quickly creates a high-quality, detailed 3D model of it for use in any AR or metaverse application.
AR-Generation now offers an extension that enables direct export of 3D models from MagiScan to NVIDIA Omniverse, a development platform for connecting and building 3D tools and metaverse applications.
It's made possible with speed and ease by Universal Scene Description, aka OpenUSD, an extensible framework that serves as a common language between digital content-creation tools.
"Augmented reality will become an integral part of everyday life," said Sidarchuk, who's based in Nicosia, Cyprus. "We customized our app to allow export of 3D models based on real-world objects directly to Omniverse, enabling users to showcase the models in AR and integrate them into any metaverse or game."
Omniverse extensions are core building blocks that let anyone create and extend functions of Omniverse apps using the popular Python or C++ programming languages.
It was simple and convenient for AR-Generation to build the extension, Sidarchuk said, thanks to easily accessible documentation, as well as technical guidance from NVIDIA teams, free AWS credits and networking opportunities with other AI-driven companies — all benefits of being a part of NVIDIA Inception.
Capture, Click and Create 3D Models From Real-World Objects 
Sidarchuk estimates that MagiScan can create 3D models from objects 10x faster and at up to 100x less cost than it would take a designer to do so manually.
This frees creators up to focus on fine-tuning their work and makes AR more accessible to all through a simple app.
AR-Generation chose to build an extension for Omniverse because the platform "provides a convenient environment that integrates all the tools for working with 3D and generative AI," said Sidarchuk. "Plus, we can collaborate and exchange ideas with colleagues in real time."
Sidarchuk's favorite feature of Omniverse is its OpenUSD compatibility, which enables seamless interchange of 3D data between creative applications. "OpenUSD is the format of the future," he said.
Based on this framework, the MagiScan extension for Omniverse enables fast, affordable creation of high-quality 3D models for any object. MagiScan is available for download on iOS and Android devices.
"It can help everyone from individuals to large corporations save time and money in digitalization," said Sidarchuk, who claims his first word as a toddler was "money."
The business-oriented developer started his first company at age 16. It was a one-man endeavor, buying fresh fruits and vegetables from a small village and selling them in Minsk, the capital of Belarus. "That's how I earned enough to buy my first car," he mused.
More than a dozen years later, when he's not working to "enhance human capabilities through augmented-reality technologies," he said, Sidarchuk now spends his free time with his five-year-old daughter, Aurora.
Watch Sidarchuk discuss 3D modeling, AI and AR on a replay of his Omniverse livestream on demand, and learn more about the MagiScan extension for Omniverse.
Join In on the Creation
Anyone can build their own Omniverse extension or Connector to enhance their 3D workflows and tools. Creators and developers across the world can download NVIDIA Omniverse for free, and enterprise teams can use the platform for their 3D projects.
Check out artwork from other "Omnivores" and submit projects in the gallery. Connect your workflows to Omniverse with software from Adobe, Autodesk, Epic Games, Maxon, Reallusion and more.
Get started with NVIDIA Omniverse by downloading the standard license free, or learn how Omniverse Enterprise can connect your team. Developers can get started with Omniverse resources and learn about OpenUSD. Explore the growing ecosystem of 3D tools connected to Omniverse.
Stay up to date on the platform by subscribing to the newsletter, and follow NVIDIA Omniverse on Instagram, Medium and Twitter. For more, join the Omniverse community and check out the Omniverse forums, Discord server, Twitch and YouTube channels.