The factories of the future will have a soul — a "digital twin" that blends man and machine in stunning new ways.
In a demo blending reality and virtual reality, robotics and AI, to manage one of BMW's automotive factories, NVIDIA CEO Jensen Huang Monday rolled out a stunning vision of the future of manufacturing.
"We are working with BMW to create a future factory," Huang announced during his keynote address at NVIDIA's GPU Technology Conference before giving his audience a look.
The demo highlights the general availability of NVIDIA Omniverse Enterprise, the first technology platform enabling global 3D design teams to work together simultaneously across multiple software suites in a shared virtual space.
The AI factory demo brings a full suite of NVIDIA technologies on Omniverse, including the NVIDIA Isaac platform for robotics, the NVIDIA EGX edge computing platform and the NVIDIA Aerial software development kit, which brings GPU-accelerated, software-defined 5G wireless radio access networks to the factory floor.
'The World's Largest Custom-Manufacturing Company'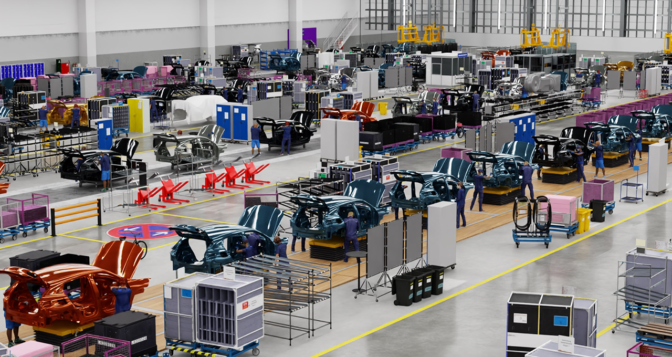 Each of BMW's factory lines can produce up to 10 different cars, and BMW prides itself on giving customers plenty of choices.
There are over 100 options for each car, and more than 40 BMW models. In all, there are 2,100 possible ways to configure a new BMW.
"BMW may very well be the world's largest custom-manufacturing company," Huang said.
These vehicles are produced in 31 factories located around the world, explained Milan Nedeljković, member of the Board of Management of BMW AG.
Moving the Parts That Go into the Machines That Move Your Parts
In an instant, Huang and Nedeljković summoned a digital twin of one of BMW's factories — and the screen was filled with gleaming cars being assembled by banks of perfectly synchronized robots — all simulated.
To design and reconfigure its factories, BMW's global teams can collaborate in real-time using different software packages like Revit, Catia, or point clouds to design and plan the factory in 3D and all the changes are visible, in real-time, on Omniverse.
"The capability to operate in a perfect simulation revolutionalizes BMW's planning processes," Nedeljković said.
Some of that work has to be hands-on. BMW regularly reconfigures our factories to accommodate new vehicle launches. Now, thanks to Omniverse that doesn't mean workers have to travel.
Nedeljković showed two BMW planning experts located in different parts of the world testing a new line design in Omniverse.
One of them "wormholes" — or travels virtually — into an assembly simulation with a motion capture suit and records task movements.
The other adjusts the line design, in real time.
"They work together to optimize the line as well as worker ergonomics and safety," Nedeljković said.
The next step: recreating these kinds of interactions, at scale, in simulations, Nedeljković said.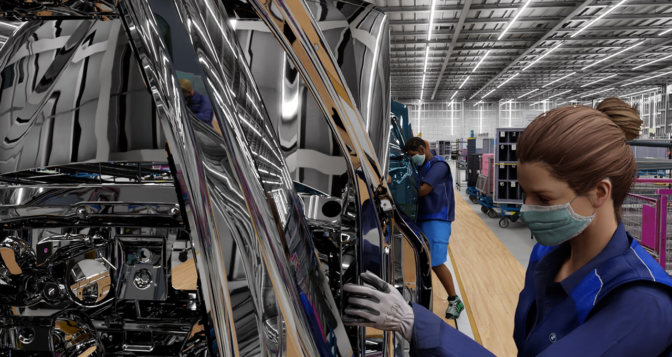 "That's exactly why NVIDIA has Digital Human for simulation," Huang said. "Digital Humans are trained with data from real associates."
These digital humans can be used in simulations to test new workflows for worker ergonomics and efficiency.
BMW's 57,000 factory workers share workspace with robots designed to make their jobs easier.
Omniverse, Nedeljković said, will help robots adapt to BMW's reconfigured factories rapidly.
"With NVIDIA Isaac robotics platform, BMW is deploying a fleet of intelligent robots for logistics to improve the material flow in our production," Nedeljković said.
That agility is necessary since BMW produces 2.5 million vehicles per year, and 99 percent of them are custom.
Omniverse can tap into NVIDIA Isaac for synthetic data generation and domain randomization, Huang said. That's key to bootstrapping machine learning.
"Isaac Sim generates millions of relevant synthetic images, and varies the environment to teach robots. " Huang said.
Domain randomization can generate an infinite permutation of photorealistic objects, textures, orientations, and lighting conditions, Huang said.
"Simulation offers perfect ground truth, whether for detection, segmentation or depth perception," he added.
Huang and Nedeljković showed a BMW employee monitoring operations in the factory. The operator is able to assign missions to different robots, and see a photorealistic digital win of its progress in Omniverse — all updated by sensors throughout the factory.
With NVIDIA Fleet Command software, workers can securely orchestrate robots, and other devices, in the factory, Huang explained.
They can monitor complex manufacturing cells in real-time, update software over the air, and launch robots in the factory on missions.
Humans can even lend robots a "helping hand." When an alert is sent to MIssion Control, one of BMW"s human associations can teleoperate the robot — looking through its camera to guide it through a 5G connection.
Then, with a push of a button, the operator returns the robot to autonomous control.
Continuous Improvement, Continually Improving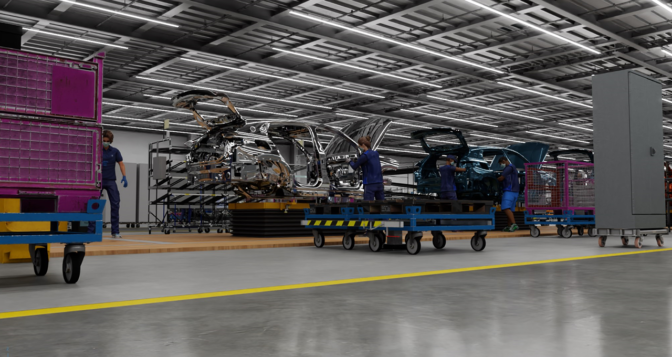 "NVIDIA Omniverse and NVIDIA AI give us the chance to simulate the 31 factories in our production network," Nedeljković said.
All the elements of the complete factory model — including the associates, the robots, the buildings, the assembly parts — can be simulated to support a wide range of AI-enabled use cases such as virtual factory planning, autonomous robots, predictive maintenance, big data analytics, he explained.
"These new innovations will reduce the planning times, improve flexibility and precision, and at the end produce 30 percent more efficient planning processes," Nedeljković said.
The result: a beautifully crafted new car, an amazing machine that's the product of an amazing machine — a factory able to capture and replicate every motion in the real world to a digital one, and back.
To learn more about how Omniverse is accelerating workloads within the Manufacturing industry, check out some of our sessions from GTC 21 here.