A decade ago, GPUs were judged on whether they could power through Crysis. How quaint.
The latest NVIDIA Ampere GPU architecture, unleashed in May to power the world's supercomputers and hyperscale data centers, has come to gaming.
And with NVIDIA CEO Jensen Huang on Tuesday unveiling the new GeForce RTX 30 Series GPUs, it's delivering NVIDIA's "greatest generational leap in company history."
The GeForce RTX 30 Series, NVIDIA's second-generation RTX GPUs, deliver up to 2x the performance and 1.9x the power efficiency over previous-generation GPUs.
"If the last 20 years was amazing, the next 20 will seem like nothing short of science fiction," Huang said, speaking from the kitchen of his Silicon Valley home. Today's NVIDIA Ampere launch is "a giant step into the future," he added.
In addition to the trio of new GPUs — the flagship GeForce RTX 3080, the GeForce RTX 3070 and the "ferocious" GeForce RTX 3090 — Huang introduced a slate of new tools for GeForce gamers.
They include NVIDIA Reflex — which makes competitive gamers quicker, NVIDIA Omniverse Machinima — for those using real-time computer graphics engines to create movies, and NVIDIA Broadcast — which harnesses AI to build virtual broadcast studios for streamers.
Up Close and Personal
A pair of demos tell the tale. In May, we released a demo called Marbles — featuring the world's first fully path-traced photorealistic real-time graphics.
Chock-full of reflections, textures and light sources, the demo is basically a movie that's rendered in real time as a marble rolls through an elaborate workshop rich with different materials and textures. It's a stunningly realistic environment.
In May, Huang showed Marbles running on our top-end Turing architecture-based Quadro RTX 8000 graphics card at 25 frames per second at 720p resolution. An enhanced version of the demo, Marbles at Night, running on NVIDIA Ampere, runs at 30 fps at 1440p.
More telling is a demo that can't be shown remotely — gameplay running at 60 fps on an 8K LG OLED TV — because video-streaming services don't support that level of quality.
The GeForce RTX 3090 is the world's first GPU able to play blockbuster games at 60 fps in 8K resolution, which is 4x the pixels of 4K and 16x the pixels of 1080p.
We showed it to a group of veteran streamers in person to get their reactions as they played through some of latest games.
"You can see wear and tear on the treads," one said, tilting his head to the side and eyeing the screen in amazement.
"This feels like a Disneyland experience," another added.
Gamers Battle COVID-19
Huang started his news-packed talk by thanking the more than one million gamers who pooled their GPUs through Folding@Home to fight the COVID-19 coronavirus.
The result was 2.8 exaflops of computing power, 5x the processing power of the world's largest supercomputer, Huang said, capturing the moment the virus infects a human cell.
"Thank you all for joining this historic fight," Huang said.
RTX a "Home Run"
For 40 years, since NVIDIA researcher Turner Whitted published his groundbreaking paper on ray tracing, computer science researchers have chased the dream of creating super-realistic virtual worlds with real-time ray tracing, Huang said.
NVIDIA focused intense effort over the past 10 years to realize real-time ray tracing on a large scale. At the SIGGRAPH graphics conference two years ago, NVIDIA unveiled the first NVIDIA RTX GPU.
Based on NVIDIA's Turing architecture, it combined programmable shaders, RT Cores to accelerate ray-triangle and ray-bounding-box intersections, and the Tensor Core AI processing pipeline.
"Now, two years later, it is clear we have reinvented computer graphics," Huang said, citing support from all major 3D APIs, tools and game engines, noting that hundreds of RTX-enabled games are now in development. "RTX is a home run," he said.
Just ask your kids, if you can tear them away from their favorite games for a moment.
Fortnite, from Epic Games, is the latest global sensation to turn on NVIDIA RTX real-time ray-tracing technology, Huang announced.
Now Minecraft and Fortnite, two of the most popular games in the world, have RTX On.
No kid will miss the significance of these announcements.
A Giant Leap in Performance 
The NVIDIA Ampere architecture, the second generation of RTX GPUs, "is a giant leap in performance," Huang said.
Built on a custom 8N manufacturing process, the flagship GeForce RTX 3080 has 28 billion transistors. It connects to Micron's new GDDR6X memory — the fastest graphics memory ever made.
"The days of just relying on transistor performance scaling is over," Huang said.
GeForce RTX 3080: The New Flagship
Starting at $699, the RTX 3080 is the perfect mix of fast performance and cutting-edge capabilities, leading Huang to declare it NVIDIA's "new flagship GPU."
Designed for 4K gaming, the RTX 3080 features high-speed GDDR6X memory running at 19Gbps, resulting in performance that outpaces the RTX 2080 Ti by a wide margin.
It's up to 2X faster than the original RTX 2080. It consistently delivers more than 60 fps at 4K resolution — with RTX ON.
GeForce RTX 3070: The Sweet Spot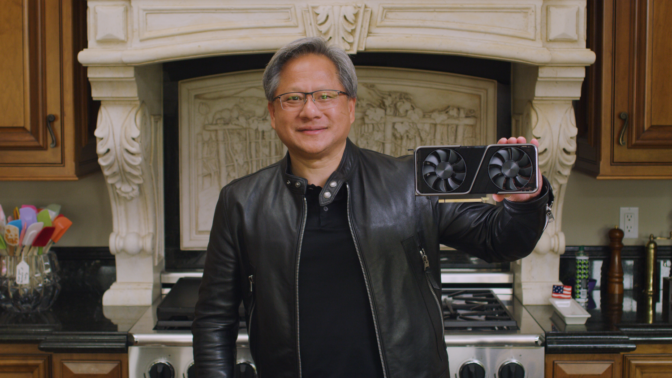 Making more power available to more people is the RTX 3070, starting at $499.
And it's faster than the $1,200 GeForce RTX 2080 Ti — at less than half the price.
The RTX 3070 hits the sweet spot of performance for games running with eye candy turned up.
GeForce RTX 3090: A Big, Ferocious GPU
At the apex of the lineup is the RTX 3090. It's the fastest GPU ever built for gaming and creative types and is designed to power next-generation content at 8K resolution.
"There is clearly a need for a giant GPU that is available all over the world," Huang said. "So, we made a giant Ampere."
And the RTX 3090 is a giant of a GPU. Its Herculean 24GB of GDDR6X memory running at 19.5Gbps can tackle the most challenging AI algorithms and feed massive data-hungry workloads for true 8K gaming.
"RTX 3090 is a beast — a big ferocious GPU," Huang said. "A BFGPU."
At 4K it's up to 50 percent faster than the TITAN RTX before it.
It even comes with silencer — a three-slot, dual-axial, flow-through design — up to 10x quieter and keeps the GPU up to 30 degrees C cooler than the TITAN RTX.
"The 3090 is so big that for the very first time, we can play games at 60 frames per second in 8K," Huang said. "This is insane."
Faster Reflexes with NVIDIA Reflex
For the 75 percent of GeForce gamers who play esports, Huang announced the release of this month of NVIDIA Reflex with our Game Ready Driver.
In Valorant, a fast-paced action game, for example, Huang showed a scenario where an opponent, traveling at 1,500 pixels per second, is only visible for 180 milliseconds.
But a typical gamer has a reaction time of 150 ms — from photon to action. "You can only hit the opponent if your PC adds less than 30 ms," Huang explained.
Yet right now, most gamers have latencies greater than 30 ms — many up to 100 ms, Huang noted.
NVIDIA Reflex optimizes the rendering pipeline across CPU and GPU to reduce latency by up to 50 ms, he said.
"Over 100 million GeForce gamers will instantly become more competitive," Huang said.
Turn Any Room into a Broadcast Studio
For live streamers, Huang announced NVIDIA Broadcast. It transforms standard webcams and microphones into smart devices to turn "any room into a broadcast studio," Huang said.
It does this with effects like Audio Noise Removal, Virtual Background Effects — whether for graphics or video — and Webcam Auto Framing, giving you a virtual cameraperson.
NVIDIA Broadcast runs AI algorithms trained by deep learning on NVIDIA's DGX supercomputer — one of the world's most potent.
"These AI effects are amazing," Huang said.
NVIDIA Broadcast will be available for download in September and runs on any RTX GPU, Huang said.
Omniverse Machinima
For those now using video games to create movies and shorts — an art form known as Machinima — Huang introduced NVIDIA Omniverse Machinima, based on the Omniverse 3D workflow collaboration platform.
With Omniverse Machinima, creators can use their webcam to drive an AI-based pose-estimator to animate characters. Drive face animation AI with your voice. Add high-fidelity physics like particles and fluids. Make materials physically accurate.
When done with your composition and mixing, you can even render film-quality cinematics with your RTX GPU, Huang said.
The beta will be available in October. Sign up at nvidia.com/machinima.
Nothing Short of Science Fiction
Wrapping up, Huang noted that it's been 20 years since the NVIDIA GPU introduced programmable shading. "The GPU revolutionized modern computer graphics," Huang said.
Now the second-generation NVIDIA RTX — fusing programmable shading, ray tracing and AI — gives us photorealistic graphics and the highest frame rates simultaneously, Huang said.
"I can't wait to go forward 20 years to see what RTX started," Huang said.
"In this future, GeForce is your holodeck, your lightspeed starship, your time machine," Huang said. "In this future, we will look back and realize that it started here."