Talk about a Grand Slam.
Denny's CEO Kelli Valade was joined Tuesday by NVIDIA CEO Jensen Huang to unveil a plaque at the Silicon Valley Denny's where NVIDIA's founders hatched their idea for a chip that would enable realistic 3D graphics on personal computers.
"This is a place where we fuel ideas. Your story is so inspiring it will continue to inspire people at Denny's," Valade said, as she presented the plaque to Huang.
"Denny's has taught me so many lessons," Huang said.
Both CEOs got their start working in diners. Valade got her first job as a waitress at a diner when she was 16. Huang got his first job at Denny's in Portland when he was 15.
"I was a dishwasher, I was a busboy, I waited tables," Huang said. "No one can carry more coffee cups than I can."
To fuel even more great ideas, Valade announced the Denny's Trillion-Dollar Incubator Contest — offering $25,000 in seed money for the next $1 trillion idea.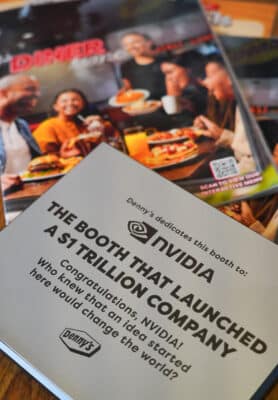 The contest is open to anyone with a creative and innovative idea that could impact the world. The only catch? The idea must originate — like NVIDIA — in a Denny's booth.
NVIDIA, the leading accelerated computing and AI company, got its start at the 24-hour diner chain known for favorites such as its signature Grand Slam breakfast combo.
In 1993, three friends — Huang, Chris Malachowsky and Curtis Priem — met at Denny's to discuss creating a chip that would enable realistic 3D graphics on personal computers.
The Denny's just off a busy thoroughfare in the heart of Silicon Valley was the perfect place to start a business, said Huang, who lived nearby at the time with his wife and kids.
"It had all the coffee you could drink and no one could chase you out," Huang told Valade.
Tuesday's event took place in a corner of the bustling restaurant — one of the most popular Denny's locations in Northern California — as families, retirees and workers coming off the night shift piled in for plates piled high with eggs and pancakes, sausage and bacon.
Huang was among them, starting the day with a meeting where he and his table polished off a Lumberjack Slam, Moons Over My Hammy and a Super Bird sandwich — washed down with plenty of coffee. 

Huang, whose family immigrated to the United States from Taiwan when he was a child, told Valade he had his first hamburger at Denny's and his first milkshake.
"We make the best pancakes here," Huang said.
"I love how you still say 'we,'" Valade said.
"Made fresh every day," Huang added with a grin.
Valade and Huang said Denny's can be a great launching pad, not just for great ideas, but for great careers.
"Start your first job in the restaurant business," Huang said. "It teaches you humility, it teaches you hard work, it teaches you hospitality."
Valade agreed wholeheartedly. After talking shop with Huang, she checked in with diners like Alfred, who was tucking into a stack of pancakes amid the morning rush.
For people across Silicon Valley, it's the place to be. "I come here every day," the retired roofer said.
Full contest details for the Denny's Trillion Dollar Incubator Contest can be found at www.dennys.com/trilliondollarincubator. Contestants can submit their ideas online or at a Denny's restaurant by Nov. 21 at 8:59 a.m. The winner will be announced early next year.
Image credit: Don Feria/AP Images for Denny's