Transportation industry trailblazers are propelling their next-generation vehicles by building on NVIDIA DRIVE end-to-end solutions, which span the cloud to the car. NVIDIA's automotive design win pipeline has increased to $14 billion over the next six years — from 2023 through 2028 — as announced at the financial analyst event held during GTC.
The world's best-selling new energy vehicle (NEV) brand BYD announced at GTC that it's using the NVIDIA DRIVE Orin centralized compute platform to power an even wider range of vehicles within its mainstream Dynasty and Ocean series of NEVs.
This comes hot on the heels of BYD's recent announcement that it's working to bring the NVIDIA GeForce NOW cloud gaming service to its vehicles to further enhance the in-car experience.
DeepRoute.ai, a developer of production-ready autonomous driving solutions, has launched its Driver 3.0 HD Map-Free solution. Built on NVIDIA DRIVE Orin, this product is designed to offer a non-geo-fenced solution for mass-produced advanced driver-assistance system (ADAS) vehicles, and will be available at the end of the year.
By using the computational power of the automotive-grade DRIVE Orin system-on-a-chip, which delivers 254 trillion operations per second (TOPS) of compute performance, DeepRoute's HD Map-Free solution promises to accelerate deployment of driver-assistance functions to consumer cars and robotaxis.
Plus, Pony.ai announced that its autonomous-driving domain controller (ADC), powered by NVIDIA DRIVE, will be deployed for large-scale commercial use in autonomous-delivery vehicles for Beijing-based companies Meituan and Neolix.
With NVIDIA DRIVE Orin as the AI brain of their driverless vehicles, Meituan and Neolix are well-positioned to fulfill growing consumer demand for safe, scalable autonomous delivery of goods.
Lenovo announced it is a tier-one manufacturer of a new ADC based on the next-generation NVIDIA DRIVE Thor centralized computer. Packed with up to 2,000 TOPS of performance, DRIVE Thor will power Lenovo's ADC, which is set to become the company's top-tier vehicle computing product line, with mass production expected in 2025.
Rimac Technology, the engineering arm of Croatian-based Rimac Group, is working on a new central vehicle computer, or R-CVC, that will power ADAS, in-vehicle cockpit systems, the vehicle dynamics logic and the body and comfort software stack.
NVIDIA DRIVE hardware and software will be used in this platform to accelerate Rimac Technology's development efforts and enable its manufacturer customers to speed time to market, reduce development costs, streamline maintenance, and boost vehicle performance.
New premium intelligent all-electric auto brand smart is now developing next-generation intelligent mobility solutions with NVIDIA. The startup will build its future all-electric portfolio  using the NVIDIA DRIVE Orin platform to create a "smarter" urban mobility experience for its global customers. The start of vehicle production is expected by the end of 2024.
In addition, smart will collaborate with NVIDIA to build a dedicated data center for the development of highly advanced assisted-driving and AI systems to explore cutting-edge mobility solutions.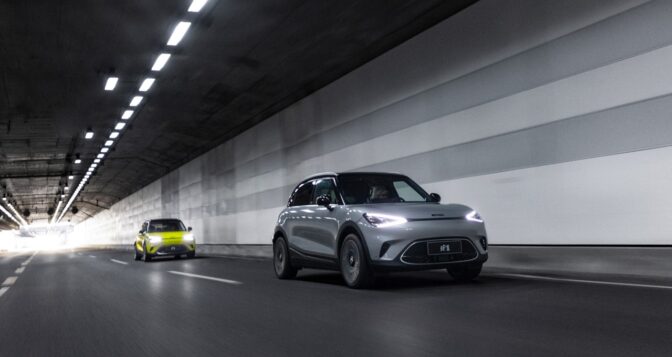 Changing the Rules of the Road
The transportation industry is undergoing a revolution, and NVIDIA is leading the charge with its game-changing DRIVE end-to-end platform, which is transforming the way mobility leaders are building advanced driving systems.
NVIDIA's dedication to safer, smarter and more enjoyable in-vehicle experiences is core to all aspects of its DRIVE platform, from the ability to train AI in the data center to delivering high-performance centralized compute in the car.
The NVIDIA DRIVE AV and DRIVE IX software stacks enable custom applications, and the DRIVE Sim platform powered by Omniverse provides a comprehensive testing and validation platform for autonomous vehicles.
Learn more about the latest technology breakthroughs in automotive and other industries by watching NVIDIA founder and CEO Jensen Huang's GTC keynote:
Featured image courtesy of BYD.