To make transportation safer, autonomous vehicles (AVs) must have processes and underlying systems that meet the highest standards.
NVIDIA DRIVE OS is the operating system for in-vehicle accelerated computing powered by the NVIDIA DRIVE platform. DRIVE OS 5.2 is now functional safety-certified by TÜV SÜD, one of the most experienced and rigorous assessment bodies in the automotive industry.
TÜV SÜD has determined that the software meets the International Organization for Standardization (ISO) 26262 ASIL B standard, which targets functional safety, or "the absence of unreasonable risk due to hazards caused by malfunctioning behavior of electrical or electronic systems."
Based in Munich, Germany, TÜV SÜD assesses compliance to national and international standards for safety, durability and quality in cars, as well as for factories, buildings, bridges and other infrastructure.
Safety architecture, design and methodologies are pervasive throughout NVIDIA DRIVE solutions, from the data center to the car. NVIDIA has invested 15,000 engineering years in safety systems and processes.
A Strong Foundation
DRIVE OS is the foundation of the NVIDIA DRIVE SDK and is the first functionally safe operating system for complex in-vehicle accelerated computing platforms.
It includes NVIDIA CUDA libraries for efficient parallel computing, the NVIDIA TensorRT SDK for real-time AI inferencing, the NvMedia library for sensor input processing and other developer tools and modules for access to hardware engines.
NVIDIA is working across the industry to ensure the safe deployment of AVs. It participates in standardization and regulation bodies worldwide, including ISO, the Society of Automotive Engineers (SAE), the Institute of Electrical and Electronics Engineers (IEEE) and more.
Measuring Up
NVIDIA DRIVE is an open platform, meaning experts at top car companies can build upon this industrial-strength system.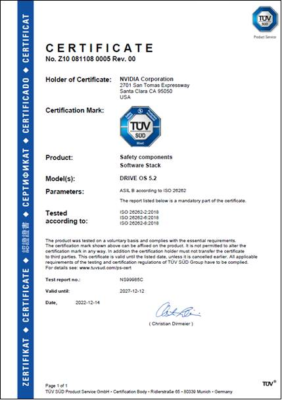 TÜV SÜD, among the world's most respected safety experts, measured DRIVE OS against industry safety standards, specifically ISO 26262, the definitive global standard for functional safety of road vehicles' systems, hardware and software.
To meet that standard, software must detect failures during operation, as well as be developed in a process that handles potential systematic faults along the whole V-model — from safety-requirements definition to coding, analysis, verification and validation.
That is, the software must avoid failures whenever possible, but detect and respond to them if they cannot be avoided.
TÜV SÜD's team determined DRIVE OS 5.2 complies with the testing criteria and is suitable for safety-related use in applications up to ASIL B.
Safety Across the Stack
Safety is NVIDIA's first priority in AV development.
This certification builds on TÜV SÜD's 2020 assessment of the NVIDIA DRIVE Xavier system-on-a-chip, which determined that it meets ISO 26262 random hardware integrity of ASIL C and a systematic capability of ASIL D for process — the strictest standard for functional safety.
These processes all contribute to our dedication to a comprehensive safety approach that extends from the SoC to the operating system, the application software and the cloud.