More than 50 automotive companies around the world have deployed over 800 autonomous test vehicles powered by the NVIDIA DRIVE Hyperion automotive compute architecture, which has recently achieved new safety milestones.
The latest NVIDIA DRIVE Hyperion architecture is based on the DRIVE Orin system-on-a-chip (SoC). Many NVIDIA DRIVE processes, as well as hardware and software components, have been assessed and/or certified compliant to ISO 26262 by TÜV SÜD, an independent, accredited assessor that ensures compliance with the International Organization for Standardization (ISO) 26262:2018 Functional Safety Standard for Road Vehicles.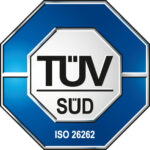 Specifically, NVIDIA DRIVE core development processes are now certified as ISO 26262 Automotive Safety Integrity Level (ASIL) D compliant. ISO 26262 is based on the concept of a safety lifecycle, which includes planning, analysis, design and implementation, verification and validation.
Additionally:
The NVIDIA DRIVE Orin SoC completed concept and product assessments and is deemed to meet ISO 26262 ASIL D systematic requirements and ASIL B random fault management requirements.
The NVIDIA DRIVE AGX Orin board completed concept assessment and is deemed to meet ISO 26262 ASIL D requirements.
The NVIDIA DRIVE Orin-based platform, which unifies the Orin SoC and DRIVE AGX Orin board, completed concept assessment and is deemed to meet ISO 26262 ASIL D requirements.
Development of NVIDIA DRIVE OS 6.x is in progress and will be assessed by TÜV SÜD. This follows the recent certification of DRIVE OS 5.2, which includes NVIDIA CUDA libraries and the NVIDIA TensorRT software development kit for real-time AI inferencing.
Building safe autonomous vehicle technology is one of NVIDIA's largest and most important endeavors, and functional safety is the focus at every step, from design to testing to deployment.
Functional safety is paramount in the deployment of AVs — ensuring they operate safely and reliably without endangering occupants, pedestrians or other road users.
AV Functional Safety Leadership
The initial ISO 26262 ASIL D functional safety certification — and recertification — of NVIDIA's hardware development processes, along with the assessment of two generations of SoCs that include NVIDIA GPU and Tensor Core technology, demonstrate NVIDIA's commitment to AV functional safety.
NVIDIA's leadership in AV safety is further exhibited in its contributions to published standards – such as ISO 26262 and ISO 21448 — and ongoing initiatives — such as ISO/TS 5083 on AV safety, ISO/PAS 8800, ISO/IEC TR 5469 on AI safety and ISO/TR 9839.
Unified Hardware and Software Architecture
NVIDIA offers a unified hardware and software architecture throughout its AV research, design and deployment infrastructure. NVIDIA DRIVE Hyperion is an end-to-end, modular development platform and reference architecture for designing autonomous vehicles. The latest generation includes the NVIDIA DRIVE AGX Orin developer kit, plus a diverse and redundant sensor suite.
Self-Driving Safety Report
Learn more about NVIDIA's AV safety practices and technologies in the NVIDIA Self-Driving Safety Report.