Three decades and hundreds of millions of lines of computer code after graduating from the Milwaukee School of Engineering, NVIDIA's Dwight Diercks returned today to celebrate a donation that will put his alma mater at the forefront of AI undergraduate education.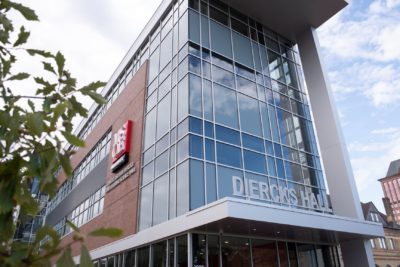 Diercks, who grew up the son of a mailman, working on his family's pig farm in Red Wing, Minnesota, came to NVIDIA as its 22nd employee. Today, he oversees a team of some 5,000 software engineers around the world who ship tens of millions of lines of code each month that help accelerate the world's computing.
Diercks' $34 million gift, the largest from an alum in MSOE's 116-year history, is the keystone in the school's efforts to infuse its engineering program with artificial intelligence. Two years ago, MSOE became one of the very few programs, together with Carnegie Mellon, to offer a computer science degree focused on AI.
As a result, at a time when many smaller schools wrestle with getting students in the door and financial pressures, MSOE is on a roll. Enrollment in computer science-related programs at the 2,800-student school — based in the heart of downtown Milwaukee, just a few blocks from the green parkland alongside Lake Michigan — is up 67 percent since the program was introduced. Other key admissions indicators are also up by strong double digits.
Speaking ahead of a ceremony to mark the donation, MSOE President John Walz said, "AI has very quickly become huge for us." He noted that the new computer science program is already on pace to be the school's second largest program and that the number of companies now recruiting there is approaching the number in its graduating class.
Central to MSOE's focus on AI is the spanking new NVIDIA-powered AI supercomputer housed in a glass-walled area within the newly constructed four-story Diercks Hall. The system includes three NVIDIA DGX-1 pods, each with eight NVIDIA V100 Tensor Core GPUs, and 20 servers each with four NVIDIA T4 GPUs. The nodes are joined together by Mellanox networking fabric and share 200TB of network-attached storage.
Rare among supercomputers in higher education, the system —which provides 8.2 petaflops of deep learning performance — will be used for teaching undergrad classes.
Diercks, who made the donation with his wife, Dian, initiated the AI initiative because of the school's highly practical, hands-on approach to teaching future engineers, leading them to spend more time in labs than classrooms. His own immersion in NVIDIA's evolution in recent years into an AI powerhouse from its roots in computer gaming helped him encourage MSOE to reshape its approach around preparing students for the brave new age of artificial intelligence.
"We knew MSOE needed a supercomputer and one that can expand to scale out for students and scale up for local industries and professors," Diercks said. In an emotional speech, he thanked a high school teacher, MSOE professor and NVIDIA founder and CEO Jensen Huang for reinforcing what his parents taught him about the importance of hard work and continuous learning.
"You don't ever take a day off learning," he quoted his former math teacher, Ron Gray, as telling him when he tried to skip out on a test. The long-retired teacher shyly stood up in the back of the hall.
While MSOE students come to the school from across the Midwest, with a smattering from California and Texas, many choose to stay in the Milwaukee area. The largely deindustrialized city of German church spires — which a century ago represented American innovation, giving birth to the typewriter, steam shovel and motorcycle — is home to thriving companies like Northwestern Mutual, Harley-Davidson and Rockwell Automation that hire many grads.
While not widely recognized as tech companies, these regional giants collect oceans of data that need to be crunched using the latest tools of deep learning and data science.
Huang, who delivered a keynote after the ceremony, called AI the fourth industrial revolution that will sweep across the work of virtually every industry. MSOE's new AI push and supercomputer will help it enable generations of computer scientists trained for tomorrow's challenges.
"MSOE now has the single most important instrument of knowledge today," Huang said, delivering the first address in the NVIDIA auditorium. "Without access to the correct instrument, you can't access knowledge."
Outside the auditorium, Kyle Rodrigues, a sophomore from suburban Chicago enrolled in the new computer science program, said it was AI that drew him to MSOE. He exclaimed how thrilled he was to get his hands on the supercomputer, which MSOE is christening "Rosie," the term used for a half dozen pioneering women who worked in the 1940s programming the early ENIAC computer — and which was also the name of Dierck's mother.