The world's largest democracy is poised to transform itself and the world, embracing AI on an enormous scale.
Speaking with the press Friday in Bengaluru, in the context of announcements from two of India's largest conglomerates, Reliance Industries Limited and Tata Group, NVIDIA founder and CEO Jensen Huang detailed plans to bring AI technology and skills to address the world's most populous nation's greatest challenges.
"I think this is going to be one of the largest AI markets in the world," said Huang, who was wrapping up a week of high-level meetings across the nation, including with Prime Minister Narendra Modi, leading AI researchers, top business leaders, members of the press and the country's 4,000-some NVIDIA employees.
The companies will work together to create an AI computing infrastructure and platforms for developing AI solutions. It will be based on NVIDIA technology like the NVIDIA GH200 Grace Hopper Superchip and NVIDIA DGX Cloud.
GH200 marks a fundamental shift in computing architecture that provides exceptional performance and massive memory bandwidth, while DGX Cloud, an AI supercomputing service in the cloud, makes it easier for enterprises to train their employees in AI technology, access the technology internally and provide generative AI services to customers.
In his exchange with more than a dozen of India's top tech journalists following the announcement, Huang said computer science expertise is a core competency for India, and that with access to technology and capital India is poised to build AI to be able to solve challenges at home and abroad.
"You have the data, you have the talent," Huang said. "We are open for business and bring great expertise on building supercomputers.
During the freewheeling back and forth with the media, Huang emphasized India's strength in information technology and the potential for AI to accelerate the development of the nation's IT industry.
"IT is one of your natural resources. You produce it at an incredible scale. You're incredibly good at it. You export it all over the world," Huang said.
India's 'AI Moment'
Earlier, after meeting with many of the region's top technology leaders — including startup pioneers, AI proponents, and key players in India's digital public infrastructure — Huang hailed "India's moment," saying the nation is on the cusp of becoming a global AI powerhouse.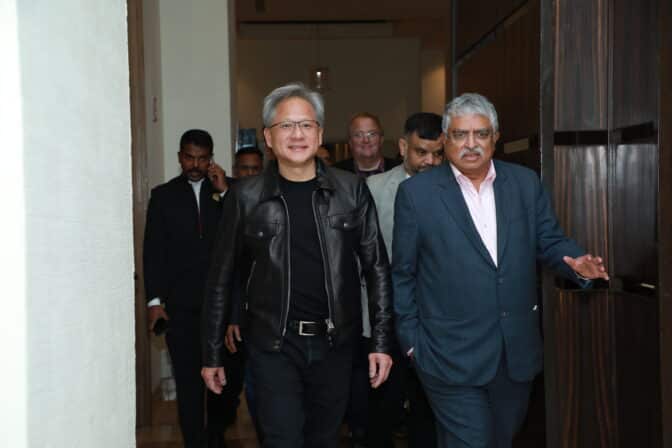 While India has well-known technical capabilities — distinguished technical universities, 2,500 engineering colleges and an estimated 1.5 million engineers — many of its 1.4 billion people, located across sprawling metropolitan areas and some 650,000 villages, collectively speaking dozens of languages, have yet to fully benefit from this progress.
Applied in the Indian context, AI can help rural farmers interact via cell phones in their local language to get weather information and crop prices. It can help provide, at a massive scale, expert diagnosis of medical symptoms and imaging scans where doctors may not be immediately available. It can better predict cyclonic storms using decades of atmospheric data, enabling those at risk to more quickly evacuate and find shelter.
Reliance Industries and Tata Communications will build and operate state-of-the-art AI supercomputing data centers based on such technology, utilizing it for internal AI development and infrastructure-as-a-service for India's AI researchers, companies and burgeoning AI startup ecosystem.
That effort, Huang said, during his conversation with the Indian technology press, promises to be part of a process that will turn India into a beacon for AI technology.
"AI could be built in India, used in India, and exported from India," Huang said.