Editor's note: This post is part of our weekly In the NVIDIA Studio series, which celebrates featured artists, offers creative tips and tricks, and demonstrates how NVIDIA Studio technology improves creative workflows. 
Keerthan Sathya, a senior technical artist specializing in 3D, emerged trium-elephant In the NVIDIA Studio this week with the incredibly detailed, expertly constructed, jaw-droppingly beautiful animation Tiny Mammoth.
Sathya used a collection of popular 3D apps for the project — including Adobe Substance 3D Modeler, Painter and Autodesk 3ds Max — and completed staging, environment preparation, lighting and rendering in NVIDIA Omniverse with the USD Composer app.
Plus, Marvelous Designer software for making, editing and reusing 3D clothes just launched an NVIDIA Omniverse Connector.
Serving as a bridge, the Universal Scene Description (OpenUSD) framework enables users to import files directly from the Omniverse Nucleus server, and merge and update versions for use in different 3D apps. This saves users time and eliminates difficulties with imports and exports.
Learn how to use the Marvelous Designer Omniverse Connector by watching this tutorial, and find out how OpenUSD can improve artists' creative workflows. Don't miss Marvelous Designer's upcoming community livestream demonstrating a workflow with the new Omniverse Connector on Wednesday, June 14.
One for the (Stone) Ages
A 14-year veteran in the creative community, Bangalore-based Sathya has long been enamored by animals and the concept of extinction. "Animals become extinct for various reasons," he said. This fact inspired Sathya to create an environment design and tell a unique story using materials, lighting and animation.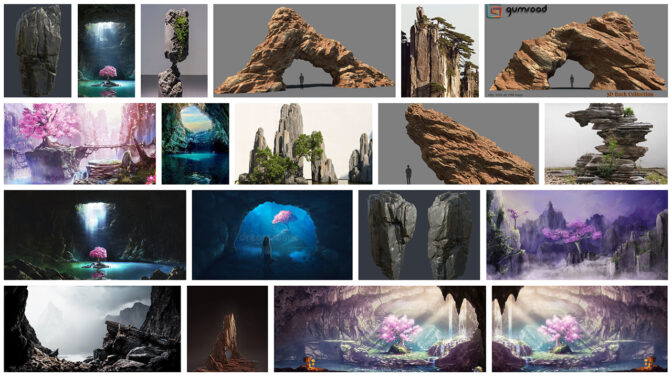 "Traditional polygon modeling isn't my cup of tea," Sathya admitted. Instead, he used Adobe Substance 3D Modeler to seamlessly sculpt his models in 3D. His NVIDIA Studio HP ZBook laptop with NVIDIA RTX 5000 graphics unlocked GPU-accelerated filters to speed up material creation.
"Sculpting in virtual reality is so much fun, and so fast," said the artist. "I could finalize models in just a few hours, all while eliminating all those pesky anatomy details!"
He also deployed Substance 3D Modeler's automatic UV wrapping feature to generate UV islands once models were imported, making it easier to apply paints, textures and materials.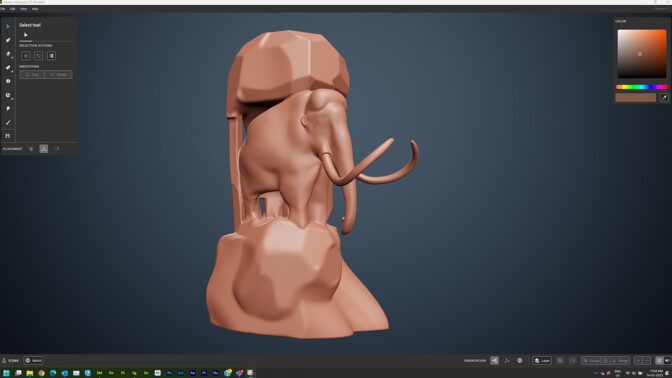 Sathya then moved the project to Autodesk 3ds Max to use retopology tools for automatic optimization geometry of his high-resolution models to create a clean, quad-based mesh. This is useful for removing artifacts and other mesh issues before animation and rigging.
GPU-enabled, RTX-accelerated AI denoising with the default Autodesk Arnold renderer in the viewport allowed for smoother, highly interactive modeling.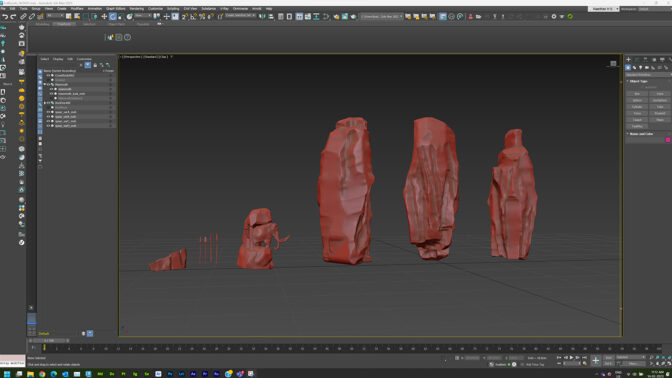 "My NVIDIA GPU is an integral part of the artwork I create. Modeling, texturing, staging, painting and lighting is all accelerated by RTX." — Keerthan Sathya
Adobe Substance 3D Painter was a "game changer" allowing super-fast asset painting, Sathya said. RTX-accelerated light and ambient occlusion bakes and optimizes assets in mere seconds.
"You don't necessarily need to create everything from scratch," Sathya said. "Substance 3D Painter offers a wide range of materials, smart materials and smart masks which I used in my project, along with a whole collection of materials that helped me save a lot of time."
"You can even paint multiple channels on multiple UDIMs in real time," said Sathya. This means textures on various models can have different resolutions. For example, 4K-resolution textures can be used for priority details, while 2K resolution can be tapped for less important touches.
Sathya imported Tiny Mammoth into NVIDIA Omniverse, a platform for developing and building industrial metaverse applications, via the USD Composer app. This is where the artist accomplished staging, environment preparation, lighting and rendering.
"NVIDIA Omniverse is a great platform for artists to connect their desired 3D apps and collaborate. Plus, I really like AI-driven apps and features." — Keerthan Sathya
Sathya marveled at the ease of setting up the scene in USD Composer. "Just using a few assets — instancing, arranging and kitbashing them to make a huge environment — is so satisfying and efficient," he said.
Sathya said OpenUSD is "so much more than just a file format."
"The OpenUSD workflow is great to work with," he said. "I used OpenUSD pretty much for the whole project: environment assets and textures, foliage, lighting, still camera and adjustment of layers for each shot if necessary."
With each OpenUSD layer and file stacked and authored accordingly, Sathya had the option to plug and play assets and creative workflow stages. Such versatility in 3D creative workflows is enabled by Omniverse and OpenUSD.
The artist heightened realism by painting moss trees with USD Composer's paint tool. "It was easy to add those tiny details to make my artwork look better," he said. Sathya then rotated the camera and adjusted the lighting until he met his desired result.
Due to the sheer size of the scene, Sathya used real-time rendering to add animations, a bit of fog and corrections for limited renders. "I like the idea of render passes, where you have a complete control of the scene while compositing, but it wasn't necessary here," he said.
Sathya exported the scene into Adobe After Effects for post-processing and additional visual effects, using more than 30 GPU-accelerated features and effects to add even more detail.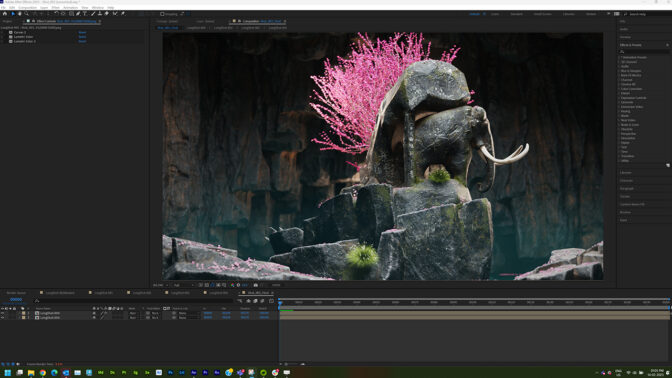 The artist reviewed video feedback in Adobe Rush. "It's more convenient when I'm traveling or on my couch to arrange the shots and do some quick edits on my phone," he said. Sathya completed advanced edits and final renders in Adobe Premiere Pro.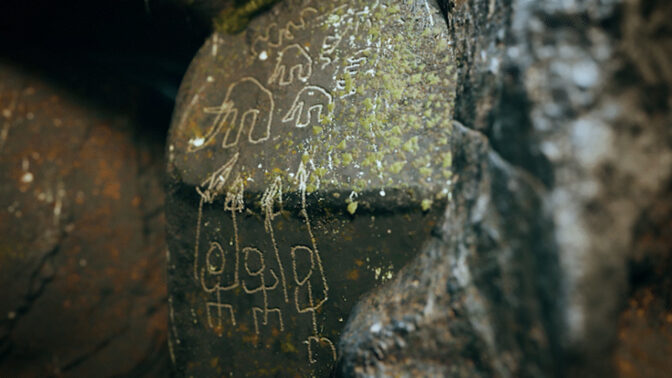 "Life is all about contrast," Sathya said. "I've experienced failures and successes, complex and simple, good and bad, many more contrasts, all of which drip into my artwork to make it unique!"
Check out additional details on Tiny Mammoth and view Sathya's complete portfolio on Behance.
Follow NVIDIA Studio on Instagram, Twitter and Facebook. Access tutorials on the Studio YouTube channel and get updates directly in your inbox by subscribing to the Studio newsletter. 
Get started with NVIDIA Omniverse by downloading the standard license free, or learn how Omniverse Enterprise can connect your team. Developers can get started with Omniverse resources. Stay up to date on the platform by subscribing to the newsletter, and follow NVIDIA Omniverse on Instagram, Medium and Twitter. 
For more, join the Omniverse community and check out the Omniverse forums, Discord server, Twitch and YouTube channels.