RockMass is digging a niche for itself in mining and tunnels.
The Toronto-based startup is developing an NVIDIA AI-powered mapping platform that can help engineers assess tunnel stability in mines and construction.
Today, geologists and engineers visually assess the risks of rock formations by standing five meters away from the rock as a safety precaution. That isn't ideal for ensuring accurate results, said Shelby Yee, CEO and co-founder of RockMass.
"What they are doing right now takes about 90 minutes, and our technology can do it in about five minutes," said Yee.
RockMass is using engineers in the field test out its hand-held unit, the Mapper. It's aimed at those in mining, geological exploration and civil engineering. The startup is developing the AI platform for robots, drones and handheld devices used to capture geological data.
The startup's Mapper AI device now offers a safer way to keep engineers further away from a possible tunnel collapse as well as offers a faster system for gathering and processing data.  Robots and drones using its platform could go into even more hazardous areas.
RockMass customers include Brazilian mining company Nexa Resources, which seeks increased automation and safety with use of the startup's technology.
AI for Geotech
Engineers have for years surveyed the angles of rock surfaces using conventional equipment such as a theodolite scope-like device on a tripod to take optical measurements. They seek out so-called planes of weaknesses, which identify failure points within tunnels and rock formations.
The engineers measure the surfaces of rock formations to collect data for building what are known as stereonets. Stereonets map three-dimensional forms, such as a boulder, for viewing in a two-dimensional display.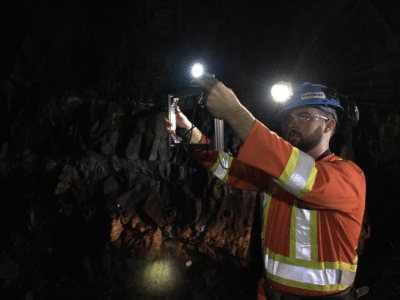 Engineers traditionally take the data from a site back to the office to transfer onto a computer to create a stereonet.
The startup's technology promises an easier way. Its handheld device is packed with sensors for such measurements. Its lidar sensor and inertial measurement unit map the orientation on planes of weaknesses in rock formations. And it can do this in underground environments lacking GPS, wireless communication and light.
RockMass's software relies on the information provided by these sensors to quickly identify useable data for engineers within minutes. The company is working to capture and process the data on the spot for field engineers. "You are able to see the data in real time," Yee said.
'Computationally Demanding' AI
RockMass's platform for onsite data collection is computationally demanding, said CTO and co-founder Stuart Bourne. The company's devices sport robotics capabilities from NVIDIA Jetson and rely on its support for CUDA, cuDNN and TensorRT software libraries.
"Jetson has very high computational power relative to how much energy it draws," Bourne said.
The startup enlists CUDA libraries to get the real-time processing to work with the data on cloud instances running NVIDIA GPUs for processing stereonets for customers.
"Nobody is able to collect and process the data in the way that we do," Yee said. "We are able to process in the cloud in real time simply because of the power of the GPUs."
RockMass plans to further develop its drones and robots to launch pilots next year.
Learn about our Jetson Xavier developer kit.