This holiday season, feast on the bounty of food-themed stories NVIDIA Blog readers gobbled up in 2022.
Startups in the retail industry — and particularly in quick-service restaurants — are using NVIDIA AI and robotics technology to make it easier to order food in drive-thrus, find beverages on store shelves and have meals delivered. They're accelerated by NVIDIA Inception, a program that offers go-to-market support, expertise and technology for cutting-edge startups.
For those who prefer eye candy, artists also recreated a ramen restaurant using the NVIDIA Omniverse platform for creating and operating metaverse applications.
Toronto startup HuEx is developing a conversational AI assistant to handle order requests at the drive-thru speaker box. The real-time voice service, which runs on the NVIDIA Jetson edge AI platform, transcribes voice orders to text for staff members to fulfill.
The technology, integrated with the existing drive-thru headset system, allows for team members to hear the orders and jump in to assist if needed. It's in pilot tests to help support service at popular Canadian fast-service chains.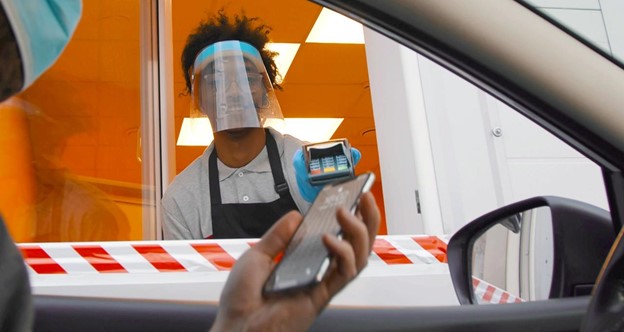 San Diego-based startup Vistry is tackling a growing labor shortage among quick-service restaurants with an AI-enabled, automated order-taking solution. The system, built with the NVIDIA Riva software development kit, uses natural language processing for menu understanding and speech — plus recommendation systems to enable faster, more accurate order-taking and more relevant, personalized offers.
Vistry is also using the NVIDIA Metropolis application framework to create computer vision applications that can help automate curbside check-ins, speed up drive-thrus and predict the time it takes to prepare a customer's order. Its tools are powered by NVIDIA Jetson and NVIDIA A2 Tensor Core GPUs.
Oakland-based startup Cartken is deploying NVIDIA Jetson-enabled sidewalk robots for last-mile deliveries of coffee and meals. Its autonomous mobile robot technology is used to deliver Grubhub orders to students at the University of Arizona and Ohio State — and Starbucks goods in malls in Japan.
The Inception member relies on the NVIDIA Jetson AGX Orin module to run six cameras that aid in simultaneous localization and mapping, navigation, and wheel odometry.
Telexistence, an Inception startup based in Tokyo, is deploying hundreds of NVIDIA AI-powered robots to restock shelves at FamilyMart, a leading Japanese convenience store chain. The robots handle repetitive tasks like refilling beverage displays, which frees up retail staff to interact with customers.
For AI model training, the team relied on NVIDIA DGX systems. The robot uses the NVIDIA Jetson AGX Xavier for AI processing at the edge, and the NVIDIA Jetson TX2 module to transmit video-streaming data.
NVIDIA technology isn't just accelerating food-related applications for the restaurant industry — it's also powering tantalizing virtual scenes complete with mouth-watering, calorie-free dishes.
Two dozen NVIDIA artists and freelancers around the globe showcased the capabilities of NVIDIA Omniverse by recreating a Tokyo ramen shop in delicious detail — including simmering pots of noodles, steaming dumplings and bottled drinks.
The scene, created to highlight NVIDIA RTX-powered real-time rendering and physics simulation capabilities, consists of more than 22 million triangles, 350 unique textured models and 3,000 4K-resolution texture maps.