The words "data science" often inspire feelings of dread or confusion.
But Virtualitics, an AI-based analytics platform, is bringing creativity and excitement to the field through machine learning and immersive visualization.
Aakash Indurkhya, head of machine learning projects at the company, spoke with AI Podcast host Noah Kravitz about why combining AI and VR can be so useful.
"Just comparing two variables against each other is no longer good enough," Indurkhya says.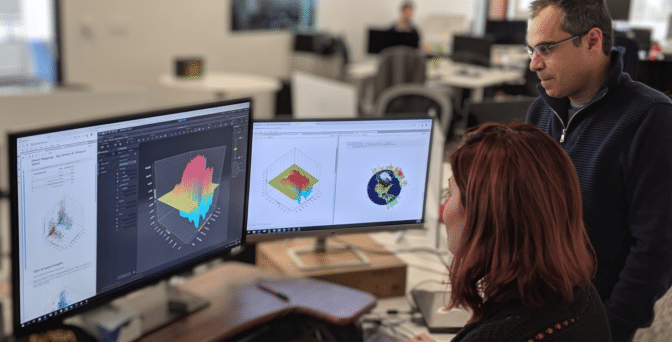 And as datasets grow, it's no longer intuitive what variables should be plotted against each other.
Even expert data scientists could take hours — or even weeks — trying to ascertain the most useful visualizations and models to make sense of the data.
Virtualitics Immersive Platform, or VIP, has a two-pronged approach to simplifying data science.
First, there are embedded machine learning routines, which includes a Smart Mapping tool that determines the best way of plotting data and identifies drivers of the client's key performance indicator — or KPI.
Indurkhya explains that, using AI, the software "immediately ranks your features in terms of which ones matter to your KPI and then also automatically generates a visualization so you can start looking at how those different combinations of features actually shape the relationship with the KPI."
The second part of Virtualitics' solution is their Shared Virtual Office, or SVO, in both desktop and VR. The technology is built on top of the Unity engine and works with all major VR providers, such as Oculus and Windows MR devices.
VIP not only creates interactive and colorful visuals, but allows clients to have their own avatars through which they can, "like Iron Man," collaboratively interact with their data.
For those who are less experienced with data science, this bridges the gap created by a lack of formal training, allowing them to identify clusters or detect anomalies on their own in a matter of seconds. And for expert data scientists, who deal with high demand and complex tasks, it gives them the technology to demonstrate to stakeholders what they're doing.
In the future, Virtualitics will be working on visualizing networks, which are the common thread between technologies like IoT, blockchain and social media.
"Network data is all around us, but we lack intuitive and visual tools to properly make sense of them," Indurkhya says. "With VR, we get the depth perception and interaction that's lost when constrained to 2D screens. This is going to change how people think about networks."
The applications go so far as improving disease classification, monitoring cybersecurity threats and the identification of bad actors in social networks.
To learn more about Virtualitics, sign up for a demo or watch their webinars, visit their website.
Help Make the AI Podcast Better
Have a few minutes to spare? It'd help us if you fill out this short listener survey.
Your answers will help us learn more about our audience, which will help us deliver podcasts that meet your needs, what we can do better, and what we're doing right.
How to Tune into the AI Podcast
Our AI Podcast is available through iTunes, Castbox, DoggCatcher, Google Play Music, Overcast, PlayerFM, Podbay, PodBean, Pocket Casts, PodCruncher, PodKicker, Stitcher, Soundcloud and TuneIn.
If your favorite isn't listed here, email us at aipodcast [at] nvidia [dot] com.