There are as many ways to define a smart city as there are cities on the road to being smart.
From London and Singapore to Seat Pleasant, Maryland, they vary widely. Most share some common characteristics.
Every city wants to be smart about being a great place to live. So, many embrace broad initiatives for connecting their citizens to the latest 5G and fiber optic networks, expanding digital literacy and services.
Most agree that a big part of being smart means using technology to make their cities more self-aware, automated and efficient.
What is a Smart City?
A smart city is typically a kind of municipal Internet of Things — a network of cameras and sensors that can see, hear and even smell. These sensors, especially video cameras, generate massive amounts of data that can serve many civic purposes like helping traffic flow smoothly.
Cities around the globe are turning to AI to sift through that data in real time for actionable insights. And, increasingly, smart cities build realistic 3D simulations of themselves, digital twins to test out ideas of what they might look like in the future.
"We define a smart city as a place applying advanced technology to improve the quality of life for people who live in it," said Sokwoo Rhee, who's worked on more than 200 smart city projects in 25 countries as an associate director for cyber-physical systems innovation in the U.S. National Institute of Standards and Technology.
U.S., London Issue Smart Cities Guidebooks
At NIST, Rhee oversees work on a guide for building smart cities. Eventually it will include reports on issues and case studies in more than two dozen areas from public safety to water management systems.
Across the pond, London describes its smart city efforts in a 60-page document that details many ambitious goals. Like smart cities from Dubai to San Jose in Silicon Valley, it's a metro-sized work in progress.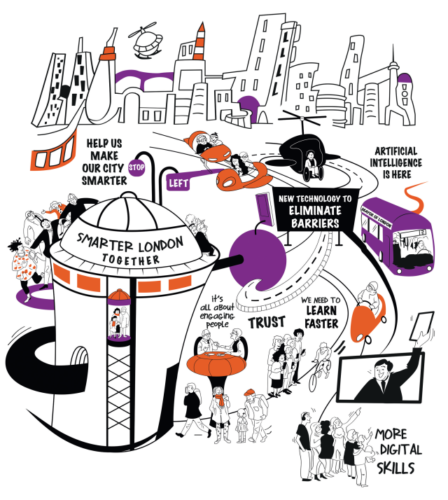 "We are far from the ideal at the moment with a multitude of systems and a multitude of vendors making the smart city still somewhat complex and fragmented," said Andrew Hudson-Smith, who is chair of digital urban systems at The Centre for Advanced Spatial Analysis at University College London and sits on a board that oversees London's smart city efforts.
Living Labs for AI
In a way, smart cities are both kitchen sinks and living labs of technology.
They host everything from air-quality monitoring systems to repositories of data cleared for use in shared AI projects. The London Datastore, for example, already contains more than 700 publicly available datasets.
One market researcher tracks a basket of 13 broad areas that define a smart city from smart streetlights to connected garbage cans. A smart-parking vendor in Stockholm took into account 24 factors — including the number of Wi-Fi hotspots and electric-vehicle charging stations — in its 2019 ranking of the world's 100 smartest cities. (Its top five were all in Scandinavia.)
"It's hard to pin it down to a limited set of technologies because everything finds its way into smart cities," said Dominique Bonte, a managing director at market watcher ABI Research. Among popular use cases, he called out demand-response systems as "a huge application for AI because handling fluctuating demand for electricity and other services is a complex problem."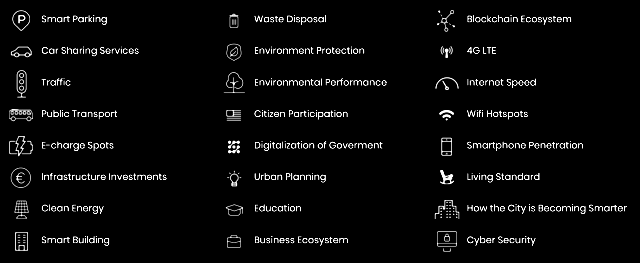 Because it's broad, it's also big. Market watchers at Navigant Research expect the global market for smart-city gear to grow from $97.4 billion in annual revenue in 2019 to $265.4 billion by 2028 at a compound annual growth rate of 11.8 percent.
It's still early days. In a January 2019 survey of nearly 40 U.S. local and state government managers, more than 80 percent thought a municipal Internet of Things will have significant impact for their operations, but most were still in a planning phase and less than 10 percent had active projects.
"Smart cities mean many things to many people," said Saurabh Jain, product manager of Metropolis, NVIDIA's GPU software stack for vertical markets such as smart cities.
"Our focus is on building what we call the AI City with the real jobs that can be done today with deep learning, tapping into the massive video and sensor datasets cities generate," he said.
For example, Verizon deployed on existing streetlights in Boston and Sacramento video nodes using the NVIDIA Jetson TX1 to analyze and improve traffic flow, enhance pedestrian safety and optimize parking.
"Rollout is happening fast across the globe and cities are expanding their lighting infrastructure to become a smart-city platform … helping to create efficiency savings and a new variety of citizen services," said David Tucker, head of product management in the Smart Communities Group at Verizon in a 2018 article.
Smart Streetlights for Smart Cities
Streetlights will be an important part of the furniture of tomorrow's smart city.
So far, only a few hundred are outfitted with various mixes of sensors and Wi-Fi and cellular base stations. The big wave is yet to come as the estimated 360 million posts around the world slowly upgrade to energy-saving LED lights.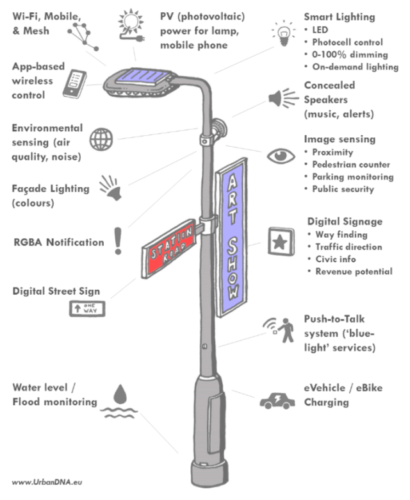 In a related effort, the city of Bellevue, Washington, tested a computer vision system from Microsoft Research to improve traffic safety and reduce congestion. Researchers at the University of Wollongong recently described similar work using NVIDIA Jetson TX2 modules to track the flow of vehicles and pedestrians in Liverpool, Australia.
Airports, retail stores and warehouses are already using smart cameras and AI to run operations more efficiently. They are defining a new class of edge computing networks that smart cities can leverage.
For example, Seattle-Tacoma International Airport (SEA) will roll out an AI system from startup Assaia that uses NVIDIA GPUs to speed the time to turn around flights.
"Video analytics is crucial in providing full visibility over turnaround activities as well as improving safety," said an SEA manager in a May report.
Nashville, Zurich Explore the Simulated City
Some smart cities are building digital twins, 3D simulations that serve many purposes.
For example, both Zurich and Nashville will someday let citizens and city officials don goggles at virtual town halls to see simulated impacts of proposed developments.
"The more immersive and fun an experience, the more you increase engagement," said Dominik Tarolli, director of smart cities at Esri, which is supplying simulation software that runs on NVIDIA GPUs for both cities.
Cities as far apart in geography and population as Singapore and Rennes, France, built digital twins using a service from Dassault Systèmes.
"We recently signed a partnership with Hong Kong and presented examples for a walkability study that required a 3D simulation of the city," said Simon Huffeteau, a vice president working on smart cities for Dassault.
Europe Keeps an AI on Traffic
Many smart cities get started with traffic control. London uses digital signs to post speed limits that change to optimize traffic flow. It also uses license-plate recognition to charge tolls for entering a low-emission zone in the city center.
Cities in Belgium and France are considering similar systems.
"We think in the future cities will ban the most polluting vehicles to encourage people to use public transportation or buy electric vehicles," said Bonte of ABI Research. "Singapore is testing autonomous shuttles on a 5.7-mile stretch of its streets," he added.
Nearby, Jakarta uses a traffic-monitoring system from Nodeflux, a member of NVIDIA's Inception program that nurtures AI startups. The software taps AI and the nearly 8,000 cameras already in place around Jakarta to recognize license plates of vehicles with unpaid taxes.
The system is one of more than 100 third-party applications that run on Metropolis, NVIDIA's application framework for the Internet of Things.
Unsnarling Traffic in Israel and Kansas City
Traffic was the seminal app for a smart-city effort in Kansas City that started in 2015 with a $15 million smart streetcar. Today, residents can call up digital dashboards detailing current traffic conditions around town.
And in Israel, the city of Ashdod deployed AI software from viisights. It helps understand patterns in a traffic monitoring system powered by NVIDIA Metropolis to ensure safety for citizens.
NVIDIA created the AI City Challenge to advance work on deep learning as a tool to unsnarl traffic. Now in its fourth year, it draws nearly 1,000 researchers competing in more than 300 teams that include members from multiple city and state traffic agencies.
The event spawned CityFlow, one of the world's largest datasets for applying AI to traffic management. It consists of more than three hours of synchronized high-definition videos from 40 cameras at 10 intersections, creating 200,000 annotated bounding boxes around vehicles captured from different angles under various conditions.
Drones to the Rescue in Maryland
You don't have to be a big city with lots of money to be smart. Seat Pleasant, Maryland, a Washington, D.C., suburb of less than 5,000 people, launched a digital hub for city services in August 2017.
Since then it installed intelligent lighting, connected waste cans, home health monitors and video analytics to save money, improve traffic safety and reduce crime. It's also become the first U.S. city to use drones for public safety, including plans for life-saving delivery of emergency medicines.
The idea got its start when Mayor Eugene Grant, searching for ways to recover from the 2008 economic downturn, attended an event on innovation villages.
"Seat Pleasant would like to be a voice for small cities in America where 80 percent have less than 10,000 residents," said Grant. "Look at these cities as test beds of innovation … living labs," he added.
Rhee of NIST agrees. "I'm seeing a lot of projects embracing a broadening set of emerging technologies, making smart cities like incubation programs for new businesses like air taxis and autonomous vehicles that can benefit citizens," he said, noting that even rural communities will get into the act.
Simulating a New Generation of Smart Cities
When the work is done, go to the movies. Hollywood might provide a picture of the next horizon in the same way it sparked some of the current work.
Flicks including Blade Runner 2049, Cars, Guardians of the Galaxy and Zootopia used a program called City Engine from startup Procedural that enables a rule-based approach to constructing simulated cities.
Their work caught the eye of Esri, which acquired the company and bundled its program with its ArcGIS Urban planning tool, now a staple for hundreds of real cities worldwide.
"Games and movies make people expect more immersive experiences, and that requires more computing," said Tarolli, a co-founder of Procedural and now Esri's point person on smart cities.
Learn more about computer vision on the NVIDIA Technical Blog.