With more than 10 million residents, Jakarta isn't just one of the world's most populous cities, it's also one of the most congested  — with 13 million motorcycles, 4.4 million cars and millions more trucks and vans.
The costs are heavy for Indonesia's capital, including lost productivity, wasted fuel and air pollution. The city government faces a related cost, as well: unpaid road tax – to the tune of 2 trillion Indonesian rupiah (US $142 million) every year.
This lost revenue puts a gaping hole in the government's budget for healthcare, education and other services. But recently the city gave a green light to a smart city initiative that, using NVIDIA AI technology, already recovered 140 billion Indonesian rupiah (nearly $10 million) in a four-month trial run.
The initiative, called Jakarta Smart City, was tasked with solving the vehicle-tax collection problem. While the government has a comprehensive database of vehicles with expired registrations, it couldn't track them on the road.
For help, JSC turned to Nodeflux, a domestic company  that focuses on delivering vision AI solutions for public safety, traffic monitoring and law enforcement.
"Nobody has done it before, so we collaborated with JSC to solve the unpaid vehicle tax issues." said Meidy Fitranto, co-founder and CEO of Nodeflux, a member of the NVIDIA Inception accelerator program for AI startups.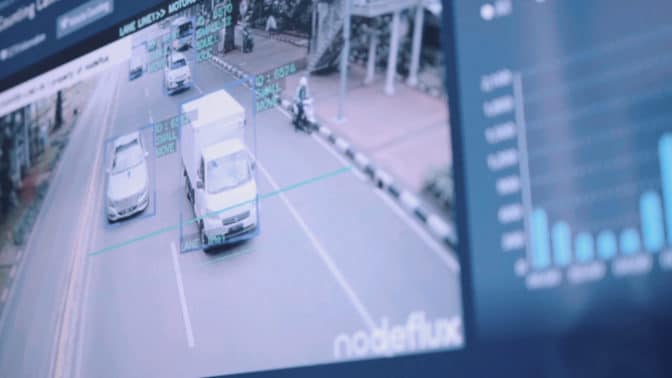 The company developed a system based on NVIDIA Metropolis, an application framework for Internet of Things and smart cities use cases benefiting from intelligent video analytics. Nodeflux is also a member of the NVIDIA Metropolis Software Partner program, which, Fitranto says, brings credibility when talking to potential customers.
The system uses the nearly 8,000 cameras already in place around Jakarta, as well as AI, to convert unstructured visual data into insights that the government can use to identify and track vehicles with unpaid tax.
Proof of Concept Shifts into High Gear
Nodeflux developed license plate recognition (LPR) software, based on its VisionAIre platform and running on NVIDIA GPUs, to identify and read license plates for all vehicle types. Using deep learning algorithms, the software can adapt to real conditions such as different types of license plates and weather conditions.
Nodeflux VisionAIre was tested extensively in a four-month proof of concept covering six of the city's high-traffic areas – Cawang, Jembatan Merah, Kebayoran Lama, Kemang, Kuningan and Tomang.
"The proof of concept was an essential part of this project as it allowed our VisionAIre platform to boost its capability in identifying license plates," said Fitranto. "Captured data can then be compared with the database of the Jakarta City Revenue Agency, and insight about vehicles with expired registration can be collected."
The results were huge. Over four months, the software identified more than 64,000 vehicles with expired license plates and recovered more than 140 billion Indonesian rupiah in tax revenue.
"Using TensorRT as our inference framework, we managed to run our license plate recognition analytics and reach a performance of 0.02ms in latency and 49 images per second in throughput, with the NVIDIA P4 GPU," said Fitranto. "We have already started the benchmark with T4 and seen an improvement of 0.01ms in latency and 59 images per second in throughput."
Nodeflux believes that the deep learning platform would've been impossible without NVIDIA technologies.
"We wouldn't have been able to develop and deploy LPR without NVIDIA accelerators, and now moving to T4 should bring further gains. TensorRT runs and influences our deep learning model as well," said Fitranto.
NVIDIA technologies such as CUDA-X libraries, including cuDNN, have helped in optimizing the company's software and solutions.
Further Smart City Work Gets the Green Light
Riding the success of its vehicle tax collection program, the Jakarta Smart City initiative is now looking to extend its work to improve inter-agency collaboration, which remains an issue.
"In developing AI, JSC recognizes the importance of collaboration," said Atika Nur Rahmania, Jakarta Information, Communication and Statistics Agency Head of JSC. "Therefore, we are inviting multiple startups to improve and develop solutions for urban problems and make Jakarta a playground to improve and develop innovations."