China electric vehicle maker XPENG Motors has announced its new G6 coupe SUV — featuring an NVIDIA-powered intelligent advanced driver assistance system — is now available to the China market.
The G6 is XPENG's first model featuring the company's proprietary Smart Electric Platform Architecture (SEPA) 2.0, which aims to reduce development and manufacturing costs and shorten R&D cycles since the modular architecture will be compatible with future models.
The electric SUV also features the XPENG Navigation Guided Pilot (XNGP), a full scenario-based intelligent assisted driving system. It's powered by the cutting-edge NVIDIA DRIVE Orin compute and XPENG's full-stack software developed in-house.
The XNGP system first made its debut in the EV maker's flagship G9 SUV, touting a safe, reliable, advanced driving experience behind the wheel.
Next-Level Driving Experience for All
The G6 comes in five trim levels, ranging in price from $29,021-$38,285 (RMB 209,900-276,900), making it accessible for the mainstream market.
Featuring a high-voltage 800V silicon-carbide platform and 3C battery, the G6 is built to go up to 469 miles on one charge and can reach speeds up to 125 miles per hour (202 kph). With XPENG's DC fast charger, drivers can get up to 186 miles of charge in just 10 minutes.
The G6 model comes with two NVIDIA DRIVE Orin systems-on-a-chip (SOCs), which deliver 508 trillion operations per second (TOPS) of high-peformance compute for real-time processing of data streaming in from the vehicle's 31 driving sensors.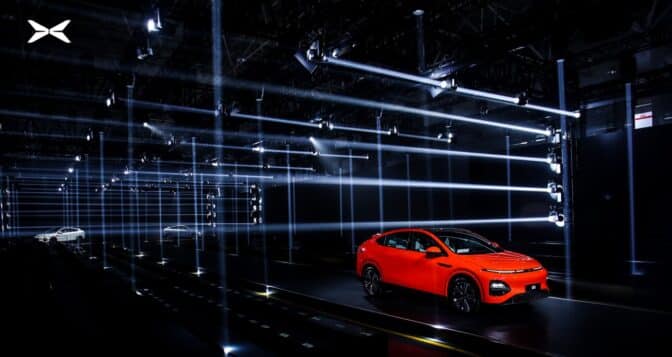 Upping the Ante
The XNGP driving system makes the G6 a standout among today's EV landscape as automakers jockey for position in the highly competitive China market. In fact, XPENG predicts this latest model will become the top-selling electric SUV in the country.
With the XNGP's point-to-point automated cruise assistance, drivers need only set the destination and monitor the traffic conditions with hands resting on the steering wheel, while the vehicle takes the wheel, performing a host of scenario-based actions. These include cruising on main urban roads, autonomously changing lanes, congestion avoidance, emergency braking, on- and off-ramp driving, highway driving, parking, and more.
The G6's ability to safely navigate all these driving scenarios is enabled by its comprehensive sensor suite, which includes multiple lidars, cameras, mmWave and ultrasonic radars for a 360-degree surround view of the car's environment. As a result, this redundant and diverse multi-sensor fusion set helps enable safe, intelligent driving decisions under a variety of urban driving conditions.
With plans for the G6 to roll out to key European markets by next year, XPENG designed this state-of-the-art coupe SUV to meet both C-NCAP and E-NCAP safety standards.
Based on the more than 35,000 preorders reported for the G6 after its reveal at Auto Shanghai earlier this year, drivers are eager to get moving in this latest offering from XPENG's software-defined fleet.