Shanghai is once again showing why it's called the "Magic City" as more than 1,000 exhibitors from 20 countries dazzle the automotive world this week at the highly anticipated International Automobile Industry Exhibition.
With nearly 1,500 vehicles on display, the 20th edition of Auto Shanghai is showcasing the newest AI-powered cars and mobility solutions using the NVIDIA DRIVE Hyperion compute platform built on the DRIVE Orin system-on-chip (SoC).
NVIDIA-Powered Vehicles in China and Beyond
SAIC Motor's Rising Auto brand unveiled the recently launched mid-to-large luxury pure electric sedan F7 and mid-to-large luxury pure electric SUV R7 at the show, both of which feature an advanced intelligent-driving system built on NVIDIA DRIVE Orin. Equipped with a swappable battery pack, the F7 is built to go the distance with up to a 413-mile range.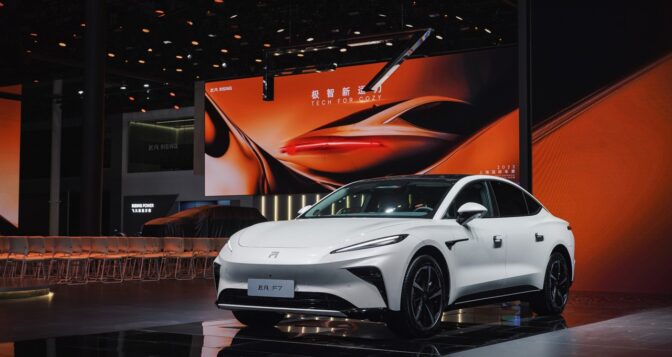 New energy vehicle (NEV) maker GAC AION showcased its flagship model Hyper GT, which is available for pre-sale. Equipped with the high-performance NVIDIA DRIVE Orin SoC, the car is designed to support advanced level 2+ driving capabilities in high-speed environments. Featuring an array of aerodynamic features that minimize drag, the Hyper GT has a wind resistance coefficient of just 0.19 Cd, the lowest of any production car in the world, GAC Aion claims.
At the show, EV maker XPENG showcased its full range of models including the all-new P7i ultra-smart coupe and XPENG G9, a super-fast-charging, intelligent SUV, built on the high-performance DRIVE Orin centralized compute architecture to deliver AI capabilities that are continuously upgradable through over-the-air updates.
XPENG also debuted the first model under its SEPA 2.0 Soaring architecture — the XPENG G6 — also powered by NVIDIA DRIVE Orin. As an intelligent driving coupe SUV, the XPENG G6 is based on a high-voltage 800V silicon carbide platform that XPENG launched globally, and is also equipped with its proprietary XNGP intelligent assisted driving system.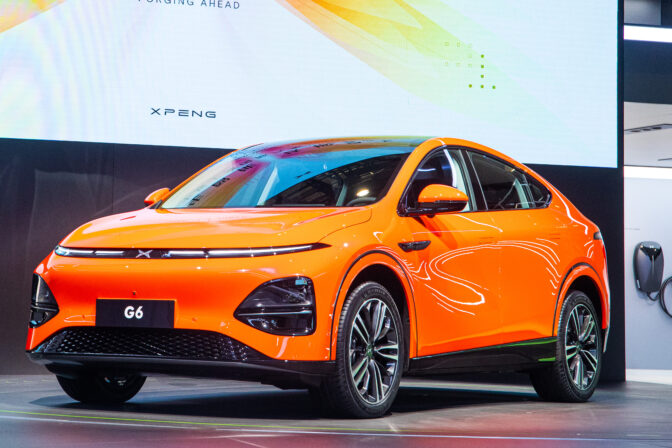 Elsewhere on the show floor, IM Motors, a joint venture among China's SAIC Motor, Alibaba and Shanghai's Zhangjiang Group, exhibited its flagship LS7 SUV and the L7 sedan powered by NVIDIA DRIVE Orin. IM Motors reports that it has launched its capability for highway navigation on autopilot — users will be able to experience it on the L7 and LS7 soon.
NEV maker Human Horizons officially took the wraps off its HiPhi Y SUV, the latest addition to its lineup of intelligent vehicles. The vehicle's marquee features include a wing-door design, a China light-duty vehicle test cycle (CLTC) range of more than 497 miles on a single charge, and an autonomous-driving system powered by DRIVE Orin.
This is the second model stemming from HiPhi's cooperation with NVIDIA. The NEV company last summer launched HiPhi Z, the digital grand tourer equipped with the HiPhi Pilot intelligent driver-assistance system. The system features NVIDIA DRIVE Orin and a 30+ sensor suite to support functions such as assisted driving.
As China NEV makers look to expand their global footprint, HiPhi also announced it will bring its vehicles to select countries in Western Europe and Scandinavia. This includes HiPhi X, HiPhi Z and HiPhi Y.
Premium smart electric vehicle company NIO revealed the ES6 SUV during Auto Shanghai. NIO's family of smart vehicles are being showcased at the NIO booth, including an updated version of its ET7, along with the ES8, EC7, ES7, ES6 and ET5. All these vehicles run on its proprietary Adam supercomputer, which is powered by four NVIDIA DRIVE Orin SoCs. This quad configuration delivers 1,016 TOPS of performance to enable advanced driver-assistance systems and a point-to-point autonomous driving experience.
NIO also recently announced it's equipping its third-generation powerswap station with two laser radars and two NVIDIA DRIVE Orin SoCs, with a total computing power of 508 TOPS, which enables the Automatic Summon and Swap feature, which enables the station to communicate with the vehicle and automatically navigate the vehicle for a battery swap. Li Auto displayed three of its flagship models, including the L9, L8 Max and L7 Max. These models feature dual NVIDIA DRIVE Orin SoCs to power its intelligent-driving system, the Ideal AD Max, delivering 508 TOPS of computing power to help the vehicle efficiently process data from high-definition cameras, lidars, millimeter-wave radars and ultrasonic sensors in real time.
Li Auto also released an 800V supercharged pure electric solution, which can travel 248 miles after charging for 10 minutes. The automaker demonstrated AD Max 3.0, which is also powered by NVIDIA DRIVE Orin. The company's urban NOA navigation assisted-driving system will be released in the second quarter of this year. And by the end of the year, this all-scenario navigation-assisted driving system will cover 100 cities in China.
Swedish premium automaker Volvo Cars debuted its all-electric EX90 in China. Revealed in November last year, the state-of-the-art, software-defined SUV features a new powertrain and cutting-edge technology to deliver the ultimate in safety and intelligence with the AI compute of NVIDIA DRIVE Orin and Xavier platforms.
During its Volvo Cars Tech Day held earlier this week, the automaker also unveiled its EX90 Excellence, the top-of-the-line and limited edition of the EX90. The four-seater SUV features a two-tone exterior, outstanding comfort inside and an intelligent technology base powered by NVIDIA DRIVE.
Lotus brought its three champion products to the Auto Shanghai, including the first electric Hyper-SUV Lotus Eletre, the first pure electric hypercar Evija and Emira, the last internal combustion engine sports car from Lotus. The Lotus Eletre is equipped with the cockpit-forward design inspired by Evija and embodies the essence of aesthetics. It features an immersive digital cockpit, long battery range of the Eletre S+ version up to 403 miles and autonomous-driving capabilities powered by the NVIDIA DRIVE Orin.
Tier-1 Manufacturers, Emerging Mobility Companies Also Spotlighted
Tier-1 suppliers for the auto industry and emerging self-driving companies also presented their latest offerings at Auto Shanghai.
Desay SV is pushing the boundaries of autonomous-driving performance with its latest solutions for smart cockpit, intelligent driving and connected services. The mobility company demonstrated its DRIVE Orin-based smart cockpit solution, which is part of the ICPAurora Intelligent Centralized Computing Platform, for powering new forms of in-vehicle infotainment, including 3D gaming and Android-based systems.
Desay SV's integration of cabin and autonomous driving showcases centralizing all intelligent vehicle functions on a single NVIDIA DRIVE computer. Announced last September, the NVIDIA DRIVE Thor SoC is the successor to DRIVE Orin, delivering 2,000 teraflops of performance and designed to centralized automated driving and AI cockpit functions on a single platform. DRIVE Thor is targeting automakers' 2025 models.
Baidu Apollo showcased its level-2 driver-assisted product Apollo City Driving Max intelligent driving computing unit, featuring a Baidu-developed intelligent-driving domain controller and powered by two NVIDIA DRIVE Orin SoCs to process camera and lidar sensor data for enhanced safety behind the wheel. The company reports the Apollo City Driving Max will be available in volume production to automakers globally in 2023.
Momenta launched Mpilot Pro, its new advanced driver-assistance solution. The solution adopts the energy-efficient DRIVE Orin to meet the computing performance requirements of mainstream mid-range models. In addition, DRIVE Orin's compatible architecture scales from level 2+ ADAS to level 5 autonomous driving.
The NVIDIA DRIVE ecosystem can be found throughout this year's Auto Shanghai — showcasing how NVIDIA is leading the charge toward a future of intelligent vehicles that deliver higher levels of safety, convenience and enjoyment on the road.