Gaming
Are you a gamer? Join us. Jason Mewes of Jay and Silent Bob fame will be there. So will cos-play queen Chloe Dykstra, MythBuster Grant...
Read More
Enterprise
When the number of users of your product flips from zero to nearly 100%, you don't need a Ph.D. to realize a trend has...
Read More
Mobile
More storage. More connectivity. More fun. The new 32GB SHIELD tablet with 4G LTE gives you even more ways to game. And it can...
Read More
Workstation
Our new line-up of Quadro GPUs – the K5200, K4200, K2200 and K620 – will be on display in Europe for the first time...
Read More
Gaming
Gaming is a real sport. Gamers are real athletes. It's time to build college programs for them. Here's how Robert Morris University got there...
Read More
Corporate
With seven months to go before the sixth annual GPU Technology Conference (GTC) – the world's biggest and most important event for GPU developers – we're now taking submissions...
Read More
Supercomputing
The brightest minds in the field of deep learning will converge next week in Zurich at the European Conference on Computer Vision. And they'll...
Read More
Corporate
This is an important day for NVIDIA. For the first time since starting this company 21 years ago, we have initiated a patent lawsuit....
Read More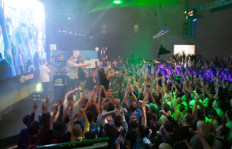 Gaming
Gamers: Get ready for something big. No, I'm not talking about Borderlands: The Pre-Sequel although I'm excited about that, too. No, we're organizing an...
Read More
Cloud
With our partners VMware and Google, we revealed this week a breakthrough in bringing full graphics to the virtual desktop, at VMworld 2014. Now,...
Read More