Corporate
With seven months to go before the sixth annual GPU Technology Conference (GTC) – the world's biggest and most important event for GPU developers – we're now taking submissions...
Read More
Supercomputing
The brightest minds in the field of deep learning will converge next week in Zurich at the European Conference on Computer Vision. And they'll...
Read More
Corporate
This is an important day for NVIDIA. For the first time since starting this company 21 years ago, we have initiated a patent lawsuit....
Read More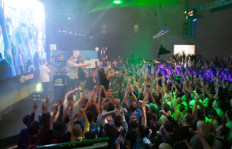 Gaming
Gamers: Get ready for something big. No, I'm not talking about Borderlands: The Pre-Sequel although I'm excited about that, too. No, we're organizing an...
Read More
Cloud
With our partners VMware and Google, we revealed this week a breakthrough in bringing full graphics to the virtual desktop, at VMworld 2014. Now,...
Read More
Cloud
We attended our second VMworld this week. Once again, we came back with a first. Our GRID vGPU technology won a Best of VMworld...
Read More
Gaming
Valve and NVIDIA have just made game streaming better than ever. Last week, Valve officially released support for hardware encoding on NVIDIA GeForce GPUs...
Read More
Corporate
It's time for big data to get into the fight against cancer. We're working with the National Cancer Institute's (NCI) Clinical Proteomic Tumor Analysis...
Read More
Cloud
Just a few weeks after sharing our plans to transform Chromebooks from the inside out with the Tegra K1-powered Acer Chromebook 13, we told...
Read More
Enterprise
Scooby Doo. The Smurfs. SpongeBob SquarePants. Every generation has its favorite iconic cartoon. We may one day get to interact with them, too, if...
Read More