There's an old axiom that the best businesses thrive during periods of uncertainty. No doubt, that will be tested to the limits as 2022 portends upheaval on a grand scale.
Pandemic-related supply chain disruptions are affecting everything from production of cars and electronics to toys and toilet paper. At the same time, global food prices have jumped to their highest level in more than a decade as worker shortages, factory closures and high commodity prices shred plans at even the most sophisticated forecasting and logistics operations.
Last year, we asked some of our top experts at NVIDIA what 2021 would bring for the world of AI and accelerated computing. They predicted each would move from planning to production as businesses seek new avenues for product forecasting, supply chain management and scientific research.
Headlines over the course of the year proved them correct: To save Christmas, retailers Home Depot, Target and Walmart chartered their own cargo ships to deliver goods to their stores around the world. To speed time to market, BMW, Ericsson and other companies began using digital twin technologies to simulate real-world environments.
AI adoption isn't limited to big names. Indeed, a midyear 2021 PWC survey of more than 1,000 businesses across nine sectors including banking, health and energy found that 86 percent of them were poised to make AI a "mainstream technology."
This year, we went back to our experts at NVIDIA and asked them where enterprises will focus their AI efforts as they parse big data and look for new revenue opportunities.
Here's what they had to say:
BRYAN CATANZARO
Vice President of Applied Deep Learning Research
Conversational AI: Last year, I predicted conversational AI will be used to make video games more immersive by allowing real-time interaction to flesh out character-driven approaches. This year, conversational AI is all work and no play.
Companies will race to deploy new conversational AI tools that allow us to work more efficiently and effectively using natural language processing. Speech synthesis is poised to become just as emotive and persuasive as the human voice in 2022, which will help industries like retail, banking and healthcare better understand and better serve their customers.
Know Your Customer: Moving beyond natural language processing, companies using both speech and text for interaction with other businesses and customers will employ AI as they move to understand the context or sentiment in what a person might be saying. Is the customer frustrated? Is your boss being sarcastic? The adoption of tools like OpenAI Github copilot, which helps programmers be more effective at their work, will accelerate.
SARAH TARIQ
Vice President of Automotive
Programmable Cars: The days of a car losing value once you drive it off the lot will soon be gone. We'll see more automakers moving to reinvent the driving experience by creating software-defined architectures with headroom to support new applications and services via automatic over-the-air updates. Vehicles will get better and safer over time.
De-Stressing the Commute: The move to a software-defined approach also will help remove the stress and hassle of everyday driving. AI assistants will serve as your personal concierge, enhancing the vehicle journey for a safer, more convenient and enjoyable experience. Vehicle occupants will have access to intelligent services that are always on, allowing them to use real-time conversational AI for recommendations, alerts, vehicle controls and more.
Designing for the Long Haul: Automakers will begin to invest heavily in the use of simulation and digital twins to validate more of the end-to-end stack, and in training of deep neural network models. AI and data analytics will help train and validate self-driving cars for a broad range of driving conditions, delivering everyday safety that's designed for the long haul.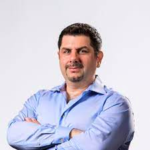 REV LEBAREDIAN
Vice President of Simulation Technology, Omniverse Engineering
Emerging Standard for 3D: We'll see advancing 3D standards for describing virtual worlds. Building accurate and rich digital counterparts to everything in the real world is one of the grandest challenges in computer science. Developers, enterprises and individual users will contribute to foundational open standards — analogous to the early days of the internet and the web.  Standards such as Universal Scene Description (USD) and glTF will rapidly evolve to meet the foundational needs of Web3 and digital twins.
Synthetic 3D Data for the Next Era of AI: The rate of innovation in AI has been accelerating for the better part of decade, but AI cannot advance without large amounts of high quality and diverse data. Today, data captured from the real world and labeled by humans is insufficient both in terms of quality and diversity to jump to the next level of artificial intelligence.  In 2022, we will see an explosion in synthetic data generated from virtual worlds by physically accurate world simulators to train advanced neural networks.
Re-Imaging Industry Through Simulation: Many industries are starting to examine and adopt digital twins and virtual worlds, thanks to the potential for operational efficiencies and cost savings. Digital representations of everything we build in the real world must have a counterpart in the virtual world—airplanes, cars, factories, bridges, cities and even Earth itself.  Applying high-fidelity simulations to digital twins allows us to experience, test and optimize complex designs well before we commit to building them in the real world.
KIMBERLY POWELL
Vice President & General Manager of Healthcare
AI Generates Million-X Drug Discovery: Simultaneous breakthroughs of AlphaFold and RoseTTAFold creating a thousandfold explosion of known protein structures and AI that can generate a thousand more potential chemical compounds have increased the opportunity to discover drugs by a million times. Molecular simulations help to model target and drug interactions completely in silico. To keep up with the million-x opportunity, AI is helping to introduce a new class of molecular simulations from system size and timescale to quantum accuracy.
AI Creates SaaS Medical Devices: The medical device industry has a game-changing opportunity, enabled by AI, to minimize and reduce costs, to automate and increase accessibility, and to continuously deliver innovation over the life of the product. Medical device companies will evolve from delivering hardware to providing software-as-a-service systems that can be upgraded remotely to keep devices usable after deployment.
AI 2.0 With Federated Learning: To help AI application developers industrialize their AI technology and expand the application's business benefit, AI must be trained and validated on data that resides outside the possession of their group, institution and geography. Federated learning is the key to collaboratively building robust AI models and validating models in the wild without sharing sensitive data.
ANIMA ANANDKUMAR
Director of ML Research, and Bren Professor at Caltech
AI4Science: This area will continue to mature significantly and yield real-world impact. AI will deeply integrate with HPC at supercomputing scale and make scientific simulations and modeling possible at an unprecedented scale and fidelity in areas such as weather and climate models.
AI will lead to breakthroughs in discovery of new drugs and treatments and revolutionize healthcare. Federated learning and differential privacy will be widely adopted, making healthcare and other sensitive data-sharing seamless.
Algorithmic Development: Expect massive advancements in the algorithmic development that underlies simulations, as well as the capabilities of GPUs to handle reinforcement learning at scale.
RONNIE VASISHTA
Senior Vice President of Telecoms
AI Moves to the Telco Edge: The promise of 5G will open new opportunities for edge computing. Key benefits will include network slicing that allows customers to assign dedicated bandwidth to specific applications, ultra-low latency in non-wired environments, as well as improved security and isolation.
AI-on-5G will unlock new edge AI use cases. These include "Industry 4.0" use cases such as plant automation, factory robots, monitoring and inspection; automotive systems like toll road and vehicle telemetry applications; as well as smart spaces in retail, cities and supply chain applications.
Convergence of AI and OT Solutions: New edge AI applications are driving the growth of intelligent spaces, including the intelligent factory. These factories use cameras and other sensors for inspection and predictive maintenance. However, detection is just step one; once detected, action must be taken. This requires a connection between the AI application doing the inference and monitoring-and-control, or OT, systems that manage the assembly lines, robotic arms or pick-and-place machines.
Today, integration between these two applications relies on custom development work. This year, expect to see more integration of AI and traditional OT management solutions that simplify the adoption of edge AI in industrial environments.
AZITA MARTIN
Vice President & General Manager of Artificial Intelligence for Retail and Consumer Products Group
AI Addresses Labor Shortages: Amid a shortage of labor and increased customer demand for faster service, quick-service restaurants will employ AI for automated order taking. Thanks to advancements in natural language understanding and speech, combined with recommendation systems, fast food restaurants will roll out automated order taking to speed drive-thru times and improve recommendations. In supermarkets and big-box stores, retailers will increase their use of intelligent video analytics and computer visions to create automated checkouts and autonomous or cashier-less shopping.
Enterprises Tap AI to Optimize Logistics:  AI's greatest power is found in simplifying incredibly complex problems. Supply chain optimization will become a critical area for retailers to meet customer demands for product availability and faster delivery. AI can enable more frequent and more accurate forecasting, ensuring the right product is at the right store at the right time,
Computer vision and robotics will add AI intelligence to distribution centers. Solutions like autonomous forklifts, robots and intelligent multi-shuttle cabinets will reduce conveyor starvation and downtime and automate pick-and-pack of items to double throughput. Last-mile delivery leveraging data science will help dynamic rerouting, simulations and sub-second solver response time.
Becoming One With the Customer: Retailers sit on massive amounts of data but often have trouble processing it in real time. AI lets retailers parse the data in near real-time to have a 360 degree view of their customers,  in order to provide more personalized offers and recommendations that drive revenue and customer satisfaction. In 2022, you'll see many retailers offering hyper-personalized shopping experiences.
KEVIN LEVITT
Director of Industry and Business Development for Financial Services
Your Voice Is Your ID: Financial institutions will invest heavily in AI to fight fraud and adhere to compliance regulations such as KYC (Know Your Customer) and AML (Anti-Money Laundering). Some are using a customer's unique voice to authenticate online transactions, while others are turning to eye biometrics for authentication.
Graph neural networks are at the forefront of the new techniques AI researchers and practitioners at financial institutions are using to understand relationships across entities and data points. They'll become critical to enhancing fraud prevention and to mapping relationships to fight fraud more effectively.
AI for ESG: Consumers and government entities increasingly will hold enterprises accountable for environmental impacts, social and corporate governance (ESG). Companies will invest in significant computational power to run AI models, including deep learning and natural language processing models, that analyze all the data necessary to track company performance relative to ESG. It also will be needed to analyze the available data externally to measure which companies are excelling or failing relative to ESG benchmarks.
CHARLIE BOYLE
Vice President & General Manager, NVIDIA DGX Systems
Enterprises Deploy Large Language Models to Advance Understanding: In 2022, we'll see accelerated growth in adapting large language models (LLMs) to serve more industries and use cases. Trained on massive amounts of general or industry-specific data, LLMs are able to answer deep domain questions, translate languages, comprehend and summarize documents, write stories and compute programs — all without specialized training or supervision. Already, LLMs are being used to build language- and domain-specific AI chatbots and services that improve connection and communication around the world.
Enterprises' Next Data Centers Will Belong to Someone Else: Many businesses turned away from owning their own data centers when they moved to cloud computing, so, in 2022, companies will realize it's time to start leveraging colocation services for high-performance AI infrastructure. The ease of deployment and access to infrastructure experts who can help ensure 24/7/365 uptime will enable more enterprises to benefit from on-demand resources delivered securely, wherever and whenever they're needed.
KEVIN DEIERLING
Senior Vice President of Networking
Data Center Is the New Unit of Computing: Applications that previously ran on a single computer don't fit into a single box any more. The new world of computing increasingly will be software defined and hardware accelerated. As applications become disaggregated and leverage massive data sets, the network will be seen as the fast lane between many servers acting together as a computer. Software-defined data processing units will serve as distributed switches, load balancers, firewalls, and virtualized storage devices that stitches this data center scale computer together.
Growing Trust in Zero Trust: As applications and devices move seamlessly between the data center and the edge, enterprises will have to validate and compose from microservices.
Zero trust assumes that everything and everyone connected to a company system must be authenticated and monitored to verify bad actors aren't attempting to penetrate the network. Everything has to become protected both at the edge and on every node within the network. Data will need to be encrypted using IPSEC and TLS encryption, and every node protected with advanced routers and firewalls.
SCOTT MCCLELLAN
Senior Director of the Data Science Product Group
Accelerated Data Science Platforms Thaw Enterprise Data Lakes: Much has been written about data lakes forming the foundation for enterprise big data strategies. Enterprise data lakes are effective for large scale data processing, but their broader usefulness has been largely frozen for the past few years, as they are isolated and decoupled from machine learning training and inference pipelines. In 2022, data lakes will finally modernize through end-to-end data pipelines because of three inflection points: centralized infrastructure, the agility of Kubernetes-based applications, and best-in-class, fit-to-task storage.
Mainstream AI Adoption Triggers MLOps Growth: The world's AI pioneers built bespoke MLOps solutions to help them manage development and production AI workflows. Many early adopters that chose a cloud-based development path have been able to delay adding MLOps expertise. Enterprises are now uncovering a gap as companies expand their use of AI and bring their accelerated infrastructure on-prem. Addressing this need will trigger broad adoption of MLOps solutions in the year ahead. 
Entering the Age of Hyper-Accelerated AI Adoption
There's no doubt the continuing pandemic has created an era of accelerated invention and reinvention for many businesses and scientific organizations. The goal is to create short-term measures that meet the needs of the day while building for long-term gains and radical change.
Will 2022 be another year of living dangerously, or smoother sailing for those businesses that tackle the uncertainty with a firmer embrace of AI?