From recommendation tools built into ecommerce sites and streaming platforms to sophisticated image editing in smartphones, AI and machine learning applications have rapidly advanced over the last few years.  
Across the manufacturing and product design industry, companies are experimenting with powerful AI solutions for many use cases and workflows.   
Learn more about the latest developments in AI for manufacturing at NVIDIA GTC, running March 21-24. 
According to a 2020 MIT Technology Review Insights survey, manufacturing is one of the top two sectors adopting AI. Al and machine learning bring many benefits to manufacturing use cases, including: 
Product research, development and production

 

Inventory management

 

Process and quality control

 

Predictive maintenance

 
Leading companies are already integrating advanced AI solutions into their workflows. For example, Foxconn Group has implemented AI for automated high-precision inspection of its products' components and tools using NVIDIA software libraries and the NVIDIA EGX platform for accelerated computing.  
A recent survey conducted by Peerless Research Group, including responses from over 300 product designers, engineers, researchers and other professionals in aerospace, automotive and industrial machinery, has identified Al and simulation as the two key technologies that will have the biggest impact on product design and development over the next five years.  
Enhanced Workflows for Design and Engineering
When it comes to applying AI in product development, generative design is a common use case, as the organic shapes generated by computer-aided design and engineering tools with this capability are striking compared to conventional designs.  
The use of AI and machine learning in CAE is increasing, allowing engineers and analysts to: 
Gain near-real-time insights for design exploration – similar to how

ANSYS Discovery, with its NVDIA CUDA-based GPU-accelerated solver,

has reduced simulation time from days to minutes.

 

Better manage time-consuming simulation tasks such as geometry preparation, meshing, management of the result data and identification of trends and anomalies in the vast amount of post-processing data.

 

Use data from previous simulations to train machine learning models to narrow the design space and identify the key design parameters.

 
Monolith AI, a member of the NVIDIA Inception program designed to support the global startup ecosystem, has helped manufacturing companies optimize research and development processes by reducing the numbers of simulations, tests and prototypes. This enables companies to deliver faster and better products by applying machine learning to data generated during the engineering design process.  
A New AI Framework for Physics
The need for physics-driven AI models is growing fast – especially in industries like energy, climate science and life sciences. With a framework like NVIDIA Modulus, manufacturers and design engineers can create physics-driven AI models and unleash new capabilities in industrial simulation.  
NVIDIA Modulus is a neural network framework that blends the power of physics and partial differential equations with AI to build more robust models for better analysis. Modulus trains neural networks to learn from data and use the laws of physics to model the behavior of complex systems. The surrogate model can then be used in various applications, from industrial use cases to climate science. Once a model is trained, Modulus can do the inference in near real time or interactively.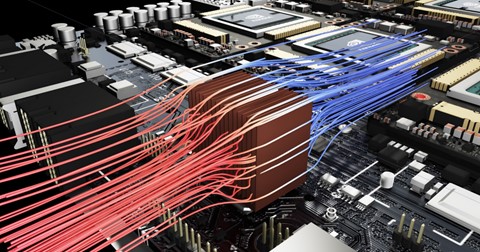 With Modulus, professionals in manufacturing and product development can explore different configurations and scenarios of a model by changing its parameters, allowing them to gain deeper insights about the system or product.  
Digital Twins That Go Beyond Simulations
Digital twin technology is also increasingly being adopted across manufacturing and product development. Using NVIDIA Omniverse Enterprise, a virtual world simulation and collaboration platform for 3D workflows, designers and engineers can develop and operate physically accurate digital twins that support a wide range of AI-enabled use cases. 
With AI and digital twins, companies can better predict and optimize operational performance, resulting in faster production times, enhanced efficiency and improved products or processes. 
Explore AI Further at GTC
Hear from NVIDIA partners and customers to get insights on how they're using AI in manufacturing workflows. Featured GTC sessions include: 
Check out additional manufacturing and product development sessions at GTC. Watch the keynote address by NVIDIA founder and CEO Jensen Huang, on March 22 at 8 a.m. Pacific, to hear the latest news on NVIDIA technologies.