Digital twins that revolutionize the way the most complex products are produced. Silicon and software that transforms data centers into AI factories. Gaming advances that bring the world's most popular games to life.
Taiwan has become the engine that brings the latest innovations to the world. So it only makes sense that NVIDIA leaders brought their best ideas to this week's COMPUTEX technology conference in Taipei.
"Taiwan is the birthplace of the PC ecosystem and the spirit of COMPUTEX is to celebrate the incredible journey that built this $500 billion industry," Jeff Fisher, senior vice president for gaming products at NVIDIA told attendees.
The headline news:
NVIDIA announced Taiwan's leading computer makers will release the first wave of systems powered by the NVIDIA Grace CPU Superchip and Grace Hopper Superchip for workloads such as digital twins, AI, high-performance computing, cloud graphics and gaming.
NVIDIA announced liquid-cooled NVIDIA A100 GPUs for data centers. They'll be available in the fall as a PCIe card and will ship from OEMs with the HGX A100 server. The H100 Liquid Cooled will be available in the HGX H100 server, and as the H100 PCIe in early 2023.
Partners creating products around the NVIDIA Jetson edge AI and robotics platform announced more than 30 servers and appliances based on the NVIDIA Orin system-on-module.
Momentum for NVIDIA RTX is growing, with over 250 RTX games and applications available, double that at last year's COMPUTEX. And GeForce gamers continue to upgrade, with over 30% now on RTX hardware, logging over 1 and a half billion hours of playtime with RTX. And DLSS is in the games that gamers want to play, with 12 new added to the ever-growing library.
The announcements punctuated a talk from six NVIDIA leaders who wove together advances from robotics to AI, silicon to software and highlighted the work of partners throughout the industry.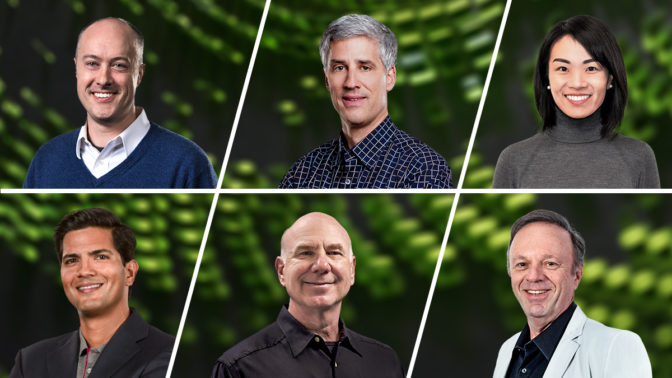 Transforming Data Centers
First up, NVIDIA VP for Hyperscale and HPC Ian Buck detailed how data centers are transforming into AI factories.
"This transformation requires us to reimagine the data center at every level, from hardware to software, from chips to infrastructure to systems," Buck said.
This will drive massive business opportunities for NVIDIA's partners in data centers, HPC, in digital twins and cloud-based gaming referencing a "half-trillion market opportunity."
Powering these modern AI factories requires end-to-end innovation at every level, Buck said.
And with data centers becoming "AI factories," data processing is essential.
These include NVIDIA Hopper GPUs, NVIDIA Grace CPUs and NVIDIA BlueField DPUs as the building blocks networked together by NVIDIA Quantum and Spectrum switches.
"The Bluefield DPU along with the Quantum and Spectrum networking switches comprise the infrastructure platform for the AI factory of the future," said CTO Michael Kagan
NVIDIA technologies will be featured in a wide range of server designs, including NVIDIA CGX for cloud gaming, OVX for digital twins, and HGX Grace and HGX Grace Hopper for science, data analytics and AI.
NVIDIA announced the first wave of systems powered by the NVIDIA Grace CPU Superchip and Grace Hopper Superchip are expected starting in the first half of 2023.
"Grace will be amazing at AI, data analytics, scientific computing, and hyperscale computing," said NVIDIA senior VP for hardware engineering Brian Kelleher. "And, of course, the full suite of NVIDIA software platforms will run on Grace."
The Grace-powered systems from ASUS, Foxconn Industrial Internet, GIGABYTE, QCT, Supermicro and Wiwynn join x86 and other Arm-based servers to offer customers a broad range of choices.
"All of these servers are optimized for NVIDIA accelerated computing software stacks, and can be qualified as part of our NVIDIA-Certified Systems lineup," said Director of Product Management for Accelerated Computing Ying Yin Shih
To provide enterprises with options to deploy green data centers, NVIDIA also announced its first data center PCIe GPU with direct chip liquid cooling.
The liquid-cooled A100 PCIe GPUs will be supported in mainstream servers by at least a dozen system builders, with the first shipping in the third quarter of this year.
"All of these combine to deliver the infrastructure of the data center of the future that handles these massive workloads," Buck said.
Finally, getting all of this to run seamlessly requires NVIDIA AI Enterprise software, which delivers robust 24/7 AI deployment, Buck said.
"When it comes to reimagining the data center, NVIDIA has the complete, open platform of hardware and software to build the AI factories of the future," Buck said.
Revolutionizing Robotics with AI
AI is also reaching more deeply into the world around us.
Deepu Talla, VP of Embedded and Edge Computing, spoke about how the global drive to automation makes robotics a major new application for AI.
NVIDIA announced this week that more than 30 leading partners worldwide will be among those offering the first wave of NVIDIA Jetson AGX Orin-powered production systems at COMPUTEX in Taipei.
New products are coming from a dozen Taiwan-based camera, sensor and hardware providers for use in edge AI, AIoT, robotics and embedded applications.
"We are entering the age of robotics — autonomous machines that are keenly aware of their environment and that can make smart decisions about their actions," Talla said.
Available worldwide since GTC in March, the NVIDIA Jetson AGX Orin developer kit delivers 275 trillion operations per second, packing over 8x the processing power of its predecessor, NVIDIA AGX Xavier, in the same pin-compatible form factor.
Jetson Orin features the NVIDIA Ampere architecture GPU, Arm Cortex-A78AE CPUs, next-generation deep learning and vision accelerators, high-speed interfaces, faster memory bandwidth, and multimodal sensor support capable of feeding multiple, concurrent AI application pipelines.
Offering server-class performance for edge AI, new Jetson AGX Orin production modules will be available in July, while Orin NX modules are coming in September.
Such modules are key to embedding smarter devices in the world around us, Talla said.
NVIDIA Isaac, the company's robotics platform, has four pillars, he explained.
The first pillar is about creating the AI, "a very time-consuming and difficult process that we are making fast and easy," Talla said, highlighting how tools such as the Isaac Replicator for synthetic data generation, NVIDIA pre-trained models available on NGC, and the NVIDIA TAO toolkit are addressing this challenge.
The second pillar is simulating the operation of the robot in the virtual world before it is deployed in the real world with Isaac Sim, Talla explained.
The third pillar is building the physical robots.
And the fourth pillar is about managing the fleet of robots over their lifetimes, typically many years if not more than a decade, Talla said.
As part of that, Talla detailed Isaac Nova Orin, a reference design for state-of-the-art compute and sensors for autonomous mobile robots (AMR) — packed with technologies such as DeepMap, CuOpt and Metropolis.
And he explained how NVIDIA Fleet Command provides secure management for fleets of AMRs.
"This is the industry's most comprehensive end-to-end robotics platform and we continue to invest in it," Talla said.
More Power for Gaming and Content Creation
Speaking last, Fisher detailed how NVIDIA is working to deliver innovation to gamers and content creators.
Over the past 20 years, NVIDIA and its partners have dedicated themselves to building the best platform for gaming and creating, Fisher said.
"Hundreds of millions now count on it to play, work and learn," he said.
NVIDIA RTX, introduced in 2018, has reinvented graphics thanks to advanced features such as real-time ray tracing — and the momentum around it continues to grow.
There are now over 250 RTX-enabled games and applications, doubling since last Computex, Fisher said.
NVIDIA DLSS continues to set the standard for super resolution with best in class performance and image quality, and is now integrated into more than 180 games and applications.
At COMPUTEX, DLSS is in the games that gamers want to play, with 12 new games added to the ever-growing library.
Among the highlights: the developers of the critically-acclaimed HITMAN 3 announced they will be adding NVIDIA DLSS along with ray-traced reflections and ray-traced shadows on May 24.
In addition, NVIDIA Reflex is now supported in 38 games, 22 displays, and 45 mice. With over 20M gamers playing with Reflex ON every month, Reflex has become one of NVIDIA's most successful technologies.
The Reflex ecosystem is continuing to grow: ASUS debuted the world's first 500Hz G-SYNC display, the ASUS ROG Swift 500Hz gaming monitor. Acer also launched the Predator X28 G-SYNC display. Meanwhile, Cooler Master introduced the MM310 and MM730 gaming mice with Reflex.
Gaming laptops continue to be the fastest-growing PC category and 4th generation Max-Q Technologies — the latest iteration of NVIDIA's design for thin and light laptops — is delivering a new level of power efficiency. GeForce RTX laptop models now total over 180.
"These are our most portable, highest performance laptops ever," Fisher said.
These powerful systems are being used to help build massive, interconnected 3D destinations.
NVIDIA Studio, the RTX-powered platform that includes dozens of SDKs and accelerates the top creative apps and tools, and NVIDIA Omniverse, the company's platform for building interconnected 3D virtual worlds, are designed to enable collaboration and construction of these virtual worlds, Fisher said.
Omniverse is getting a number of updates to accelerate creator workflows. Omniverse Cloud Simple Share, now in closed early access, allows users to send an Omniverse scene for others to view with a single click. Audio2Emotion will soon be coming to Audio2Face, providing an AI-powered animation feature that generates realistic facial expressions based on an audio file, Fisher said.
In addition, the Omniverse XR App is now available in beta. With it you can open your photorealistic Omniverse scene and experience it, fully immersive, in Virtual Reality, Fisher said. And Omniverse Machinima has been updated to make it easier than ever for 3D artists to create animated shorts.
"Omniverse is the future of 3D content creation and how virtual worlds will be built," Fisher said.
"Over the past 20 years, NVIDIA and our partners have dedicated ourselves to building the best platform for gaming and creating," Fisher said. "Hundreds of millions now count on it to play, work, and learn."
Featured image credit: ynes95, some rights reserved.