As a child, Neal Khosla became engrossed by the Oakland Athletics baseball team's "Moneyball" approach of using data analytics to uncover the value and potential of the sport's players. A few years ago, the young engineer began pursuing similar techniques to improve medical decision-making.
It wasn't long after Khosla met Xavier Amatriain, who was looking to apply his engineering skills to a higher mission, that the pair founded Curai. The three-year-old startup, based in Palo Alto, Calif., is using AI to improve the entire process of providing healthcare.
The scope of their challenge — transforming how medical care is accessed and delivered — is daunting. But even modest success could bring huge gains to people's well-being when one considers that more than half of the world's population has no access to essential health services, and nearly half of the 400,000 deaths a year attributed to incorrect diagnoses are considered preventable.
"When we think about a world where 8 billion people will need access to high-quality primary care, it's clear to us that our current system won't work," said Khosla, Curai's CEO. "The accessibility of Google is the level of accessibility we need."
Curai's efforts to lower the barrier to entry for healthcare for billions of people center on applying GPU-powered AI to connect patients, providers and health coaches via a chat-based application. Behind the scenes, the app is designed to effectively connect all of the healthcare dots, from understanding symptoms to making diagnoses to determining treatments.
"Healthcare as it is now does not scale. There are not enough doctors in the world, and the situation is not going to get better," Khosla said. "Our hypothesis is that we can not only scale, but also improve the quality of medicine by automating many parts of the process."
COVID-19 Fans the Flames
The COVID-19 pandemic has only made Curai's mission more urgent. With healthcare in the spotlight, there is more momentum than ever to bring more efficiency, accessibility and scale to the industry.
Curai's platform uses AI and machine learning to automate every part of the process. It's fronted by the company's chat-based application, which delivers whatever the user needs.
Patients can use it to input information about their conditions, access their medical profiles, chat with providers 24/7, and see where the process stands.
For providers, it puts a next-generation electronic health record system at their fingertips, where they can access all relevant information about a patient's care. The app also supports providers by offering diagnostic and treatment suggestions based on Curai's ever improving algorithms.
"Our approach is to meticulously and carefully log and record data about what the practitioners are doing so we can train models that learn from them," said Amatriain, chief technology officer at Curai. "We make sure that everything we implement in our platform is designed to improve our 'learning loop' – our ability to generate training data that improves our algorithms over time."
Curai's main areas of AI focus have been natural language processing (for extracting data from medical conversations), medical reasoning (for providing diagnosis and treatment recommendations) and image processing and classification (largely for dermatology images uploaded by patients).
Across all of these areas, Curai is tapping state-of-the-art techniques like using synthetic data in combination with natural data to train its deep neural networks.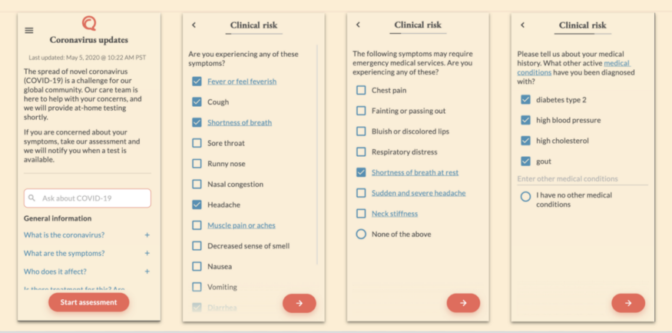 Most of Curai's experimentation, and much of its model training, occurs on two custom Supermicro workstations each running two NVIDIA TITAN XP GPUs. For its dermatology image classification, Curai initialized a 50-layer convolutional neural network with 23,000 images. For its diagnostic models, the company trained a model on 400,000 simulated medical cases using a CNN. Finally, it trained a class of neural network known as a multilayer perceptron using electronic health records from nearly 80,000 patients.
Curai has occasionally turned to a combination of the Google Cloud Platform and Amazon Web Services to access larger compute capabilities, such as using a doubly fine-tuned BERT model for working out medical question similarities. This used 363,000 text training examples from its own service, with training occurring on two NVIDIA V100 Tensor Core GPUs.
Ready to Scale
There's still much work to be done on the platform, but Amatriain believes Curai is ready to scale. The company is a premier member of NVIDIA Inception, a program that enables companies working in AI and data science with fundamental tools, expertise and marketing support to help them get to market faster.
Curai plans to finalize its go-to-market strategy over the coming months, and is currently focused on continued training of text- and image-based models, which are good fits for a chat setting. But Amatriain also made it clear that Curai has every intention of bringing sensors, wearable technology and other sources of data into its loop.
In Curai's view, more data will yield a better solution, and a better solution is the best outcome for patients and providers alike.
"In five years, we see ourselves serving millions of people around the world, and providing them with great-quality, affordable healthcare," said Amatriain. "We feel that we not only have the opportunity, but also the responsibility, to make this work."