Just like money, autonomous vehicles never sleep.
And the companies developing them are working just as hard, rolling out transformative technology and growing into publicly traded entities. This ecosystem includes every aspect of the autonomous vehicle industry ― from sensors to software to mobility services ― all using the high-performance, energy-efficient NVIDIA DRIVE platform to turn science fiction into reality.
In July, electric vehicle maker Faraday Future became a publicly listed company, raising $1 billion. A month earlier, global mobility technology company DiDi held its IPO, listing 316.8 million shares and raising a whopping $4.4 billion under the ticker DIDI. The ride-hailing giant, which counts nearly 500 million active users worldwide, is developing its upcoming robotaxi platform on NVIDIA DRIVE AGX Pegasus.
DiDi — which operates ride-hailing services in 71 countries and about 10,000 cities — is one of the largest in a wave of such public listings, which began in August 2020 with electric automaker Xpeng. That EV company, whose P7 sports sedan uses NVIDIA DRIVE AGX Xavier for AI-assisted driving, raised $1.5 billion in its offering.
These listings are a milestone in the development of autonomous vehicles, signaling the maturing of self-driving technology from research and development to production vehicles.
Sensing Opportunities
A key component of any autonomous driving platform, sensors have advanced rapidly in recent years. Now, many members of the NVIDIA DRIVE sensor ecosystem are counting dozens of customers and heading to the public markets.
Kickstarting the listing momentum, lidar maker Velodyne went public in September via a SPAC, or special acquisition company, raising about $150 million. This method of going public involves a company already listed on a stock exchange acquiring a private company, rather than the private company undergoing an initial public offering.
In September, lidar supplier Luminar followed suit with a similar SPAC reverse merger. The listing took off at light speed, shooting up 39 percent the day of the acquisition — under the ticker LAZR — and the company received about $500 million in the deal.
The SPACs have kept coming in 2021, with sensor makers Aeva, Innoviz, Ouster and AEye all listing in March, April and August. The companies received a combined $1.1 billion through their respective acquisitions.
Trucking Ahead
With skyrocketing shipping demand in recent years, autonomous trucks have become an increasingly vital part of the self-driving ecosystem.
Autonomous trucking company TuSimple has been accelerating the development of this technology, using the NVIDIA DRIVE AGX AI compute platform to power its self-driving software. The global company has conducted successful self-driving pilots with organizations such as the U.S. Postal Service and is working with Navistar to build autonomous trucks from the ground up.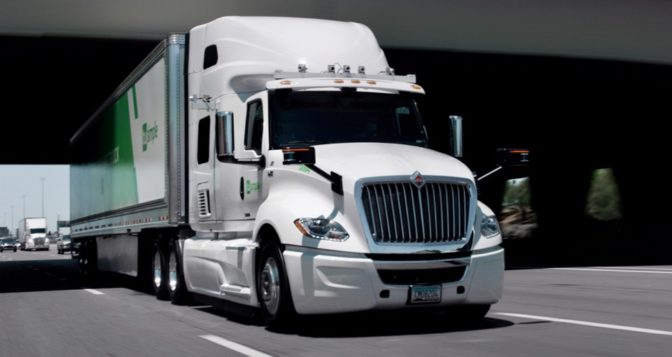 TuSimple's move to the public markets has been just as successful, raising more than $1 billion in its April IPO for a valuation of $8.5 billion.
There are even more listings on the horizon, with companies such as autonomous trucking startups Plus and Embark announcing their plans to go public.
With more than $9 billion raised and more coming in the pipeline, the NVIDIA DRIVE ecosystem continues to advance and move even closer to a safer, more efficient transportation future.