Editor's note: The company profiled below has since changed its name to Artisight. Learn more at artisight.com.
Andrew Gostine's startup aims to make hospitals more efficient, but when the coronavirus hit Chicago he pivoted to keeping them safer, too.
Gostine is a critical-care anesthesiologist at Northwestern Medicine's 105-bed Lake Forest hospital, caring for 60 COVID-19 patients. He's also the CEO of Whiteboard Coordinator Inc., a startup that had a network of 400 cameras and other sensors deployed across Northwestern's 10 hospitals before the pandemic.
After the virus arrived, "the hospital said it was having a hard time screening people coming in for COVID-19 using conventional temperature probes, and asked if we could help," he said.
Ten days later, the startup had thermal cameras linked to its network installed at 31 entrances to the hospitals. They detect about a dozen cases of fever in the 6,000 people coming through the doors each day.
The approach reduced lines waiting to get in. It also cut from four to one the number of people the hospital needed to post at each door.
Digital Window Protects Care Givers
About the same time, Northwestern asked Whiteboard for "a digital window" into COVID-19 rooms. They wanted to limit nurses' exposure to the virus and reduce the need for the protective gear that's now in high demand.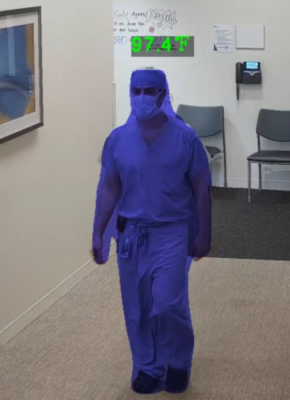 So, the startup deployed another 400 cameras sporting night vision and microphones across the 10 hospitals. They use Whiteboard's network of NVIDIA GPUs to transcode the video streams so they can be viewed securely on any hospital display.
"Nurses tell us the remote viewing is phenomenal. They report going into rooms less and consumption of protective gear is down. Our next challenge is using our computer-vision capabilities to track inventory of protective gear in real time," he said.
The thermal cameras and patient monitors link to 36 NVIDIA RTX 2080 Ti GPUs. They handle transcoding and other algorithms to deliver low-latency feeds at 20 frames/second.
The current COVID-19 uses don't require AI today, but deep learning is a core part of Whiteboard's system. "Eighty percent of what we do is computer vision, but we can integrate different sensors for different problems," Gostine said.
A Sensory-Friendly Guardian for Hospitals
Whiteboard's system also supports Bluetooth and RFID sensors for a range of patient monitoring, inventory tracking, resource scheduling and security apps. One hospital increased the use of its operating rooms 27 percent while reducing its costs, thanks to the startup's OR scheduling system. It currently runs on an NVIDIA Jetson TX2 and is being upgraded to Quadro 4000 GPUs.
For use cases such as fever and  mask detection, Whiteboard also plans to adopt NVIDIA Clara Guardian, an application framework that simplifies the deployment in hospitals of smart sensors with multi-mode AI. It is among 18 companies currently supporting Clara Guardian, software that runs on the NVIDIA EGX platform for AI computing on edge servers and embedded devices.
The pandemic spawned orders from 100 hospitals for Whiteboard's thermal cameras. The startup currently has at least one of its systems installed in a total of 22 hospitals.
"Our biggest problem is sourcing cameras and other hardware we need because supply chains are in disarray," Gostine said.
Seeking Better Surgery Outcomes with AI
Once the pandemic passes, the startup aims to employ AI to improve outcomes of surgical techniques used in the operating room. Long term, Whiteboard's value will come from its expanding AI algorithms and datasets, trained on NVIDIA V100 Tensor Core GPUs in Microsoft's Azure service, he said.
It's a big opportunity. Accenture predicts by 2026 the top 10 AI healthcare apps will generate a $150 billion market. It will span areas such as robotic surgery, virtual nursing assistants and automated workflows.
The startup's mission was born of Gostine's personal passion for making hospitals more modern and efficient.
"When I got to med school, I was frustrated because it seemed we lagged behind the internet era I grew up in," he said.
From Faxes to the Future
After graduating, he got an MBA and spent some time consulting with healthcare startups before his internship. Work with more than a dozen companies led to a position with a VC firm during his medical residency.
"It was like night and day. The venture world was thinking 10 years ahead, and I realized healthcare was really behind — we're still using pagers and fax machines," he said.
"There's so much paperwork to get through every day, just so we can think about our patients. What we are doing at Whiteboard really stems from the frustrations I felt in my practice," he added.
A series of chance encounters led him to three AI, software and medical experts who formed Whiteboard, a member of NVIDIA's Inception program, which gives startups access to new technologies and other resources.
Whiteboard's first product aimed to streamline OR scheduling, then it expanded into patient monitoring. Now the coronavirus has taken its networks all the way to the hospital's front door.