It's the final countdown for what's been a big year for cloud gaming. For the last GFN Thursday of the year, we're taking a look at some of the GeForce NOW community's top picks of games that joined the GeForce NOW library in 2021.
Plus, check out the last batch of games coming to the cloud this year, with seven new additions streaming this week.
Bringing Gaming to Gamers
This year, the GeForce NOW library has reached over 1,100 PC games streaming on the service, including nearly 100 free-to-play options. Plus, new titles come to the cloud every GFN Thursday, meaning more players can play more games that they own.
Whether they're playing on underpowered PCs, Macs, Chromebooks, SHIELD TVs, Android devices, iPhones or iPads, there's a PC game for every player to stream instantly from this ever-expanding library — at legendary GeForce levels of performance.
Pumped Up Picks 
To round out a year full of great gaming and new title additions, the GeForce NOW community shared some of their picks to play on the cloud.
Guardians of the galaxy with RTX 3080 4K and HDR💚 pic.twitter.com/cCzm2TyzUQ

— TheNorseman5 (@TheNorseman5) December 20, 2021
Guardians of the Galaxy, 4K 60fps on my Shield Pro!

— Lee Reid – ReidoBaggins ✨ (@ReidoBaggins) December 20, 2021
Members are having a blast strapping on Star-Lord's boots for an original adventure in Marvel's Guardians of the Galaxy, and have shared their love for the game.
"Marvel's Guardians of the Galaxy looks absolutely stunning on GeForce NOW," said DrSpaceman. "The colorful, alien worlds are so vibrant with RTX ON and the game plays like a dream."
"Playing this game on the 3080 tier is just beautiful," said Bill from NerdNest.tv. "The art direction is top notch."
Gamers are also delighted to befriend charming spirit companions and enjoy a rich tale in Kena: Bridge of Spirits, and thrilled to overthrow a corrupt government in Far Cry 6.
"Kena: Bridge of Spirits was by far one of my favorite games, due to the graphics, visuals and the storyline," said VetCloudGaming. "The visuals were amazing and reminded me of a film."
@playnewworld ! New world for the win !!

— Wuyts jeroen (@Wuytsjeroen1990) December 20, 2021
For fun with friends, players are squading up to explore, build, craft and battle in the MMO New World or become the Vikings they were born to be in Valheim.
"New World has to be the biggest surprise game of the year," said Marchief from Cloud Gaming Xtreme. "So many people wanted it, and now it's on GeForce NOW."
If stretching 2021 to include an extra month from the end of last year — members are taking Cyberpunk 2077 to the next level with cinematic quality by turning RTX ON for a glamorous game and gritty story.
Cyberpunk 2077 in 4K on the Shield with my 3080 membership 😍

— H e l l M o n k e y (@HellMonkey88) December 20, 2021
Cyberpunk 2077, RTX 3080 at 1440p 💚

— Ølivier ▫️ GT: OlivierChlc (@OlivierChlc) December 20, 2021
Other games we've seen mentioned frequently include PowerWash Simulator and Gas Station Simulator for entertaining scenarios with wacky outcomes. Games like No Man's Sky and Icarus are popular options for those looking for a challenge to explore and survive. And members wanting to become an unstoppable warrior should try Warframe for a sci-fi, story-driven, free-to-play game.
The Power to Play With GeForce RTX 3080
Another big win for GeForce NOW members this year is the ability to play all of these titles using the newest generation of cloud gaming with a GeForce NOW RTX 3080 membership.
RTX 3080 memberships turn nearly any device into a gaming rig capable of streaming at up to 1440p resolution and 120 frames per second on PCs, native 1440p or 1600p at 120 FPS on Macs, and 4K HDR at 60 FPS on SHIELD TV, with ultra-low latency that goes head-to-head with many local gaming experiences.
It also comes with the longest gaming session length available of eight hours, full control to customize in-game graphics settings, as well as RTX ON rendering environments in cinematic quality for supported games.
Besides powering up your ultimate cloud gaming experience on GeForce NOW, for a limited time, get the gift of a copy of Crysis Remastered free with the purchase of an RTX 3080 membership or six-month Priority membership. Terms and conditions apply.
End Games for 2021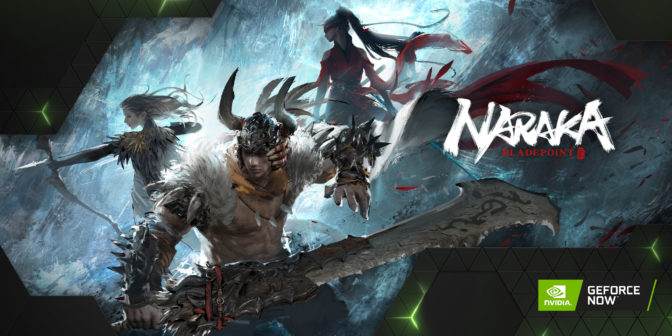 The following seven titles come to the cloud this week to close out a year packed full of gaming:
We make every effort to launch games on GeForce NOW as close to their release as possible, but, in some instances, games may not be available immediately.
Stay tuned and look out for new announcements at CES to see how we're kicking off 2022. Tell us what you want to see next for GeForce NOW on Twitter or in the comments below.