Turn the TV on. GeForce NOW is leveling up gaming in the living room.
The Samsung Gaming Hub launched today, delivering GeForce NOW natively on 2022 Samsung Smart TVs.
Plus, the SHIELD Software Experience Upgrade 9.1 is now rolling out to all NVIDIA SHIELD TVs, delivering new gaming features that improve GeForce NOW.
Great living room gaming pairs perfectly with a great gaming controller. GeForce NOW members can claim a new reward for 20% off all SteelSeries gaming controllers on SteelSeries.com — available through the end of August.
Gear up for the final game release in June with six games available to stream today, with titles from Motorsport Games joining the GeForce NOW library. And 13 additions are coming in July. The announcement arrives just in time to grab games at discounted prices during the Steam Summer Sale through Thursday, July 7.
To cap it all off, the GeForce NOW v2.0.42 update improves streaming performance with new optimizations that adjust streaming resolutions to best fit network conditions.
What's All the Hubbub? 
Today's launch of the Samsung Gaming Hub brings the best of gaming from leading game streaming services like GeForce NOW to 2022 Samsung Smart TVs.
The Samsung Gaming Hub is a new game-streaming discovery platform that bridges hardware and software to provide a better player experience. Gamers can instantly play the biggest games from GeForce NOW and other top gaming partners with no downloads, storage limits or console required.
The best Samsung Smart TVs combine the latest game streaming technology with intelligent technology for picture quality and sound to create a console-like performance, eliminating the hassle of downloads and worries about precious storage space or latency.
The Samsung Gaming Hub is available now on supported TVs in the US, UK, Brazil, Canada, France, Italy, Germany, and Spain. Members can also stream their PC games on the GeForce NOW app on Samsung TVs in other supported GeForce NOW regions.
GeForce NOW RTX 3080 members also have the advantages of ultra-low latency powered by GeForce NOW SuperPODs with faster game rendering, more efficient encoding and higher streaming frame rates. They also benefit from maximized eight-hour gaming sessions and dedicated RTX 3080 servers.
Gamers can even pair their favorite controllers to the Samsung Gaming Hub for a seamless experience.
The Best Keeps Getting Better
SHIELD TV continues to upgrade the best cloud gaming experience in the living room, adding to its existing GeForce NOW support for 4K HDR, 7.1 surround sound, a wide range of controllers, streaming to Twitch, and in-game voice chat with USB headsets. The latest SHIELD update, Software Experience Upgrade 9.1, takes gaming in the living room to new heights.
SHIELD now automatically switches TVs with automatic low-latency mode to "game mode" when playing games or video conferencing — and then reverts to the previous setting when playing movies or streaming TV shows. This latency-saving feature replaces the cumbersome process of finding the TV remote, switching the mode setting, and changing it back when gaming sessions are complete.
Another new feature is night listening mode, which enables users to stream games or watch movies at night, without disturbing others. SHIELD will automatically adjust sound levels for loud explosions, quiet dialogue and everything in between to deliver a consistent listening experience regardless of volume settings.
The update also includes microphone notifications that help identify the hot mic when multiple devices are connected.
Whether gaming from the cloud with GeForce NOW or playing an Android game locally, the latest SHIELD update helps members get the most responsive gaming experience in the living room.
Get Rewarded With SteelSeries
Members can take control of their gaming with 20% off SteelSeries gaming controllers.
SteelSeries wireless gaming controllers bring the PC gaming experience to any platform with easy pairing, extreme durability and a battery life of up to 50 hours of playtime. They're also a part of the full lineup of GeForce NOW Recommended products. The discount is valid for the Nimbus +, the Stratus Duo and even the newest Stratus+ models. Redemption is valid through Wednesday, August 31 for select North American and European regions.
It's easy to get membership rewards for streaming games on the cloud. Log in to your NVIDIA account and select "GEFORCE NOW" from the header, then scroll down to "REWARDS" and click the "UPDATE REWARDS SETTINGS" button. Check the box in the dialogue window that shows up to start receiving special offers and in-game spoils.
Start July Off With a Bang
This GFN Thursday closes out the month with six new games streaming this week, including games from Motorsport Games. It also kicks off July with the list of 13 titles on the way,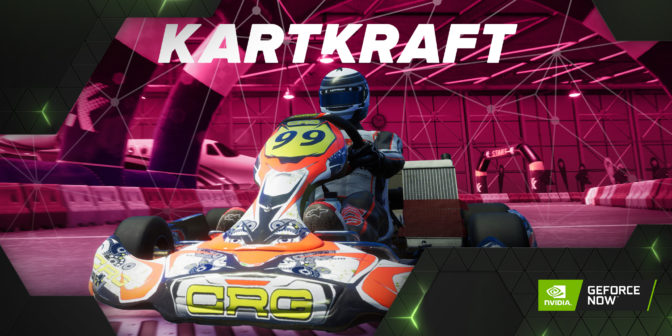 GeForce NOW welcomes video game publisher Motorsport Games to the cloud. From NASCAR 21: Ignition, the officially licensed video game of the world's most popular stock-car racing series with, to the thrilling and realistic physics of KartKraft, more gamers than ever can experience racing entertainment streaming to low-powered PCs, Macs and mobile devices.  
Catch the games ready to play today:
And coming this July:
Blow Off Some Steam With a Summer Sale
Speaking of games, it's the best time to build your collection with the Steam Summer Sale, running through Thursday, July 7.
Get PC games streaming from the GeForce NOW library during Valve's special event to stream across low-powered PCs, Macs and mobile devices on the cloud. Once purchased, they're yours forever, and the cloud saves all your progress.
Check out the "Steam Summer Sale" row in the GeForce NOW app to find deals on your next adventure. Race to grab titles like NASCAR 21: Ignition and KartKraft from Motorsport Games and check if any of the GeForce NOW games on your wishlist are on sale. With over 1,300 games streaming on the cloud, it's a good chance they are.
Extra Games From June
On top of the 25 games announced in June, another seven joined over the month:
Finally, tune into this question we've got for you this week. Let us know your answer on Twitter or in the comments below.
what's a game that deserves to be played on a big screen? 📺

— 🌩️ NVIDIA GeForce NOW (@NVIDIAGFN) June 29, 2022