Goran Vuksic is the brain behind a project to build a real-world pit droid, a type of Star Wars bot that repairs and maintains podracers which zoom across the much-loved film series.
The edge AI Jedi used an NVIDIA Jetson Orin Nano Developer Kit as the brain of the droid itself. The devkit enables the bot, which is a little less than four feet tall and has a simple webcam for eyes, to identify and move its head toward objects.
Vuksic — originally from Croatia and now based in Malmö, Sweden — recently traveled with the pit droid across Belgium and the Netherlands to several tech conferences. He presented to hundreds of people on computer vision and AI, using the droid as an engaging real-world demo.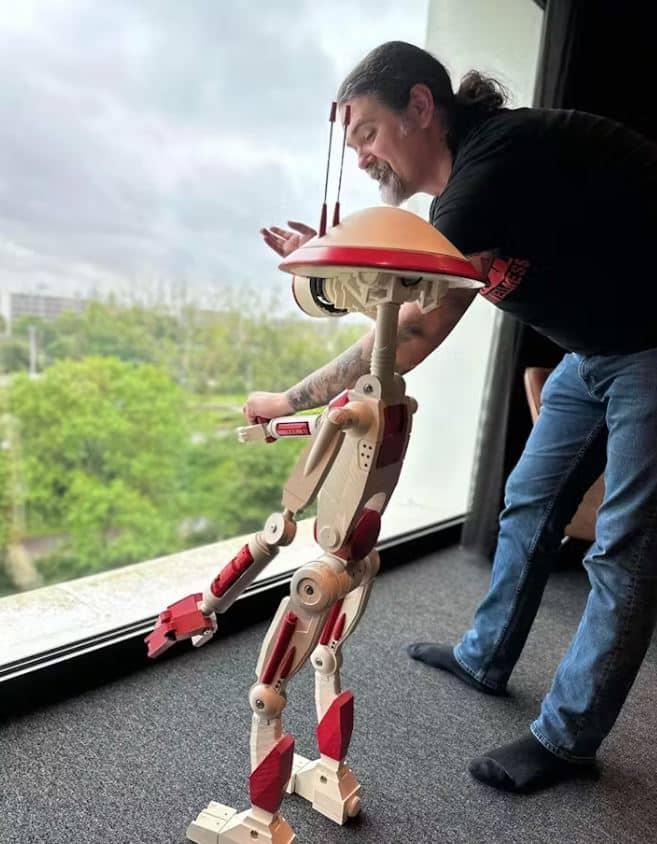 A self-described Star Wars fanatic, he's upgrading the droid's capabilities in his free time, when not engrossed in his work as an engineering manager at a Copenhagen-based company. He's also co-founder and chief technology officer of syntheticAIdata, a member of the NVIDIA Inception program for cutting-edge startups.
The company, which creates vision AI models with cost-effective synthetic data, uses a connector to the NVIDIA Omniverse platform for building and operating 3D tools and applications.
About the Maker
Named a Jetson AI Specialist by NVIDIA and an AI "Most Valuable Professional" by Microsoft, Vuksic got started with artificial intelligence and IT about a decade ago when working for a startup that classified tattoos with vision AI.
Since then, he's worked as an engineering and technical manager, among other roles, developing IT strategies and solutions for various companies.
Robotics has always interested him, as he was a huge sci-fi fan growing up.
"Watching Star Wars and other films, I imagined how robots might be able to see and do stuff in the real world," said Vuksic, also a member of the NVIDIA Developer Program.
Now, he's enabling just that with the pit droid project powered by the NVIDIA Jetson platform, which the developer has used since the launch of its first product nearly a decade ago.
Apart from tinkering with computers and bots, Vuksic enjoys playing the bass guitar in a band with his friends.
His Inspiration
Vuksic built the pit droid for both fun and educational purposes.
As a frequent speaker at tech conferences, he takes the pit droid on stage to engage with his audience, demonstrate how it works and inspire others to build something similar, he said.
"We live in a connected world — all the things around us are exchanging data and becoming more and more automated," he added. "I think this is super exciting, and we'll likely have even more robots to help humans with tasks."
Using the NVIDIA Jetson platform, Vuksic is at the forefront of robotics innovation, along with an ecosystem of developers using edge AI.
His Jetson Project
Vuksic's pit droid project, which took him four months, began with 3D printing its body parts and putting them all together.
He then equipped the bot with the Jetson Orin Nano Developer Kit as the brain in its head, which can move in all directions thanks to two motors.
The Jetson Orin Nano enables real-time processing of the camera feed. "It's truly, truly amazing to have this processing power in such a small box that fits in the droid's head," said Vuksic.
He also uses Microsoft Azure to process the data in the cloud for object-detection training.
"My favorite part of the project was definitely connecting it to the Jetson Orin Nano, which made it easy to run the AI and make the droid move according to what it sees," said Vuksic, who wrote a step-by-step technical guide to building the bot, so others can try it themselves.
"The most challenging part was traveling with the droid — there was a bit of explanation necessary when I was passing security and opened my bag which contained the robot in parts," the developer mused. "I said, 'This is just my big toy!'"
Learn more about the NVIDIA Jetson platform.