As a marine biology student, Josef Melchner always dreamed of spending his days cruising the oceans to find dolphins, whales and fish — but also "wanted to do something practical, something that would benefit the world," he said. When it came time to choose a career, he dove head first into aquaculture.
He's now CEO of GoSmart, an Israel-based company using AI and machine learning to make fish farming more efficient and sustainable.
A member of the NVIDIA Metropolis vision AI partner ecosystem and the NVIDIA Inception program for cutting-edge startups, GoSmart offers fully autonomous, energy-efficient systems — about the size of a soda bottle — that can be attached to aquaculture cages, ponds or tanks.
Powered by the NVIDIA Jetson platform for edge AI, these systems analyze the average weight and population distribution of the fish within the environment, as well as its temperature and oxygen levels.
This information is then provided to users through GoSmart's software-as-a-service, which helps fish farmers more accurately and efficiently determine how much — and when best — to feed their fish and harvest them, all in real time.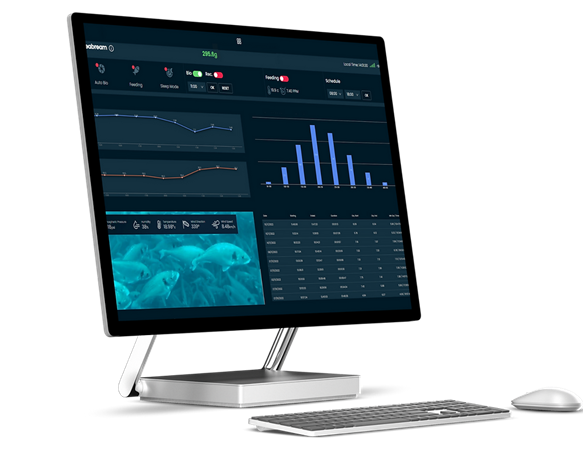 "The parameters that GoSmart systems analyze are crucial for the fish feed regime," Melchner said. "Managing the right levels of fish feed saves a lot of money for the farmers and reduces organic matter from excessive debris in the aqua environment."
GoSmart systems have been deployed by Skretting, one of the world's largest fish feed producers, as part of its initiative to sustainably expand production pipelines across eight countries in southern Europe and provide farmers with personalized, digitalized information.
Precision Farming for Sustainability
Founded in 2020, GoSmart is focused on fish farming because it's focused on helping the environment.
"The world faces a lack of protein, and yet marine protein is often acquired the way it's always been, with boats going out with fishing nets and long lines," Melchner said. "While many alternative sources of protein — like cattle, pigs and chicken — are almost always farmed, about half of marine production still comes from wildlife."
Overfishing in this manner negatively impacts the planet.
"It's a critical issue that could affect us all eventually," Melchner said. "Algae is one of the largest carbon sinks in the world. It consumes carbon from the atmosphere and releases oxygen, and overfishing impacts levels of algae in the ocean."
Understanding this is what led Melchner to devote his life's work to aquaculture, he said.
The GoSmart system uses lithium-ion batteries charged by solar panels, and is equipped with its own power-management software that enables it to autonomously enter sleep mode, shut down, wake up and conduct its work as appropriate.
Farming Efficiency Boosted With AI
GoSmart systems are built with sensors, cameras and NVIDIA Jetson modules, which enable AI at the edge to analyze factors of an environment that impact fish feeding, growth, health and welfare, as well as environmental pollution due to excessive organic matter dispersed in the water because of inefficient or inaccurate operations.
"We wanted to use the best processor for AI with high performance in a system that's compact, submersible underwater and affordable for fish farmers, which is why we chose the Jetson series," Melchner said.
GoSmart is now training its systems to analyze fish behavior and disease indicators — adding to current capabilities of determining fish weight, population distribution, temperature and oxygen levels. Since Jetson enables multiple AI algorithms to run in parallel, all of these characteristics can be analyzed simultaneously and in real time.
The company is also evaluating the powerful new Jetson Orin lineup of modules to take these capabilities to the next level.
To train its AI algorithms, the GoSmart team measured thousands of fish manually before deploying cameras to analyze millions more. "There was a lot of diving and many underwater experiments," Melchner said.
For high-performance deep learning inference, GoSmart is looking to use the NVIDIA TensorRT software development kit and open-source NVIDIA Triton Inference Server software.
And as a member of the NVIDIA Metropolis and Inception programs, GoSmart works closely with NVIDIA engineers and is exploring latest-generation technologies. "This will help make our algorithms quicker and more efficient," Melchner said.
GoSmart could help farmers reduce fish feed by up to 15%, according to Melchner. For some customers, GoSmart technology has shortened fish growth time and subsequent time to market by an entire month.
A Tidal Wave of Possibilities
Melchner predicts that in a few years, aquaculture will look completely different from how it is today.
"Our goal is to have our systems in every cage, every pond, every tank in the world — we want to cover the entire aquaculture industry," he said.
In addition to integrating AI models that analyze fish behavior and disease, GoSmart is looking to expand its systems and eventually integrate its solution with an autonomous feeding barge that can give fish the exact amount of food they need, exactly when they need it.
Learn more about the NVIDIA Metropolis application framework, developer tools and partner ecosystem.