At GTC, NVIDIA announced significant updates for millions of creators using the NVIDIA Omniverse real-time 3D design collaboration platform.
The announcements kicked off with updates to the Omniverse apps Create, Machinima and Showroom, with an imminent View release. Powered by GeForce RTX and NVIDIA RTX GPUs, they dramatically accelerate 3D creative workflows.
New Omniverse Connections are expanding the ecosystem and are now available in beta: Unreal Engine 5 Omniverse Connector and the Adobe Substance 3D Material Extension, with the Adobe Substance 3D Painter Omniverse Connector very close behind.
Maxon's Cinema 4D now has Universal Scene Description (USD) support. Unlocking Cinema 4D workflows via OmniDrive brings deeper integration and flexibility to the Omniverse ecosystem.
Leveraging the hydra render delegate feature, artists can now use Pixar HDStorm, Chaos V-Ray, Maxon Redshift and OTOY Octane Hydra render delegates within the viewport of all Omniverse apps, with Blender Cycles coming soon.
Whether refining 3D scenes or exporting final projects, artists can switch between the lightning-fast Omniverse RTX Renderer or their preferred renderer, giving them ultimate freedom to create however they like.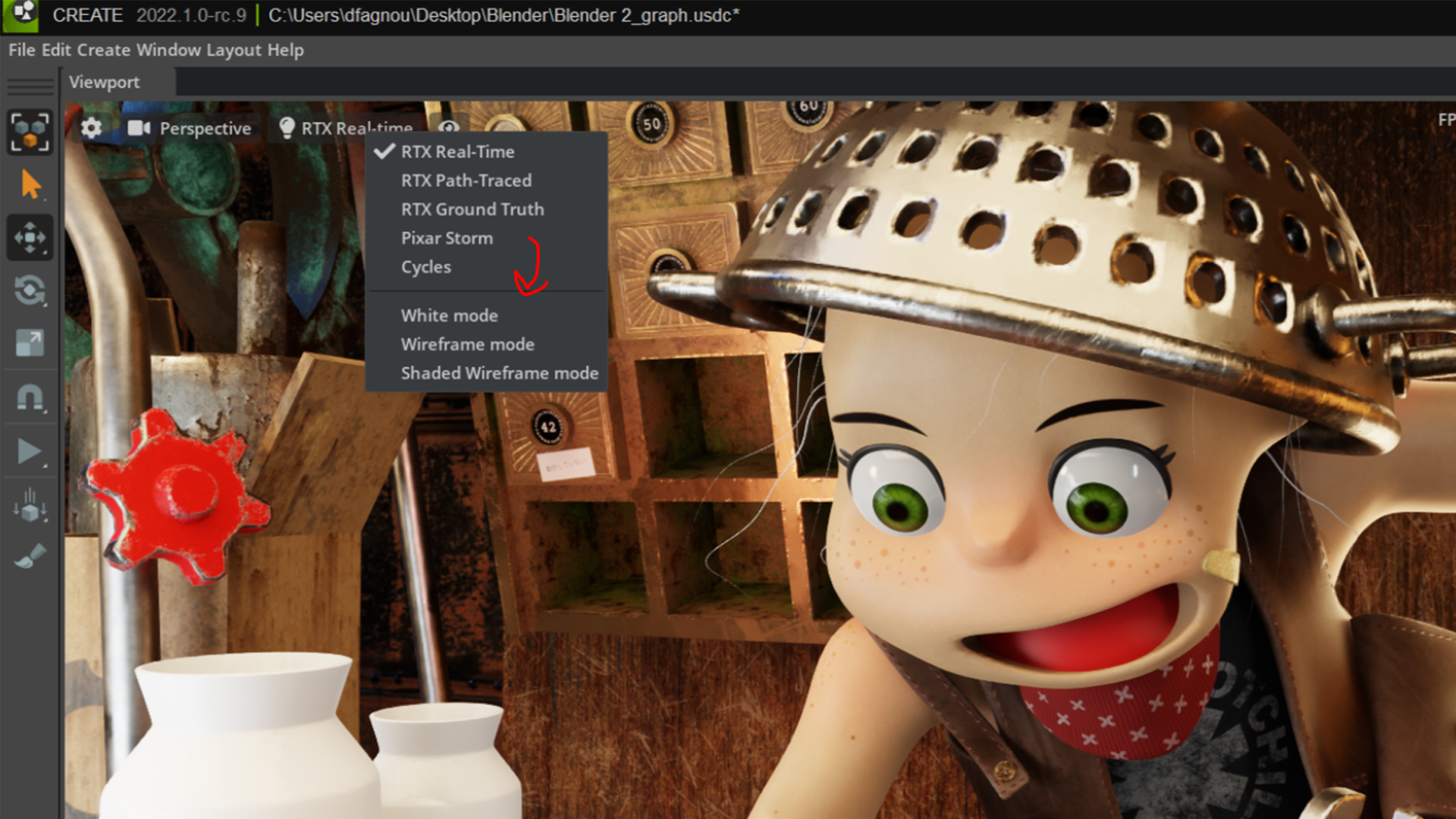 These updates and more are available today in the Omniverse launcher, free to download, alongside the March NVIDIA Studio Driver release.
To celebrate the Machinima app update, we're kicking off the #MadeInMachinima contest, in which artists can remix iconic characters from Squad, Mount & Blade II: Bannerlord and Mechwarrior 5 into a cinematic short in Omniverse Machinima to win NVIDIA Studio laptops. The contest runs through June 27. Visit the contest landing page for details.
Can't Wait to Create
Omniverse Create allows users to interactively assemble full-fidelity scenes by connecting to their favorite creative apps. Artists can add lighting, simulate physically accurate scenes and choose to render with Omniverse's advanced RTX Renderer, or their favorite Hydra Render delegate.
Create version 2022.1 includes USD support for NURBS curves, a type of curve modeling useful for hair, particles and more. Scenes can now be rendered in passes with arbitrary output variables, or AOVs, delivering more control to artists during the compositing stage.
Animation curve editing is now possible with the addition of a graph editor. The feature helps animators feel comfortable working in creative apps such as Autodesk Maya and Blender. They can iterate simpler, faster and more intuitively.
The new ActionGraph feature unlocks keyboard shortcuts and user-interface buttons to trigger complex events simultaneously.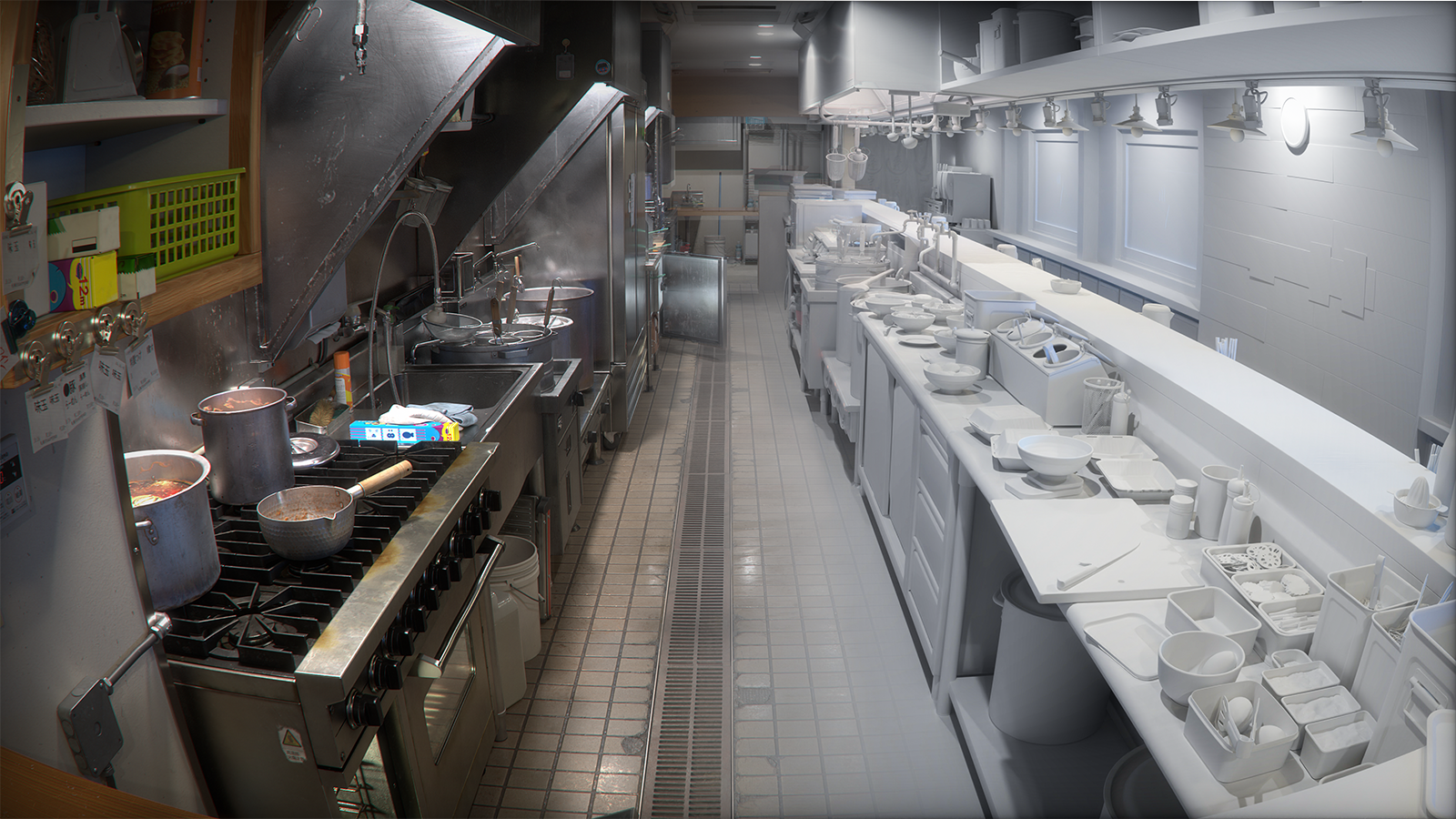 NVIDIA PhysX 5.0 updates provide soft and deformable body support for objects such as fabric, jelly and balloons, adding further realism to scenes with no animation necessary.
VMaterials 2.0, a curated collection of MDL materials and lights, now has over 900 physical materials for artists to apply physically accurate, real-world materials to their scenes with just a double click, no shader writing necessary.
Several new Create features are also available in beta:
AnimGraph based on OmniGraph brings characters to life with a new graph editor for simple, no-code, realistic animations.
New animation retargeting allows artists to map animations from one character to another, automating complex animation tasks such as joint mapping, reference post matching and previewing. When used with AnimGraph, artists can automate character rigging, saving artists countless hours of manual, tedious work.
Users can drag and drop assets they own, or click on others to purchase directly from the asset's product page. Nearly 1 million assets from TurboSquid by Shutterstock, Sketchfab and Reallusion ActorCore are directly searchable in the Omniverse asset browser.
This otherworldly set of features is Create-ing infectious excitement for 3D workflows.
Machinima Magic
Omniverse Machinima 2022.1 beta provides tools for artists to remix, recreate and redefine animated video game storytelling through immersive visualization, collaborative design and photorealistic rendering.
The integration of NVIDIA Maxine's body pose estimation feature gives users the ability to track and capture motion in real time using a single camera — without requiring a MoCap suit — with live conversion from a 2D camera capture to a 3D model.
Prerecorded videos can now be converted to animations with a new easy-to-use interface.
The retargeting feature applies these captured animations to custom-built skeletons, providing an easy way to animate a character with a webcam. No fancy, expensive device necessary, just a webcam.
Sequencer functionality updates include a new user interface for easier navigation; new tools including splitting, looping, hold and scale; more drag-and-drop functionality to simplify pipelines; and a new audio graph display.
Stitching and building cinematics is now as intuitive as editing video projects.
Step Into the Showroom
Omniverse Showroom 2022.1 includes seven new scenes that invite the newest of users to get started and embrace the incredible possibilities and technology within the platform.
Artists can engage with tech demos showcasing PhysX, rigid and soft body dynamics, flow, combustible fluid, smoke and fire, and blast, featuring destruction and fractures.
Enjoy the View
Omniverse View 2022.1 will enable non-technical project reviewers to collaboratively and interactively review 3D design projects in stunning photorealism, with several astonishing new features.
Markup gives artists the ability to add 2D feedback based on their viewpoint, including shapes and scribbles, for 3D feedback in the cloud.
Turntable places an interactive scene on a virtual table that can be rotated to see how realistic lighting conditions affect the scene in real time, advantageous for high-end movie production and architects.
Teleport and Waypoints allow artists to easily jump around their scenes and preset fully interactive views of Omniverse scenes for sharing.

Omniverse Ecosystem Expansion Continues
New beta Omniverse Connectors and extensions add variety and versatility to 3D creative workflows.
Now available, an Omniverse Connector for Unreal Engine 5 allows live-sync workflows.
The Adobe Substance 3D Material extension is now available, with a beta Substance 3D Painter Omniverse Connector coming soon, enabling artists to achieve more seamless, live-sync texture and material workflows.
Maxon's Cinema4D now supports USD and is compatible with OmniDrive, unlocking Omniverse workflows for visualization specialists.
Finally, a new CAD importer enables product designers to convert 26 popular CAD formats into Omniverse USD scenes.
More Machinima Magic — With Prizes
The #MadeInMachinima contest asks participants to build scenes and assets — composed of characters from Squad, Mount & Blade II: Bannerlord and Mechwarrior 5 — using Omniverse Machinima.
Legendary Halo Red vs. Blue Studio, Rooster Teeth, produced this magnificent cinematic short in Machinima. Take a look to see what's possible.
Machinima expertise, while welcome, is not required; this contest is for creators of all levels. Three talented winners will get an NVIDIA Studio laptop, powerful and purpose-built with vivid color displays and blazing-fast memory and storage, to boost future Omniverse sessions.
Machinima will be prominently featured at the Game Developers Conference, where game artists, producers, developers and designers come together to exchange ideas, educate and inspire. At the show, we also launched Omniverse for Developers, providing a more collaborative environment for the creation of virtual worlds.
NVIDIA offers sessions at GDC to assist content creators featuring virtual worlds and AI, real-time ray tracing, and developer tools. Check out the complete list.
Launch or download Omniverse today.