The right resources and support — particularly for education and healthcare — can go a long way to shrink the opportunity gaps faced by underprivileged populations.
It's a strategy NVIDIA has long followed to help build a better future for the communities in which we work and live.
As part of our corporate social responsibility initiatives in India, we've supported for more than a decade various causes in communities near our three offices — Bangalore, Hyderabad and Pune. And we've done so in typical NVIDIA fashion: with employees giving input on the causes that are important to them.
This year, we asked local organizations to submit grant proposals for impactful projects in health and education. Many of the nearly 50 submissions came from employee referrals.
NVIDIANs in the three offices also helped to assess applications, which included ideas on how NVIDIA volunteers can engage with the organizations' projects to amplify their benefits.
The five finalists receiving funding are making an impact in underserved communities with projects that will improve rural healthcare, help disadvantaged children enroll and succeed in school, and support programs for people with disabilities.
Lifting Up Youth and People with Disabilities
The organizations we're supporting are:
Hyderabad-based nonprofit Ashray Akruti runs a community outreach program providing mobile clinics for people with ear-related health problems and hearing loss. It will use its NVIDIA grant to provide ear and hearing evaluations for around 15,000 children in government schools and rural childcare centers across Hyderabad and two neighboring districts.
With NVIDIA's funding, Navkshitij will run a year-long program for people with disabilities. Located on the outskirts of Pune, the residential program serves nearly a hundred adults with life skills and vocational training, and group activities including trekking and the performing arts.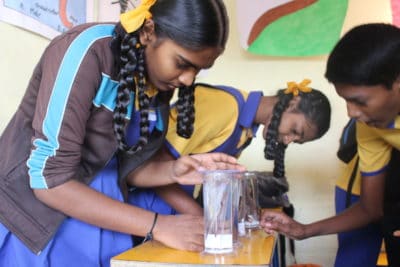 Sukrupa provides education for first-generation students from preschool to 10th grade in Bangalore. The NVIDIA grant will support 125 students with educational materials, fund faculty and staff salaries, and support the operation of the schools' facilities to help turn students into socially and economically empowered graduates.
Door Step Schools bridges the education gap among India's urban poor through parent outreach, community learning centers and mobile classrooms.
The organization aims to boost school enrollment, attendance and retention among families of migrant laborers and other underprivileged communities. With NVIDIA's funding, Door Step Schools will reach 800 children and 600 parents over three years.
U&I Trust's teaching program provides individualized after-school tutoring in English, math and science to children across India — most of whom live in orphanages or group homes, and are at high risk of dropping out. The organization's teacher-student ratio is 1:3, compared to 1:60 in some government schools. NVIDIA's funding will help U&I tutor 100 additional students in the Bangalore area.
In past years, NVIDIA has funded projects through this initiative to teach computer skills to young women, provide educational support and scholarships for girls, and open 50 community libraries in remote and underprivileged areas.