What's not to like about food delivered by a cheery little robot in about 30 minutes.
That's the attraction of Kiwi Bot, a robot hatched by a Colombian team now in residence at the University of California, Berkeley's Skydeck accelerator, which funds and mentors startups.
The startup has rolled out 50 of its robots — basically, computerized beer coolers with four wheels and one cute digital face — and delivered more than 12,000 meals. They're often seen shuttling food on Cal's and Stanford University's campuses.
Kiwi Bot has been something of a sidewalk sensation and won the hearts of students early on with promotions such as its free Soylent  and Red Bull deliveries (check out the bot's variety of eye expressions).
Kiwi Bot customers use the KiwiCampus app to select a restaurant and menu items. Food options range from fare at big chains such as Chipotle, McDonald's, Subway and Jamba Juice to generous helpings of favorites from local restaurants. Kiwi texts customers on their order status and expected time of arrival. Customers receive the food with the app, and a hand gesture in front of Kiwi opens its hatch. Deliveries are available between 11 am and 8 pm.
Kiwi is partnered with restaurant food delivery startup Snackpass, delivering to its customers for the same $3.80 fee. For now, the delivery robots are only available around the UC Berkeley and Stanford campuses.
Reinventing Food Delivery Model
Kiwi is aimed at a unique human-and-robotics delivery opportunity. In Colombia, like in other parts of the world, it's normal to get fast and cheap deliveries by bicycle service, said Kiwi co-founder and CEO Felipe Chavez. "Here it's by car, and the the delivery fees are like $8. That gave me the curiosity to explore the unit economics of the delivery."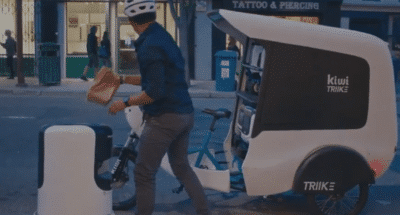 Chavez and his team moved their startup — originally for food delivery by people — from Bogota to Berkeley in 2017 and applied to the Skydeck program.
The Kiwi team has ambitious plans. The company is working to develop a smooth connection between people, robots and restaurants, addressing the problem with three different bots. Its Kiwi Restaurant Bot is waist high — think R2-D2 in Star Wars — and has an opening at the top for restaurant employees to drop in orders. It then wheels out to the curb for loading.
At the sidewalk, a person unloads meals into a Kiwi Triike, an autonomous and rideable electric pedicab that stores up to four Kiwi Bots loaded with the meals for deliveries. The Kiwi Trike operator can then distribute the Kiwi Bots to make deliveries on sidewalks.
Packing Grub and Tech
Kiwi Bots are tech-laden little food delivery robots. They sport a friendly smile and digital eyes that can wink at people. Kiwi Bots have six Ultra HD cameras capable of 250 degrees of vision for object detection, packing NVIDIA Jetson TX2 AI processors to help interpret all the images of street and sidewalk action for navigation.
Jetson enables Kiwi to run its neural networks and work with its optical systems. "We have a neural network to make sure the robot is centered on the sidewalk and for obstacle avoidance. We can also use it for traffic lights. The GPU has allowed us to experiment," Chavez said.
The Kiwi team underwent simulation for training its delivery robots. They also enabled object detection using MobileNets and autonomous driving with DriveNet architecture.  The company's deep neural network relied on a convolutional neural network to classify events such as street crossing, wall crashes, falls, sidewalk driving and other common situations to improve navigation.
The Kiwi platform is designed for humans and robots working together. It's intended to make it so that people can service more orders and do it in a more efficient way.
"It's humans plus robots making it better," Chavez said. "We are going to start operating in other cities of the Bay Area next."
Lean more about artificial intelligence for robotics using NVIDIA Jetson.