At NVIDIA, the robots are being taught to weave their way through the workplace. It helps that, as Ankhit, an NVIDIA Linux systems administrator discovered, they come bearing popcorn.
Moments after placing an order, via Slack, a stubby, wheeled robot known as Carter arrived at Ankhit's cubicle bearing a brown paper bag stuffed with popcorn just the way he likes it: "salted, no butter," Ankhit says with a grin before popping a handful into his mouth.
While Carter's been a hit since the stout robot — an internal project at NVIDIA —  began fetching fresh popcorn for its colleagues this year, the real scoop has nothing to do with snacks.
Rather, Carter's creators hope it will demonstrate capabilities that developers can put to work in indoor logistics.
The effort, led by NVIDIA's Claire Delaunay, is part of a broader effort to create a robotics platform that makes it easier to add AI into next-generation robots.
"Anyone who needs robots in their business to move things from A to B, they can take it, customize it and plug this into different scenarios," says Delaunay, who has a long track record developing autonomous devices of all kinds.
Carter was built by Delaunay's team on a Segway RMP 210 robotic mobility platform. It uses a lidar sensor and a stereoscopic camera to navigate the world around it. The robot's electronic brains: a Jetson AGX Xavier.
"It's a Lego box," says Delaunay, referring to the creative freedom Jetson enables.
Popcorn delivery will be a sample app, a tutorial really, that users can take and customize to their own applications, Delaunay explains.
Popcorn Thursday
For hundreds of Delaunay's colleagues in Building R on NVIDIA's Santa Clara campus, however, Carter is becoming the latest twist on a perk that, for many, has become a ritual, even an obsession: Popcorn Thursday.
Each week at NVIDIA offices around the globe, popcorn carts are wheeled out to serve the hot, healthy snack.
It's a tradition that Carter — which sports a a green NVIDIA employee badge — fits right into. The name is a play on the word cart.
"It's a cart with a personality," Delaunay says.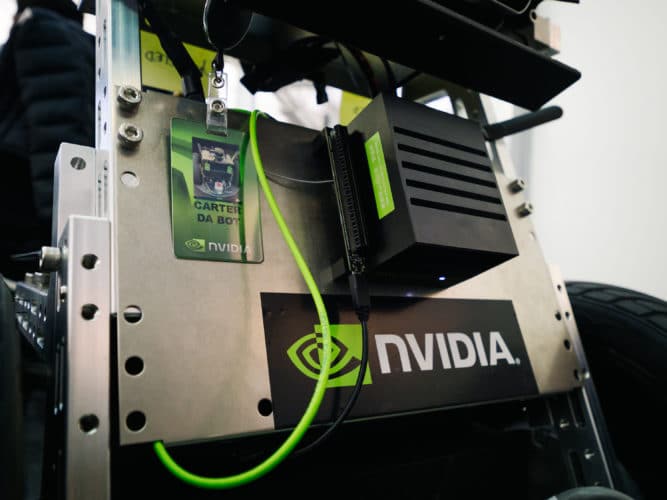 Carter will soon be one of a handful of robots delivering popcorn, directing NVIDIA employees to find parking spaces, picking up dishes, and helping visitors navigate to conference rooms, explains David Weikersdorfer, a director of engineering, who works on the project.
Corn to Run
To prepare Carter to roam the halls of Building R — whose winding layout can challenge the wits of even those who fancy themselves most navigationally savvy — engineers created a map with more than 900 waypoints, one for each of the building's cubes and conference rooms.
The floor layout was recorded by Carter and the map was generated using the team's software.
Since its soft-launch, the robot has made scores of successful deliveries, even as the team that created it works to add new features.
"It's just a really cool collaboration — we're eager to see where this goes," says Brian West, a NVIDIA's global director of food and beverage, before raising the real question. "When does Carter start delivering beer?"