AI robots. Chicken kebabs. Ridiculously fast technology. Ah, the good things in life.
At an event that spanned everything from drones that autonomously fly through the air to bots that navigate our sidewalks to the software and semiconductors that power it all, we hosted last night our second public autonomous-machines meetup at NVIDIA's new headquarters building.
The event marked the availability of the NVIDIA Jetson AGX Xavier module for next-gen autonomous machines. The module — the latest addition to the Jetson family of products — delivers 32 TOPS of performance, operates in as little as 10 watts and fits in the palm of your hand.
"Compute is critically important for autonomous machines," said Jesse Clayton, senior manager of product for Autonomous Machines at NVIDIA, who welcomed more than 300 developers, entrepreneurs, investors and others to the event. "Jetson is how you get there."
Developers can use Jetson AGX Xavier to build the autonomous machines that will solve some of the world's toughest problems, and help transform a broad range of industries, Clayton explained. Millions are expected to come onto the market in the years ahead.
Consuming as little as 10 watts — about as much as a clock radio — the module enables companies to go into volume production with applications developed on the Jetson AGX Xavier developer kit, bringing next-gen robots and other autonomous machines to life.
Jetson AGX Xavier comes as the Jetson ecosystem around it is growing fast. The number of developers using NVIDIA's Jetson platform has grown 5x since March 2017, while the number of Jetson customers has grown 6x, to 1,800, over the same timespan, Clayton said.
Twenty-five of those customers and ecosystem partners were at the event to tell their story, as the crowd noshed on chicken kebabs and house-made pita chips with tzatziki and olive tapenade. A few highlights:
Farm of the future — SMART AG's Autocart module gives farm equipment an autonomous upgrade. The Iowa startup uses Jetson AGX Xavier to help it system see as it navigates farms. It's already allowing tractors to hustle out during harvest to pick up loads of freshly harvested grain, giving farm productivity an autonomous boost.
Self-flying camera — The Skydio R1 is more than just a camera. It uses six pairs of cameras to build a 3D map of its environment. This lets it identify, localize and track people and cars, and predict movement up to four seconds in the future. The result: stunning videos of your latest and greatest adventures.
Going the extra mile — Marble's building a "last-mile delivery solution," or, put another way, this San Francisco-based startup creates robots that save you a schlep by bringing food to your doorstep. Its intelligent delivery robots reliably and securely transport things that you need and want in a way that is safe and accessible to everyone. It uses advanced sensors, including lidar and cameras, to carefully navigate sidewalks.
Attendees were impressed. "It's like living in the future," said Terry Smith, from Liquid Robotics, as he looked around the meetup. Smith's company makes autonomous vehicle that rely on wind and solar power to roam the oceans, autonomously. He said Jetson TX2 has "revolutionized" what his company can do.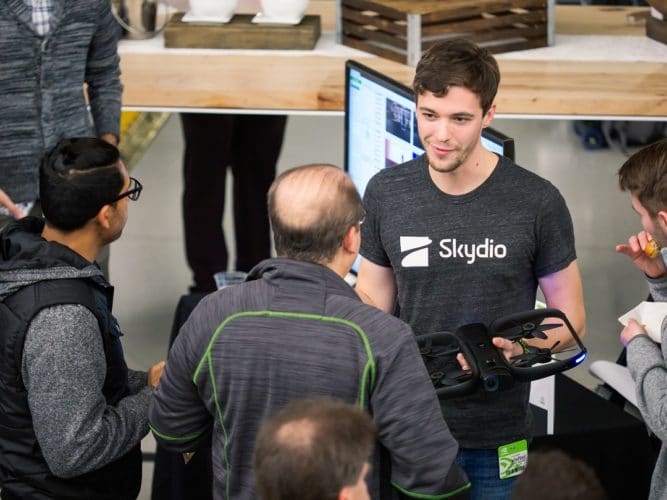 Others were scouting for breakthrough technology for even wilder projects. Attendees included Tad Morgan, whose company, Made In Space, is working to bring manufacturing to outer space; and Randy Gobbel, who works on deep learning at genomics startup Illumina and is already experimenting with Jetson TX2 and Xavier processors to "see what they can do."
Maybe you'll want to see for yourself, too. For more details, see our NVIDIA embedded computing page.