Enterprise
It's official. You can't get around on planet Earth without the help of GPUs. Not only are sleek sports cars, fast trains, and hypersonic...
Read More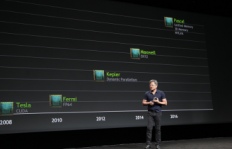 Corporate
During a keynote speech at our annual GPU Technology Conference in San Jose, Calif., NVIDIA CEO Jen-Hsun Huang updated our public GPU roadmap with...
Read More
Cloud
IBM is taking a big step in applying GPU technology to help solve some of the biggest enterprise IT challenges. At next week's GPU...
Read More
Workstation
As a creative video editing pro, you want to focus on creating content that amazes the audience, makes your clients come back for more,...
Read More
Cloud
Gravity-defying snowboard tricks, stunning figure skating routines and hard-hitting hockey matchups. Hundreds of millions of viewers across the world tuned in to catch all...
Read More
Software
CUDA, the parallel programming model that unlocks the power of GPU acceleration, is growing fast. There are 275 CUDA-based applications tuned to run on...
Read More
Workstation
Raucous parties, artery-clogging food and legendary commercials helped draw more than 110 million viewers to this month's Super Bowl, making it the most-watched broadcast...
Read More
Supercomputing
One of the world's leading researchers in how to mitigate brain deficits that accrue with age will be a featured speaker at next month's GPU Technology Conference, in...
Read More
Supercomputing
A lonely Ph.D. student at the University of California, Los Angeles, used math, GPUs — and a little hacking — to find true love. The tale...
Read More
Workstation
We're heading to sunny San Diego next week for SolidWorks World to showcase how Quadro and GRID accelerate productivity and flexibility for SolidWorks users....
Read More